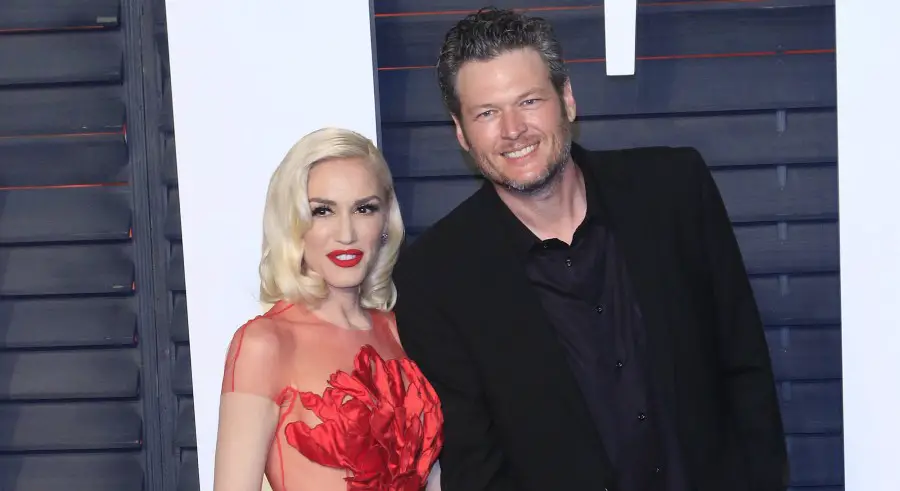 Blake Shelton and Gwen Stefani are married! The couple, who began dating in 2015, got married in an intimate ceremony on Saturday, July 3, at his sprawling Oklahoma ranch.
"Dreams do come true," Stefani posted on social media, along with a few photos of their celebration.
The fireworks started early for us this weekend! 🤩🎆 Congrats to @gwenstefani and @blakeshelton on tying the knot. 💝📸: @gwenstefani pic.twitter.com/BgIK7XXEXz

— The Voice (@NBCTheVoice) July 6, 2021
According to People, Carson Daly, their good friend, and fellow star on The Voice, officiated the ceremony.  Stefani wore a Vera Wang gown, while Shelton opted for a shirt, vest, tuxedo jacket and blue jeans. Their cake was a five-tier elaborate creation, topped with a miniature statue of a couple dancing.
Page Six reports that Shelton built a chapel on his ranch where the ceremony was held. A bus took attendees from their new home to the wedding location.
When Shelton and Stefani began dating, they were still reeling from their own recent marital splits — Shelton from Miranda Lambert and Stefani from Gavin Rossdale — and were unsure if their relationship would evolve into something serious or was merely a passing fling. For that reason, the two chose to not share their budding romance, even with their closest friends.
"We tried to keep it as under the radar as long as we could, because we both didn't — we didn't even know if we were both maybe rebounding together," Shelton admitted on The Late Show with Stephen Colbert. "Adam [Levine] would have been upset if he had known early on, because Gwen was — he comes from the generation where Gwen Stefani was everybody's dream girl. And so, I was walking on sacred ground. By the time he found out, he was like, 'Man, what the hell? Why didn't you tell me?' I didn't tell you because I didn't want you to mess this up for me.'"
The couple got engaged in December, and would have married sooner, if not for the coronavirus pandemic.
"I would marry Gwen in the morning, but the truth is, we want to be able to have obviously her parents there, my parents, our families," Shelton said in February.. "Until that can happen, we can't even make a plan. … We want  to do it right. For us, that means having her parents and my parents there. Her parents are here in California, and a little slower with the vaccination here."
When Shelton popped the question, it was in Oklahoma, and it took Stefani completely by surprise.
"I had no idea. In fact, I was trying to get out of going back to Oklahoma, because it was getting too complicated with COVID and the family," Stefani recalled on The Kelly Clarkson Show. "I'm like, 'I think we should just cancel the trip.' It was one of those. And then we got it all together, and we ended up going. His sister and her family, they were there. My kids were there, and my brother and his family. We were all there. We always are all there. We were going to go see — we're building a house there, so we were going to go from the one part of the land to the other part of the land, to see the house."
"Meanwhile, I guess Blake had had this ring ready to go for a couple weeks and nobody knew," she continued. "My dad knew because on my birthday he had showed my dad and said he was going to do it … So we got there and everybody was like, 'No, we got to get back. We're cooking a hobo stew on the fire, and we can't let it burn,' and my son was like, 'No, I got to go to the bathroom. I don't want to go,' and it was like all these things happening. And I walked in and my son was sitting right by this fireplace. Blake basically was getting down on his knees to do a fire and he goes, 'Hey, can you look in that cabinet over there and get me a fire starter?' So I opened the cabinet and there was a ring in a box and I was like, 'Ahhh! What? Are you serious?'"