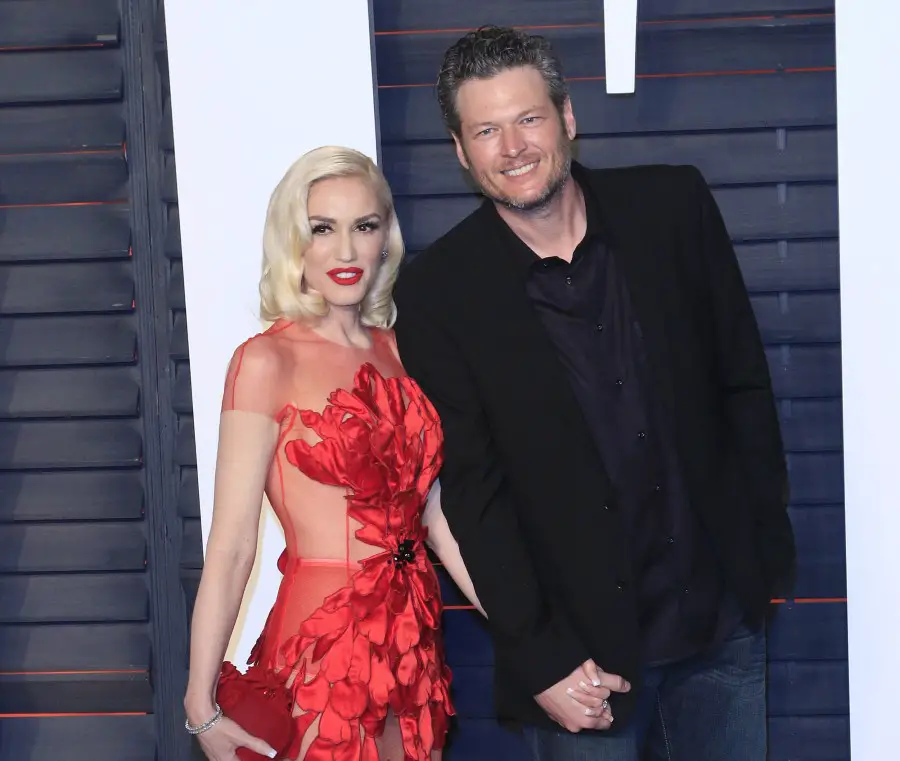 Gwen Stefani and Blake Shelton  might have been dating for five years, but she still didn't have any inkling that he was going to propose. The No Doubt singer is sharing the details of how the country music superstar asked for her hand in marriage, which was a surprise to almost everyone.
"I had no idea. In fact, I was trying to get out of going back to Oklahoma, because it was getting too complicated with COVID and the family," Gwen shared on The Kelly Clarkson Show. "I'm like, 'I think we should just cancel the trip.' It was one of those. And then we got it all together, and we ended up going. His sister and her family, they were there. My kids were there, and my brother and his family. We were all there. We always are all there. We were going to go see — we're building a house there, so we were going to go from the one part of the land to the other part of the land, to see the house."
Blake previously revealed that the ring was in his truck for a while, while he was waiting for the right moment.
"Meanwhile, I guess Blake had had this ring ready to go for a couple weeks and nobody knew," Gwen said. "My dad knew because on my birthday he had showed my dad and said he was going to do it. I had my birthday party and — it wasn't a party. It was a birthday COVID moment in my house when I turned whatever it was I turned. So we got there and everybody was like, 'No, we got to get back. We're cooking a hobo stew on the fire, and we can't let it burn,' and my son was like, 'No, I got to go to the bathroom. I don't want to go,' and it was like all these things happening.
"And I walked in and my son was sitting right by this fireplace," Gwen recalled. "Blake basically was getting down on his knees to do a fire and he goes, 'Hey, can you look in that cabinet over there and get me a fire starter?' So I opened the cabinet and there was a ring in a box and I was like, 'Ahhh! What? Are you serious?'"
Unfortunately, everyone was too caught up in the moment to capture any video of the sweet proposal.
"Everybody came running around because I guess they heard us screaming or whatever and crying, so there was no video," Gwen said. "It was just like my sister-in-law to-be was just shooting pictures and that's that photo we put out, so it was a pretty magical moment."
The couple is waiting to set a wedding date until it is safe for groups of people to gather again. But whether or not they say "I do" in the near future or not, the 51-year-old is grateful that she gets to spend the rest of her life with Blake.
"He's my best friend," Gwen gushed to Apple Music's Zane Lowe (via People). "We tell each other everything. I don't want to do anything without him. He's my homie. And he's just a very generous, generous guy. He's full of love and generosity,"
"I've never met someone that's just so interesting," she said. "And it's weird … He has a lot of different sides to him. But I think the fact that he really could walk away from anything at any moment. His true love is just of nature and of just being at that ranch."