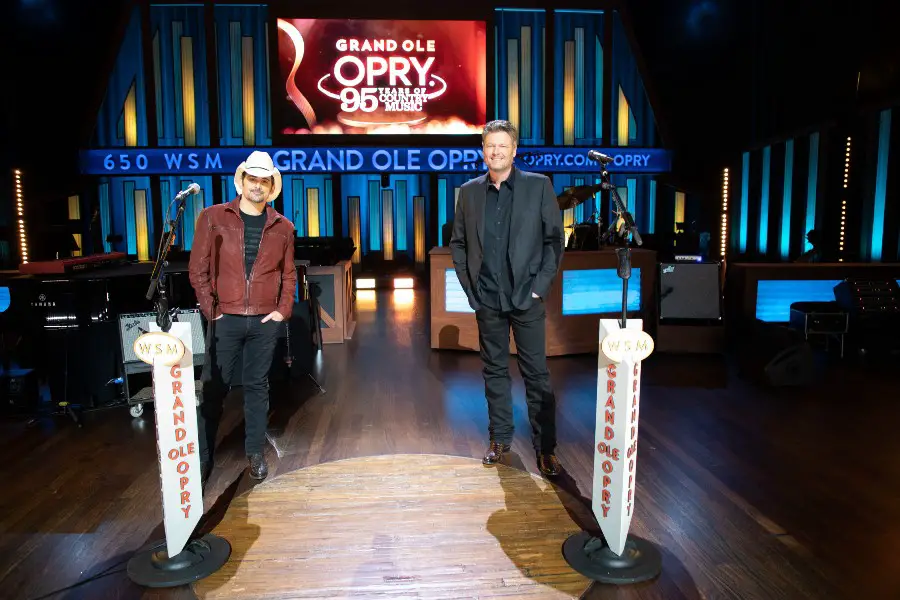 The Grand Ole Opry is celebrating its 95th anniversary in style!  The milestone event will be honored with a televised special, Grand Ole Opry: 95 Years of Country Music, airing on Feb. 14 on NBC,  hosted by Blake Shelton and Brad Paisley. The two-hour special will include footage of original performances, stories of the Grand Ole Opry behind the scenes, new performances and more.
Shelton became a member of the Grand Ole Opry in 2010, and is the only artist who was invited via a tweet! The Oklahoma native had just finished performing "Hillbilly Bone" with Trace Adkins, when Adkins showed Shelton a tweet the Opry sent, inviting Shelton to become a member.
.@blakeshelton, you're invited to join the Grand Ole Opry. See you on 10/23/2010!

— Grand Ole Opry (@opry) September 29, 2010
Now, more than a decade later, the Grand Ole Opry is still Shelton's favorite place to perform.
"I get the same feeling when I come to the Opry as when I see one of my heroes," Shelton said. "I am in awe. To me, the Grand Ole Opry is an artist and I'm really proud to be one of its songs."
Paisley became a member of the Grand Ole Opry in 2001, earning a hearty endorsement by country music legend George Jones in the process. Jones wrote a letter to Paisley, which was read out loud during Paisley's formal induction.
"I am counting on you to carry on the tradition, and make folks sit up and listen to what good country music should sound like," the letter said in part.
The Grand Ole Opry continued its weekly tradition of shows, in spite of being closed to a live audience for several months because of the pandemic. Although Paisley was honored to continue performing on the hallowed stage, he admitted it had a different feel because of the circumstances.
"You felt the gravity of the fear, since none of us knew where this thing was headed," Paisley told Variety. "You sensed that in the room: It was like having a crowd that was too scared to applaud."
"You fidget with a stool. All it would have taken was one stagehand coughing near the stool, then me fidgeting with it and touching my eyes," he added.
Grand Ole Opry: 95 Years of Country Music will air on Sunday, February 14, at 9:00 PM ET.