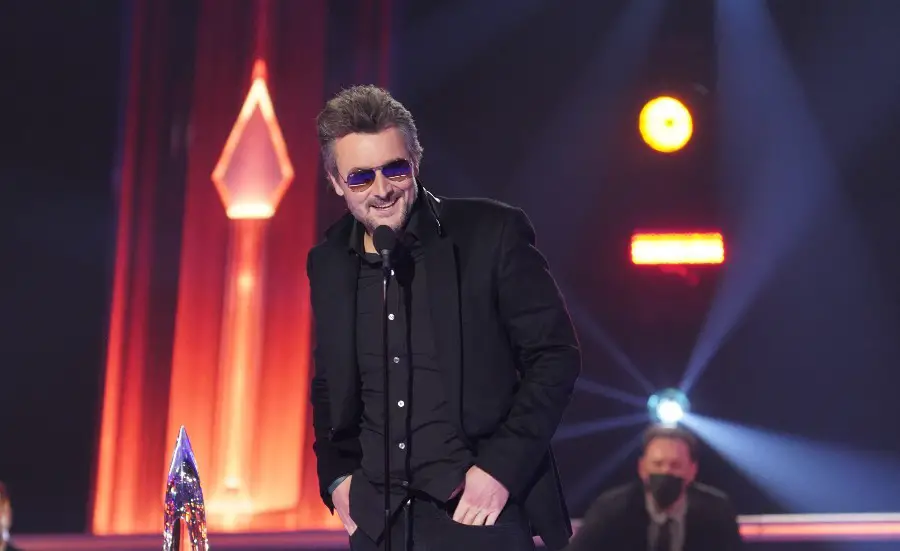 Eric Church is heading to the Super Bowl! The singer has been tapped to perform the National Anthem with singer Jazmine Sullivan. H.E.R. will sing "America the Beautiful."
According to People, the collaboration marks the first time two singers have shared the honor since Aaron Neville and Aretha Franklin sang the National Anthem together in 2006. The Weeknd will headline the halftime show.
Church isn't the only country artist who has performed the "Star-Spangled Banner" for the Super Bowl. He joins a list of artists who have sung the patriotic tune for football's biggest night, including Charley Pride, Garth Brooks, Faith Hill, The Chicks, Carrie Underwood, and most recently Luke Bryan, who performed the challenging song in 2017.
Eric Church will join @jsullivanmusic to sing the National Anthem for Super Bowl LV! Make sure to tune-in on Feb 7 to the Super Bowl on @CBS Kick-Off Show at 6 PM ET #SBLV @NFL pic.twitter.com/TtrohEoEmc

— Eric Church (@ericchurch) January 19, 2021
Church hasn't had much chance to perform recently, due to COVID-19, but feels optimistic about the future. for himself and others.
"I think, for me, the thing I'm looking forward to most next year is getting around the corner from this virus and getting some kind of normalcy," the 43-year-old told UMG. "I'm confident that next year is when we'll finally put this in the rearview at some point in time. We're all looking for a vaccine early in the year and the more we can take the cases down between January and May, I think the higher likelihood that we'll be on a stage somewhere in the fall, late summer/fall, and then certainly into the fourth quarter. So, I'm looking forward to that."
Church also shared his optimism during his acceptance speech for CMA Entertainer of the Year.
"It's gonna be music that brings us out of this," Church said from stage. "It's not going to be politics. It's not going to be sports. It's gonna be music. It's gonna be people that can gather their people, whether it's vaccines, or masks, or however we do this thing, that is how we are going to leave COVID in the dustbin of history … We're going to be the ones that carry this to where COVID doesn't exist."
The Super Bowl LV will take place on Sunday, February 7, in Tampa, Florida. The game will begin at 6:30 PM, and will air on CBS.