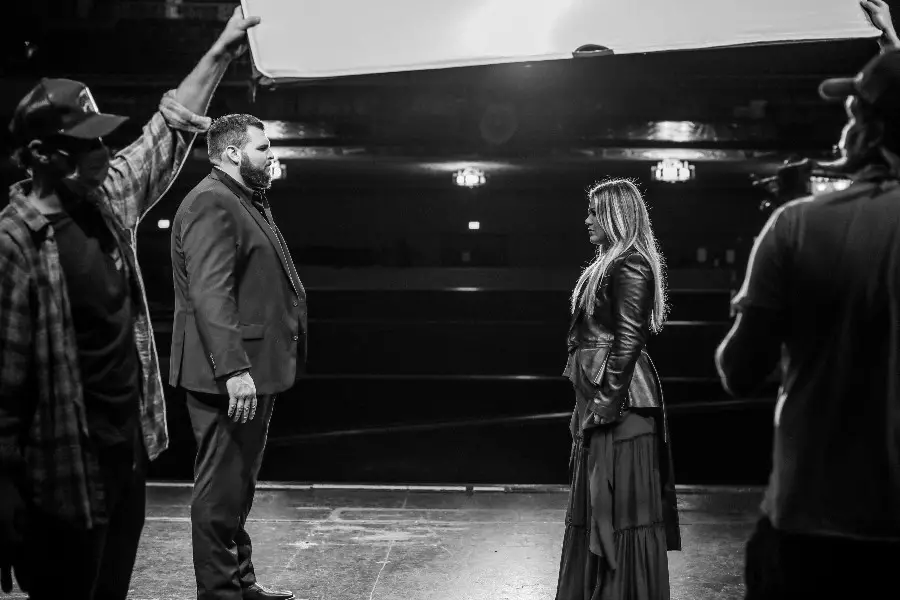 Jake Hoot won Season 17 of The Voice in 2019, but waited until now to release his own music, and with good reason. The 32-year-old wanted to make sure each song represented him, which he succeeded with his upcoming EP, Love Out of Time, scheduled to be released on January 27. Included on the five-track project is a duet, "I Would've Loved You," with his coach on The Voice, Kelly Clarkson.
"When we wrote it, I said, 'I think this would be awesome if we got Kelly to sing on this,'" Hoot told Everything Nash of the song, which he penned with Lonestar's Dean Sams and Jamie Floyd. "When I was on The Voice, she said, 'Hey, let's do something together.' So I sent it to her, and didn't hear anything. And then later on in the year, when we were seriously considering putting this on the album,  I said, 'You know what? I'm just going to text her again,' because I had to ask her a couple of questions about other things."
When Hoot finally did get in touch with Clarkson, he realized she had never heard the song when he initially sent it. But once he sent it again, she instantly agreed to join him on the track. Amazingly, in spite of both of their busy lives, including his wedding in a couple of months, "I Would've Loved You" was quickly recorded.
"She called me back immediately and she said, 'I want to shout this from the rooftops. Yes, I'm in," Hoot recalled. "Like, let's get this done. And so trying to coordinate her incredibly busy schedule with mine, recording everything and then also a wedding coming up and then having to fly to LA to record, or having to send stuff out there, it just all worked perfectly."
It's been a little over a year since Hoot has been on The Voice, but he wanted to wait until the time was right to release new music.
"We try to keep consistent music coming out," Hoot explained. "We released 'Tennessee Strong,' we released 'Dangerous Thing' and a couple others. We were working on this when we were trying to pick the perfect time. And I think we were originally aiming for December, but things that I'm learning in the music industry is the way the radio charts freeze for the holidays, and stuff like that.
"And so, we wanted to start off 2021 right," he added. "And we wanted to bring a new sound at the beginning of the year and start the year off. Right. It all worked out and I couldn't be more proud of, of how everything turned out and the songs that we've got on it."
Love Out of Time will be released on January 27. It is currently available for pre-order at JakeHoot.com.