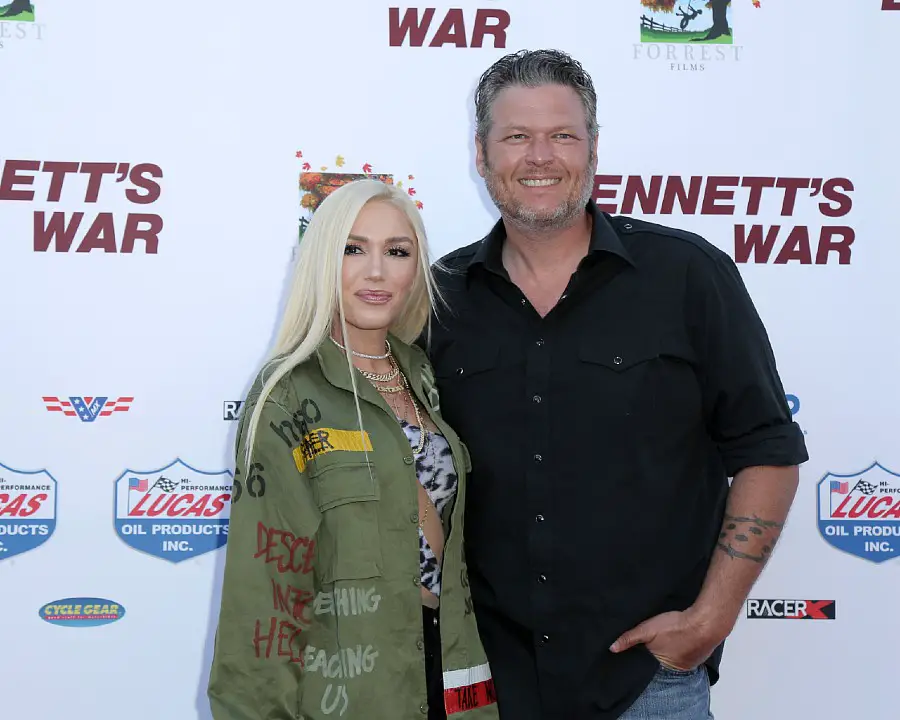 Blake Shelton and his longtime girlfriend, Gwen Stefani, are back at radio with another collaboration, this time "Happy Anywhere." The song's video, which includes plenty of personal footage of the pair, was shot by Gwen's own brother, Todd, who happened to be spending time with them in Oklahoma because of the coronavirus pandemic.
"I don't know why, over the years, I've kind of become a video camera geek, even though I don't even know how to work these things," Blake told Ellen DeGeneres on The Ellen Show. "I've got a few cameras that I have no business owning, let's just be honest. But Todd's really good at all that stuff. We decided we were going to release another single, even though we weren't touring or anything, and of course you need to have a video out.
"Gwen has five years worth of home videos on her phone, and so Todd got the camera out, and we shot a few set-ups of us singing the song," he added. "He edited that thing and put the video together, and it ends up being maybe my favorite video I've ever had, just because it's just so honest and real."
Not only did Blake have to figure out how to shoot a video at home, but he also needed to figure out how to take care of his gray hair! The 44-year-old was shocked when he saw himself on TV with a lot more white hair than dark, and determined to do something about it, enlisting Gwen to help.
"I looked like a game show host all of a sudden. Not poking fun at you being a game show host, by the way. You do not have gray hair," Blake told Ellen with a laugh. "I was just like, 'We gotta do something.' So we ordered some Just for Men, and I tried that for a while. I wasn't doing it right; it had too much color. It was like blue or purple or something. So then she said, 'Let's just do it right.' At that point, I didn't care. We were quarantined, so that was the time to mess around."
Gwen colored and cut his hair, leaving him pleasantly surprised with the results.
I actually really liked it," Blake said. "I would've really liked it better if I hadn't gained 117 lbs. during quarantine. I thought it made me look younger, but I was still just as fat. Now I'm trying to lose weight. I'm not opposed to having her cut my hair again. I don't care. If it makes her happy, I'm cool with it."
"Happy Anywhere" is currently in the Top 10.