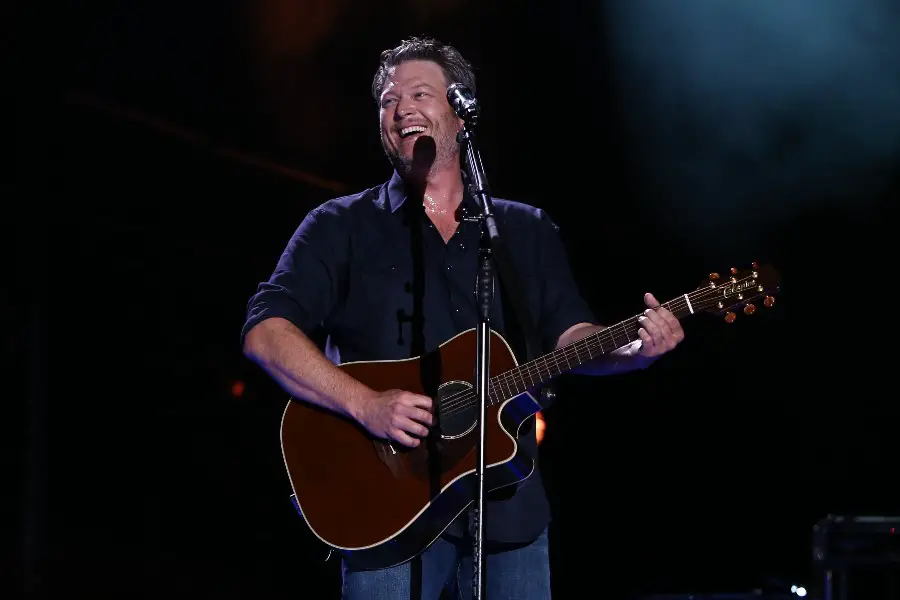 Blake Shelton just released his new single, "Minimum Wage," but not everyone is a fan. The song, which says in part, "You can make a six pack on the carpet / Taste like a million dollar bill / You can make a one bedroom apartment / Feel like a house up on the hill," is one that some have said was at the very least released in poor timing, as many people are feeling financial constraints because of the pandemic, something the country music superstar likely isn't experiencing himself. While Shelton is sympathetic, he says "Minimum Wage" isn't really about any of that.
"I just feel like these days, there are people out there who don't want to know the truth," Shelton told CMT. "They just want to hear what they want to hear, and they want to pick a fight. No matter what your intention is, no matter what the truth is, they want it to be something that they can be upset about so that they can get on social media and try to grab a headline. With 'Minimum Wage,' at first I thought, 'Wow, I guess I just I've missed something here.' And the more I read into this, I realized this was really not real.
"Whatever this backlash is is just four or five people that probably don't know anything about country music," he continued. "They clearly hadn't heard the song or read the lyrics. If they had, they couldn't feel this way about the song. It's literally a love song about how if times are tight and you ain't got much money — as long as you have love and you're happy — at the end of the day, that's all any of us can really hope for. You got it if you got that. That's all that matters. And if that's offensive to you, then we'll just have to agree to disagree."
Shelton is active on social media, but has refused to respond to the negativity surrounding "Minimum Wage."
"We're at a point now where it doesn't even deserve a response," said the singer. "That's why I didn't come out initially and say anything, because they're not entitled to a response from me. This is absolutely ridiculous. I looked after the first day when those headlines were popping up, and then for the next week after that, I didn't see any more. It was hard to find anything negative. If it was something negative about me, it had to do with 'I hate Blake Shelton' because of some other reason."
While many people denounced "Minimum Wage," more people spoke out in support of the song, including one of his famous friends.
"Most people were saying, 'I don't get what's so offensive about this song," Shelton shared. "And that made me so happy that Ronnie Dunn came up and spoke out about how he puts his money on the common sense of the common hard-working people out there. And I do, too."
Download "Minimum Wage" at BlakeShelton.com.