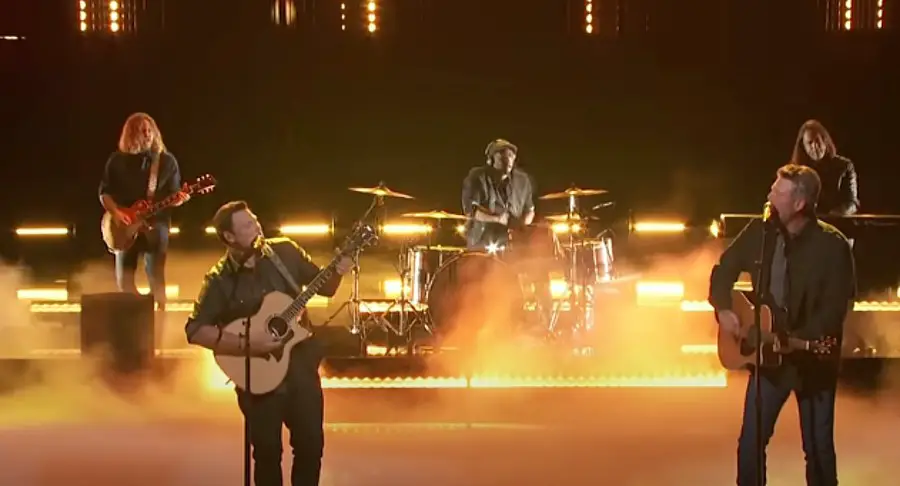 Blake Shelton and Season 19 of The Voice alum Ian Flanigan reunited on stage of the reality TV talent show on Monday night, May 17, to perform their new collaboration, "Grow Up."
"Wow! What an honor to be back on this stage with my coach and good friend [Blake Shelton]!" Flanigan tweeted. "Thank you to everyone who made this happen, especially [The Voice] and [Reviver Records] and this amazing band! Congrats on some incredible performances Top 9!"
Wow! What an honor to be back on this stage with my coach and good friend @blakeshelton! Thank you to everyone who made this happen, especially @NBCTheVoice and @revivermusic and this amazing band! Congrats on some incredible performances Top 9! #grateful #teamblake #growup pic.twitter.com/mG1FU4ZYO2

— Ian Flanigan (@IanFlanigan) May 18, 2021
Flanigan previously said that he was thrilled that "Grow Up," which is out now, includes Shelton on the single.
"My whole team has worked really hard to make all of this happen and I couldn't be more stoked to release 'Grow Up,'" Flanigan tells Music Mayhem Magazine. "The feature from Blake happened pretty organically. After I signed with Reviver, we were focusing on recording this single. As we were moving closer to recording, we thought it would be awesome if Blake would want to jump on the track. We reached out to see if he had any interest, and he did! Blake has a history of helping previous contestants from the show and I'm so grateful for his generosity and that the timing worked out for us to do this."
Flanigan is already taking plenty of notes from his former coach on The Voice.
"It's always an absolute pleasure to get to work with Blake," Flanigan boasts. "I'm a huge fan of his music and him as a person. He's great to hang with, and a real pro in the studio. This time around there were a lot less cameras and it was good to catch up with him outside of The Voice. When you're working with Blake, it doesn't take long for him to get the work done. He's got one of those voices that just tracks so easily and sits really well in a mix right away. It's still hard to believe that this experience is happening for me.
"I just try to be present, and grateful in these situations," he continues. "I'm always aware of what an honor it is. Blake was very generous with his time in the studio. Being such a busy guy, to cut out the time to make this happen really shows his character, and his dedication to helping other artists. I'm thankful to call him a friend."
Download "Grow Up" here.