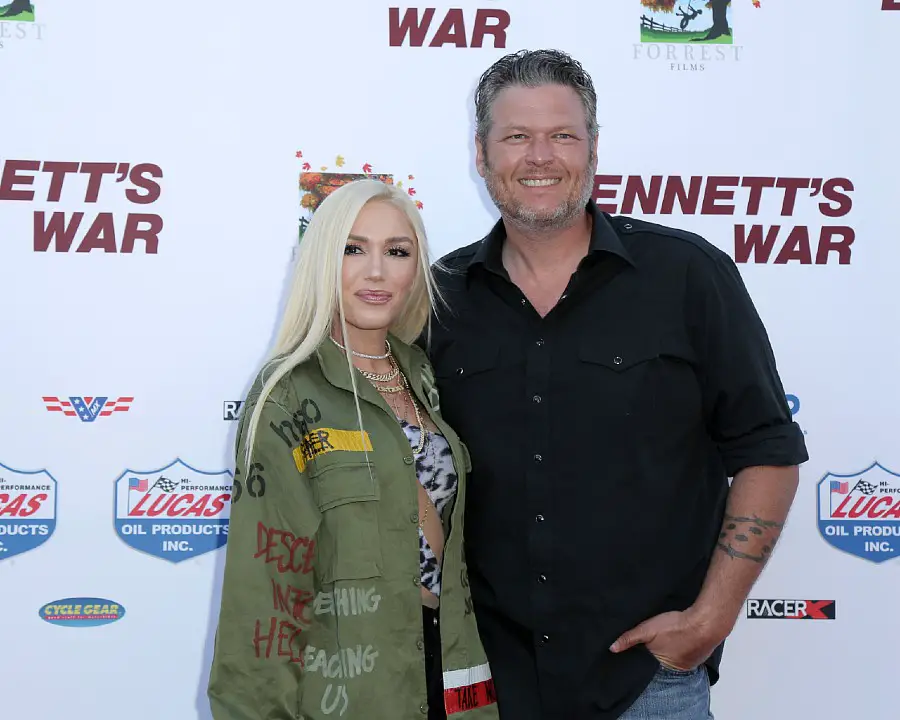 When Blake Shelton first met Gwen Stefani, he could have never imagined that the two would end up getting married. It was on The Voice where the two were first introduced, after Stefani performed on the show.
"She surprised everybody with a performance of 'Hollaback Girl,' and then they announced that she was going to be a coach," Shelton recalls to People. "I remember enjoying her performance, and then after the show, we all took a group picture. It was very much an industry-type meeting, and I told people, 'I met Gwen Stefani. That's crazy.'"
When Stefani began coaching, she was still married to Gavin Rossdale, and the relationship between Shelton and Stefani was strictly professional.
"She had just had a baby, so there wasn't even much of a friendship that first season," Shelton says, referring to her youngest son, Apollo, now six. "The thing I remember saying about her when people would ask was, 'Oh my God, that girl is unbelievable. She drives a minivan to work!' I thought rock stars drove Rolls-Royces, and Gwen was driving a black minivan."
Shelton not only never imagined that he would end up marrying the rock star, but he also never imagined the The Voice, which is currently in its 20th season, would last past Season One.
"To be honest, I didn't think the show was gonna last," Shelton remembers. "In fact one of the first conversations I ever had with Adam [Levine] was, 'Man, how stupid is this?'"
Shelton and Stefani bonded over their respective divorces, with Shelton also ending his marriage to Miranda Lambert. Although sparks quickly started to fly between the two, they didn't let anyone know, at least for a while.
"We tried to keep it as under the radar as long as we could, because we both didn't — we didn't even know if we were both maybe rebounding together," Shelton admitted on The Late Show with Stephen Colbert. "Adam would have been upset if he had known early on, because Gwen was — he comes from the generation where Gwen Stefani was everybody's dream girl. And so, I was walking on sacred ground. By the time he found out, he was like, 'Man, what the hell? Why didn't you tell me?' I didn't tell you because I didn't want you to mess this up for me.'"