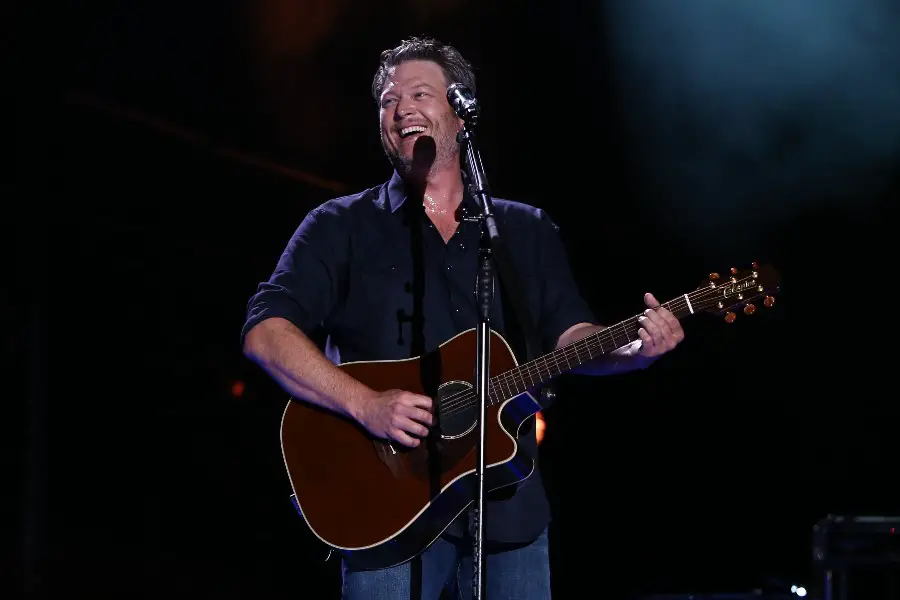 Blake Shelton is ready to head out on his Friends and Heroes Tour later this year, with an all-star lineup that includes Martina McBride, Tracy Byrd and Trace Adkins, along with special guest Lindsay Ell, joining him on the road.
Not only is Shelton eager to perform again, especially after the challenges of 2020, but he is also happy to be excited about hitting the road again, something he once wasn't sure he would want to do again.
"It did lose its luster for a minute there, about 2012 or something, that's when I was just starting," Shelton told Apple Music's Today's Country Radio With Kelleigh Bannen. "We went to two seasons of The Voice, The Voice was a brand-new show, and I was touring full time, or as much as I could, and it became too much. It was too much for me personally. I mean, there was never a day off. It was just crazy, and I started resenting touring a little bit. I was like, 'Oh my God, what is the point, what are we doing? I'm not enjoying it anymore.' And so we did the hardest thing probably for any country artists, or a manager, a booking agency you could ever do, is went, 'We got to pull back as much as we possibly can.'"
Shelton did take a break from a grueling touring schedule, which ultimately worked out in his favor.
"Since about 2013, I probably played, I don't know, 25 shows a year? And that's obviously not very many for any artist that is trying to maintain that touring profile," Shelton says. "But what it has done is, it's kept me so excited about when I go on stage now, because it's been a month, half the time, since I've been on the stage, and until we get to that tour. And the tours are exciting, because I'm not rolling into them, burned out from the tour that just ended. You do amphitheaters, and then you go into arenas. And it's just that one moment that we have a year, it's like, 'Hey, we get to go be country stars this month.' It's so exciting, and it's something that I look forward to, I really do."
When Shelton does headline his Friends and Heroes Tour, he will perform some of his classic hits, as well as songs from his just-released Body Language album, including "Bible Verses."
"'Bible Verses,' was one for me," Shelton reflects. "I won't say that it was that hard to get over the hump, but that song is so honest, and so intense, and so personal in ways when you sing it, because you're going, 'Oh my God, I'm telling everybody that I'm really not always everything I want to be.' But I think if we're being honest as recording artists, as human beings, you've got to go there.
"Because I think what I've found with the limited amount of people that have heard 'Bible Verses,' so many people come to me and they go, 'Oh my God, man, that's my song. Every night I go to bed, I pray that I'm a better person tomorrow, and that song just says it to me. Sometimes I just feel like I'm never going to measure up to what God expects me to be.'"
Purchase Body Language and find tour dates at BlakeShelton.com.