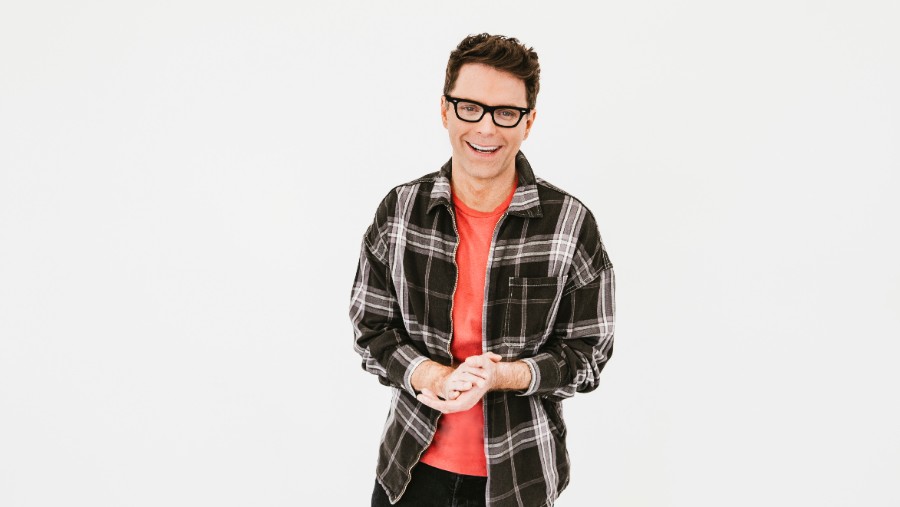 Bobby Bones is a married man! The iHeartRadio host wed Caitlin Parker on Saturday, July 17, at the couple's Nashville home, which they purchased after the two began dating.
"We love home. We picked this place out together — that was really one of the first decisions that we made as a couple. And so she thought, 'What if we got married here?'" Bones tells People.
"It was such a big gesture for Bobby to want to get a home for us both, that had some of my touches," adds Parker, who relocated to be with Bones in 2020, at the start of the pandemic. "We got to start fresh. For me, it really wasn't even a question. It was just — if we're getting married in Nashville, we're getting married at the house."
When Parker first came to Nashville, she had no idea the move was permanent.
"I came with a mindset of, 'I'm going stay for about a week because L.A. is shut down and Nashville isn't," Parker shares. "It was just, 'I'd rather be with my boyfriend locked in the house than by myself in L.A. locked in the house,' so that part was easy. It was months later when I was about to graduate grad school where we had to really think about if I was going to officially make the move or continue long-distance."
Parker may not have known she would never leave, but Bones knew early on that he never wanted them to live apart again.
"[I] was mostly just trying to convince her to be here," Bones recounts. "I wanted her to stay the whole time. When it was time to have those conversations, I didn't want to because I didn't want her to even think about going back."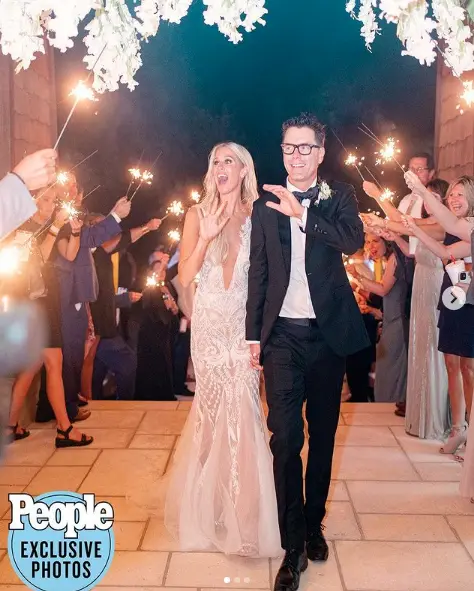 Bones, who shared a photo of their big day on Instagram, had several groomsmen including tennis pro Andy Roddick, while Parker's attendants include Dan Smyers' wife, Abby, and Bobby Bones Show co-host, Amy Brown. Dierks Bentley, Jake Owen and Chuck Wicks were among the celebrity guests in attendance. Following the ceremony, Dan + Shay performed the couple's first dance, which was the Jesse and the Rippers version of The Beach Boys' "Forever" from Full House. Gary LeVox was also hand to perform the Rascal Flatts' hit "Bless the Broken Road," while Ronnie Dunn performed Brooks & Dunn's "Neon Moon."
The reception, which featured steak, crab cakes, mashed potatoes and vegetables, also included a Sonic pop-up, serving what has become known as the "Bobby Water": water, strawberries, cherries and Nerds. The drink was a reminder of their early days of dating, especially for Bones.
"When she was coming from Los Angeles to Nashville and I would pick her up at the airport, I would go by Sonic and get her drinks first," Bones recalls. "It was like, 'Hey, you just flew for five hours. This is an odd thing I'm doing because I'm trying to show you how much I care about you, but I don't really know how to express human emotions.' So to have that as a big part of our wedding means a lot to us. It wasn't some sort of product placement. We actually pursued them and were like, 'Is there any way you will do this here?' And they went above and beyond."
Bones, who was raised by a drug addict single mother, once thought he would never get married, until he met Parker, and now he can't imagine his life without her.
"I've just been so alone, by myself, independent. I'm finally starting to have substance in my life," Bones reflects. "She's constantly trying to convince me that my life is more than just what I do for a living and trying to show me that my worth is more than just what I put out on TV or on the radio. I haven't been much of a human. I've been very much a robot for all of my life until now, but I can feel small cracks in that really unhealthy frame that I used to live inside of. I'm learning."
Bones previously said that his life had been forever changed, for the better, after meeting Parker.
"Even though I'm busy, I have a great influence on my life, and her name is Caitlin," Bones boasted to Everything Nash. "My girlfriend, she is extremely present. With Cait, life doesn't revolve around what's happening on TV and radio. For me, I've been so dedicated to my job, and her focus is not that. She doesn't even like it, honestly. She doesn't want any of the attention.
"That's good for me," he added. "At first it was forced, but it has made me value time. So, I do sleep a little bit more, mostly because she has instilled in me, beat in me that I need it."