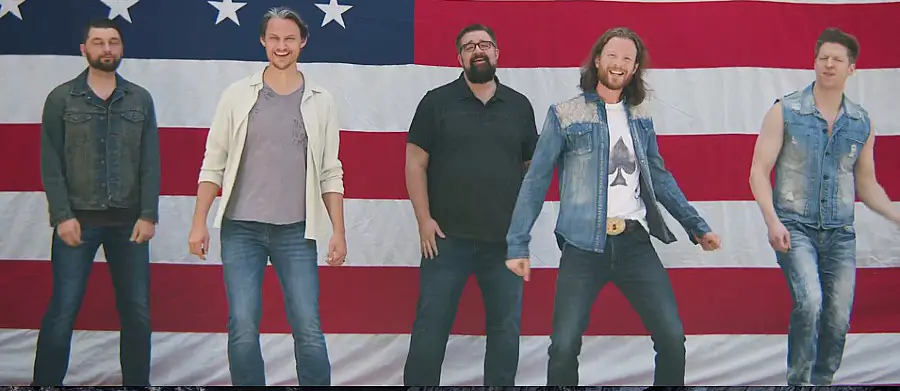 Home Free just dropped the video for "Born in the U.S.A." from their latest Land of the Free album. The video for the song, a cover of Bruce Springsteen's 1984 hit, shows the Home Free members singing across various backdrops, icons and slogans typical to American culture.
Land of the Free ends with "Born in the U.S.A.," a song that Home Free knew they wanted to include on their patriotic album.
"Springsteen once said of his song, 'It did demand of you to hold two contradictory ideas in your mind at one time: that you could both be very critical of your nation and very prideful of your nation simultaneously,'" Home Free said on social media of the song.
Home Free kick off Land of the Free with another cover, of the Tyler Hubbard and Tim McGraw hit, "Undivided,"
"The first time I heard 'Undivided' was the inauguration of Joe Biden," Rob Lundquist said in a video that was posted on social media. "When I heard Tim McGraw and Tyler Hubbard doing that song, it really hit me a lot, and showed how divided we are, and how polarized we are, the left and the right. It feels like the left has to hate the right, and the right has to hate the left. It doesn't have to be that way. We can celebrate each other's differences. I feel like a lot of the time we have the same common goal, but we just have different ways that we want to get there, and I feel like this song really expressed that well."
"There's a lot of complexity and nuance to political views," adds Tim Foust. "It can't really be distilled down to a binary system, so I don't know why that's forced upon us. Be in the middle. Let's again, remember all of the things we have in common, and work back to finding that common ground. That's why we chose to start our album off with 'Undivided.'"
Land of the Free also includes a cover of Brooks & Dunn's "Only in America," their "American Pie" collaboration with Don McLean, The Chicks' "Travelin' Soldier," and "God Bless the U.S.A.," a collaboration with Lee Greenwood and The United States Air Force Band, with the latter earning the group a prestigious Telly Award for Most Viral Video.
Purchase Land of the Free, and find Dive Bar Saint Tour dates at HomeFreeMusic.com.
Want more exclusive artist interviews? Subscribe to our YouTube channel here.