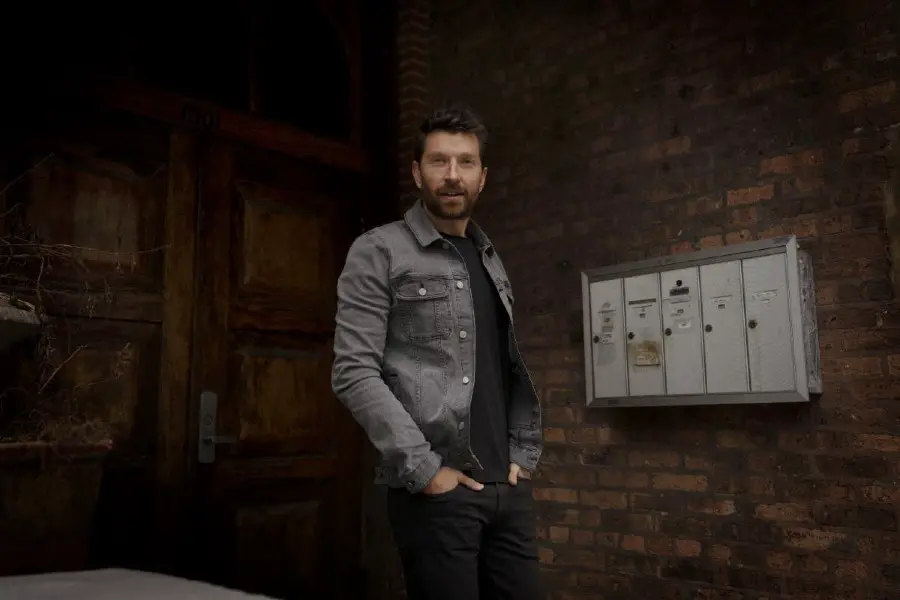 Grab a tissue before you watch Brett Eldredge's new video for his song, "Sunday Drive." The personal song is the title track of his latest album.
"I bawled," Brett admitted to People, recalling when he saw it for the first time. "I bawled when I first watched it. I was drinking a smoothie, sitting in my car, watching it on my phone, and I completely lost it."
"I've shot a lot of music videos," he added, "but nothing has ever come close to the emotion of this."
Brett shot the video in his hometown of Paris, Illinois, and requested that the car in the video was like the one he grew up riding in as a child.
"I told them, 'I don't care what we do here, but can we have a station wagon?'" Brett recounted. "I've just seen it in my mind a million times. My grandfather had a station wagon growing up, and I remember riding in the back, so I wanted one in the video."
"Sunday Drive" is one of the most personal songs Brett has ever released, even though he didn't write it. Written instead by Barry Dean and Don Mescall, Steve Robson, Brett first heard the song when he was a publishing intern in college, and was transferring songs from CD to digital format, when he heard "Sunday Drive," and it stopped him in his tracks.
"So I was listening to just song after song, and you get almost numb," Brett recounted. "[It] "completely stopped me in my tracks."
"I didn't even know I had these emotions," Brett remarked. "You don't even think about that stuff when you're in your early twenties. You're just like trying to take over the world, and you don't really pay attention to all those emotions. Well, I found those emotions in this song."
Sunday Drive, released in July, is Brett's first album in almost three years. After releasing his self-titled, personal fourth studio album, which included his hit single, "The Long Way," the singer found he needed to find out who he was, before he could share more music with his fans.
"I just wanted to take some time for myself," Brett told SiriusXM's Storme Warren. "I think it's so easy to –– you get your record deal, you sign up for this beautiful dream of yours, and then you run so much on the road, and you're gone for 250 days a year. You're on to the next thing, the next thing, the next thing, and you don't spend time on yourself. I got burned out a little bit. I needed to redirect and connect to myself."
Sunday Drive is available for purchase via BrettEldredge.com.
Photo Credit: Courtesy of Warner Music Nashville / Greg Noire