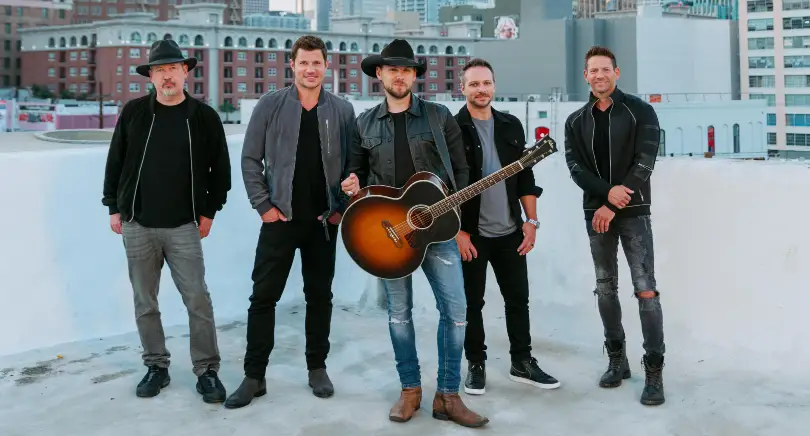 Brett Kissel has a new song out, this one featuring one of pop music's most iconic bands. The country singer just released "Ain't The Same," featuring 98 Degrees, the vocal group made up of brothers Nick and Drew Lachey, Jeff Timmons and Justin Jeffre.
"I'm very excited about it," Kissel tells Everything Nash. 'This song is so special, and the fact that 98 Degrees agreed to sing on 'Ain't The Same' is mind-boggling to me. It really is. I can't believe it. And apparently, they've been asked on a regular basis to do country music, and they've declined for a decade, but they always said, 'We're gonna wait for the right song.' They heard my song, 'Ain't The Same,' and they're like, 'This is the song we're gonna do.'"
Kissel's manager sent the song to Timmons, who played it for the rest of the group, with each of them agreeing "Ain't The Same" was the perfect song for them to do in country music.
"It was unreal," Kissel recalls. "Within like a day they got back, and they said, 'Yeah, we're gonna go into the studio in a couple of days. We're gonna put our vocals down.' That never happens, because you need a lawyer and a manager and a producer and an agent — everybody to sign off on this. And they were like, 'Yeah, we'll sort that out later. We just love the song, and we want to sing on it.' And I'm so grateful for that; what they added to the song took it to a whole new level."
98 Degrees did their vocals on "Ain't The Same" in Los Angeles, without KIssel in the room. But when the Canadian first met the members of 98 Degrees, he admits he was a bit starstruck to be in their presence.
"They really are incredible guys, and they're some of the nicest people I've ever met," Kissel says. "And it was interesting, when we filmed in LA, wherever Nick Lachey goes .. once you piece it all together, it's like, 'That's Nick Lachey! That's 98 Degrees. That's the band — who is this cowboy with them?' The paparazzi was there when we went to this location or that, and they were taking pictures and fans were just crazy about 98 Degrees."
Kissel hints that "Ain't The Same" is from a "massive" new project he is working on. Find all of his music at BrettKissel.com.
Photo Credit: Courtesy of AristoPR / Tristan Renaud