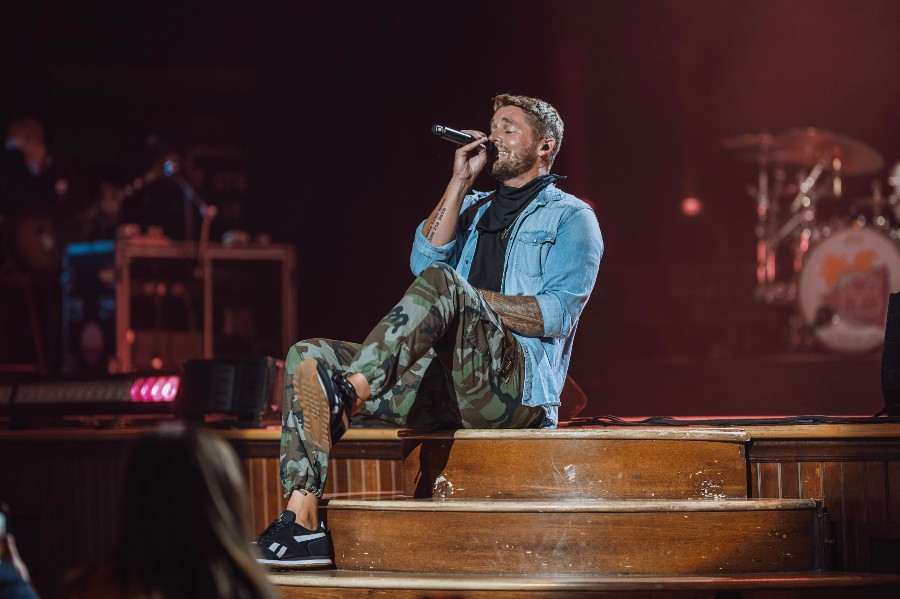 Brett Young's 2021 is shaping up to be pretty busy. The California native will release his third studio album, Weekends Look a Little Different These Days, and will kick off his The Weekends Tour in September, with Maddie & Tae and Filmore serving as his opening acts. Ryan Hurd and Matt Ferranti will also join Young on select dates.
"Announcing a headlining tour and preparing to release new music both in the same week truly feels like a dream and something I won't ever take for granted," Young says of his new tour. "It's emotional thinking about reuniting not only with my band and crew after so much time apart, but with the FANS! I can't wait to make up for lost time and finally get to perform these new ones we've been working on."
Young will undoubtedly play his latest No. 1 hit, "Lady," while on the road. The song was inspired by his wife, Taylor, when she was pregnant with their firstborn, daughter Presley, who was born in the fall of 2019.
"I played it for Dann Huff, and as a as a gift to us, as a baby gift, he wanted to record that song for us," Young shared with Everything Nash and other outlets during a virtual media event. "So that's how it even got recorded. Had that not happened, I don't know if we would have played it for enough people to realize how many people could relate, and how many people were really feeling connected to that song. So because Dann did that, and was so sweet to give us that song as a gift, we were able to share it with people and realize that it was probably something that people needed. It didn't feel right anymore to not release that song."
Young had originally planned on releasing more songs from his sophomore Ticket to L.A. record, but found himself unexpectedly at home in 2020, and unable to make music.
"It was perfect timing because the pandemic had just started," Young recalls. "Things had shut down and my second single off of the second record had just peaked. We needed a single; we weren't going to be getting in the studio and we didn't know how long that was going to be. We had this song that people were so excited about. So that was a God thing … It was just the perfect kick-off for my songwriting leading into the rest of that record. It was the happiest accident in the world, and it is one of my favorite songs I've ever written."
Young and Taylor are expecting their second child this summer. See The Weekends Tour dates below, and order Weekends Look a Little Different These Days at BrettYoungMusic.com.
Brett Young's The Weekends Tour Dates:
9/11/21 – Ft. Worth, TX – Billy Bob's Texas**
9/12/21 – Ft. Worth, TX – Billy Bob's Texas**
9/16/21 – Baltimore, MD – MECU Pavilion
9/17/21 – Lewiston, NY – Artpark Amphitheater
9/18/21 – Portland, ME – Thompson's Point
9/23/21 – Youngstown, OH – Youngstown Foundation Amphitheater***
9/24/21 – Richmond, VA – Virginia Credit Union LIVE!
9/25/21 – Raleigh, NC – Red Hat Amphitheater
10/1/21 – Saratoga, CA – The Mountain Winery
10/2/21 – San Luis Obispo, CA – Avila Beach Resort
10/3/21 – San Diego, CA – Cal Coast Credit Union Open Air Theatre
10/5/21 – Phoenix, AZ – Arizona Federal Theatre
10/7/21 – Salt Lake City, UT – The Union**
10/8/21 – Reno, NV – Grand Sierra Resort**
10/9/21 – Las Vegas, NV – Red Rock Casino Resort Spa**
10/10/21 – Bakersfield, CA – Mechanics Bank Theater "formerly Rabobank Theater"**
10/13/21 – Edmonton, AB- Northern Alberta Jubilee Auditorium**
10/14/21 – Edmonton, AB – Northern Alberta Jubilee Auditorium**
10/16/21 – Abbotsford, BC – Abbotsford Centre**
10/18/21 – Calgary, AB – Grey Eagle Event Centre**
10/28/21 – Milwaukee, WI- The Eagles Ballroom
10/29/21 – Cincinnati, OH – The Andrew J Brady ICON Music Center
10/30/21 – Grand Rapids, MI – DeltaPlex***
11/4/21 – Kansas City, MO – Arvest Bank Theatre at the Midland
11/5/21 – Cedar Rapids, IA – Alliant Energy PowerHouse
11/6/21 – Detroit, MI – Masonic Temple Theater
11/11/21 – Bethlehem, PA – Wind Creek Event Center
11/12/21 – Uncasville, CT – Mohegan Sun Arena
11/13/21 – Atlantic City, NJ – Ovation Hall in Ocean Casino Resort
11/18/21 – Columbia, SC – Township Auditorium**
11/19/21 – St. Augustine, FL – St. Augustine Amphitheatre
11/20/21 – Boca Raton, FL- Mizner Park Amphitheatre
12/3/21 – Oklahoma City, OK – The Criterion**
** Matt Ferranti Support
*** Ryan Hurd & Filmore Support