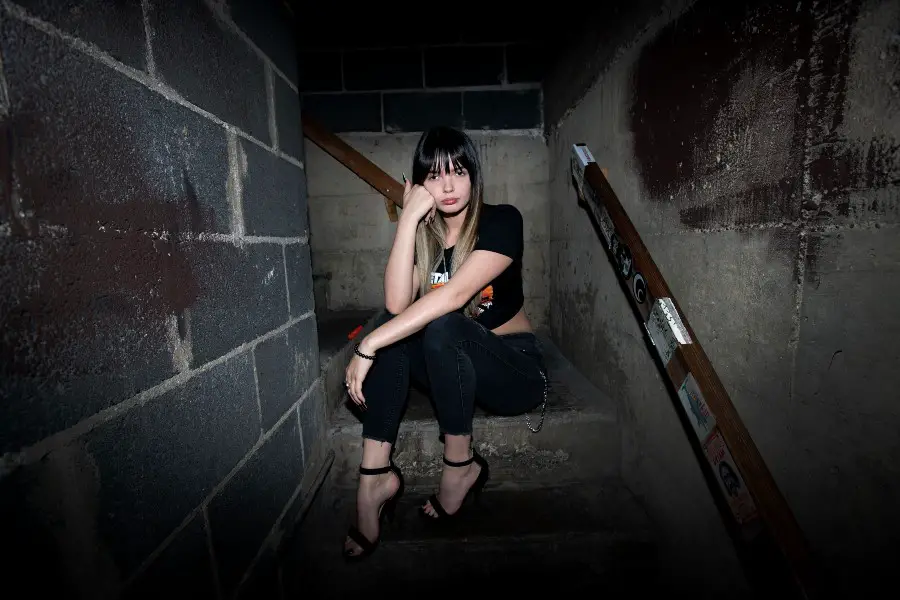 Brianna Harness has music in her blood — literally. The great-granddaughter of Waylon Jennings and Jessi Colter, Harness grew up knowing she was part of country music royalty. But that's not to say her childhood was charmed. The daughter of rapper and musician Struggle Jennings, Harness left home when she was just 15, after surviving dysfunction fueled by addiction. The highs and lows of her life are evident in her debut album, Welcome to My Nightmare, out now.
"More than anything my family taught me just to be me," Harness tells Everything Nash. "My family has all done their own thing and defied boundaries or 'norms' … I was just raised to do what feels good to me, not what I think someone else wants from me. They also showed me that it's possible, whether it's on an independent level or major scale, if you're doing what you love and paying the bills, what else matters?"
Harness has been open about the challenges she has faced as a result of addiction, unafraid to share what her own personal experience has been, with the hope of helping others in the process.
"It's a real problem," reflects the 21-year-old. "A lot of families never escape the cycle. We just lost another family member this month from an overdose, but we continue to do our best and stay on the path, so hopefully it'll inspire other loved ones to overcome that shi–. I watched drugs and money tear my family apart numerous times.
"My dad made the decision to break that cycle with us, so we stay strong as a unit and support each other through this crazy life," she continues. "But not all of our loved ones have made that choice, so we still deal with it. It's tough to watch, but also gives me so much to write about that will hopefully help the next person in their struggle."
Harness recently released "Am I Even Human," a song that was inspired by her family's journey.
"This song is really deeper than one explanation and you can kind of take what you want from it," Harness says. "Me and my dad wrote it thinking about everything we'd been through. From his angle, perspective and what he went through,the weight of his struggle — feeling like he was carrying more than one man should or could but somehow finding the strength to always endure and find a silver lining in the darkest places. It's also written from my perspective, feeling alone at times while going through traumatic situations as a child, teen and young adult, wondering why so much was happening to us yet both of us seeing hope and having faith in moments where a bright future wasn't in sight.
"Its about being honest with yourself," she adds, "and knowing that there's a greater power inside of you that at times doesn't even seem human like."
Struggle has had his own success as an artist, releasing numerous albums over the years, but he is determined to let his daughter make her own music, in her own way.
"He just lets me steer my ship," Harness boasts. "He, of course, gives me advice, guidance and tells me where he's messed up or succeeded, but then he sits back and lets me make my decision, and then sits there in case I fall. We write together and he produces the records with Scatt [producer Scattered Brains], but if I don't like where it's going, I'll change it or scratch it with no hard feelings. They give me creative control while teaching me what they've learned. We really have a good team and family that's really been through  llot and ready for whatever comes!"
Find Welcome to My Nightmare at BriannaHarness.com.