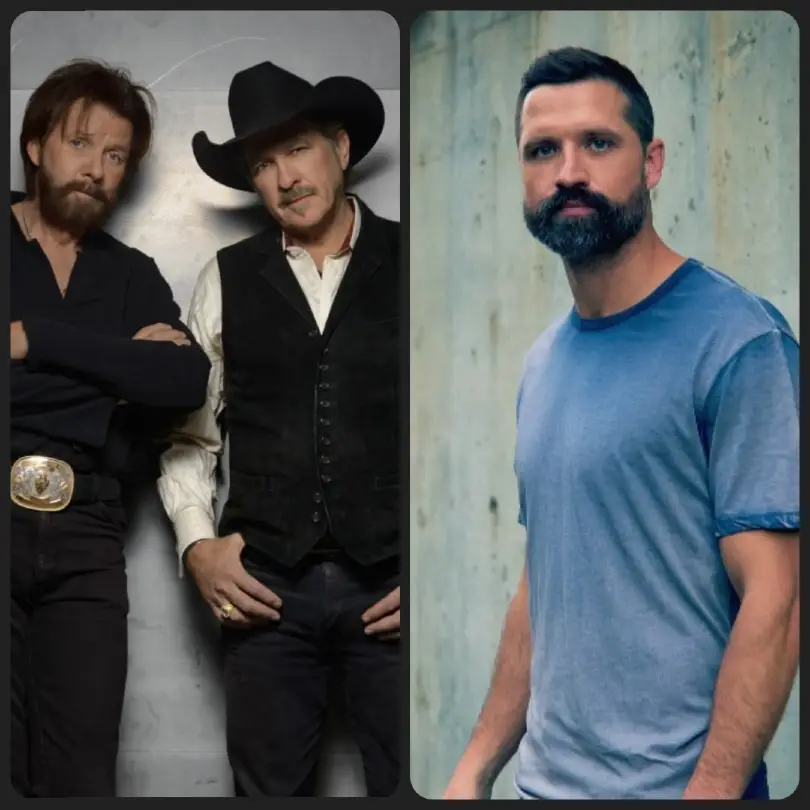 Brooks & Dunn kick off their REBOOT 2022 Tour in May, with an impressive list of opening acts, which includes  Walker Hayes. The award-winning duo, made up of Kix Brooks and Ronnie Dunn, had nothing but praise for the singer, especially after his recent success.
"He's got a big ol' hit," Brooks boasts (via Music Mayhem). "He's really got some depth as a songwriter. He's a real artist. ["Fancy Like"] is one of those songs that you hope it's not so novel that people are going to write him off for it eventually, once it gets done being his hit… He's been banging on it for a long time. The guy's really paid his dues so I hope he does good."
Hayes is one of several rising and established stars invited to join Brooks & Dunn on the road, including Gabby Barrett, Jon Pardi, Jordan Davis, Riley Green, Tenille Townes, Morgan Wade and more.
"Everybody that's going to be on this tour for a couple of nights here and three nights there, they're all legit," Dunn says. "Looking forward to seeing them on a big stage."
Brooks & Dunn previously hinted that their REBOOT 2022 Tour would be unlike anything they've done with any of their previous tours.
"I don't think we've done anything quite like this before, but we hired some really hot guns to come up with something," Brooks tells CMT. "Once we all got done with the huge sets, the simplicity of acts like ZZ Top that let the music just jam like it was supposed to, that's kind of how we approach this."
"It's a full stage," adds Dunn. "You won't be missing anything."
Brooks & Dunn have been together for more than 30 years, earning them the right — and the courage — to include Music City on their list of tour dates.
"Nashville used to scare us to death because everyone's got their opinion on what the act is about and all that stuff," Brooks concedes. "We're not really running scared like we used to. Not that we were afraid of it, but you're just nervous about playing here because the reviews the next day. I think right now we're just having so much fun on stage. And honestly, last year was a good run for us. I mean, I came off of that, and I think Ronnie probably did, too, going, 'Well, that was good."
See a list of all of Brooks & Dunn's REBOOT 2022 Tour below. Find more information at Brooks-Dunn.com.
REBOOT 2022 TOUR Official Dates:
5/5/22 Evansville, IN – w/ Jon Pardi, Tyler Booth
5/6/22 Grand Rapids, MI – w/ Jon Pardi, Tyler Booth
5/12/22 Brandon, MS – w/ Walker Hayes, Morgan Wade
5/13/22 Huntsville, AL – w/ Walker Hayes, Morgan Wade
5/14/22 Knoxville, TN – w/ Walker Hayes, Morgan Wade
5/20/22 Wichita, KS – w/ Jordan Davis, Jackson Dean
5/21/22 Tulsa, OK – w/ Riley Green, Jackson Dean
5/22/22 Springfield, MO – w/ Jordan Davis, Jackson Dean
6/3/22 Estero, FL – w/ Gabby Barrett, King Calaway
6/4/22 Jacksonville, FL – w/ Gabby Barrett, King Calaway
6/9/22 Lafayette, LA – w/ Jordan Davis, Dillon Carmichael
6/10/22 Bossier City, LA – w/ Jordan Davis, Dillon Carmichael
6/11/22 San Antonio, TX – w/ Jordan Davis, Dillon Carmichael
6/16/22 Savannah, GA – w/ Jordan Davis, Tyler Braden
6/17/22 Greenville, SC – w/ Jordan Davis, Tyler Braden
6/18/22 Nashville, TN – w/ TBD, Tyler Braden*
6/23/22 Charleston, WV – w/ TBD, Tenille Townes
6/24/22 Toledo, OH – w/ TBD, Tenille Townes
6/25/22 Detroit, MI – w/ TBD, Tenille Townes