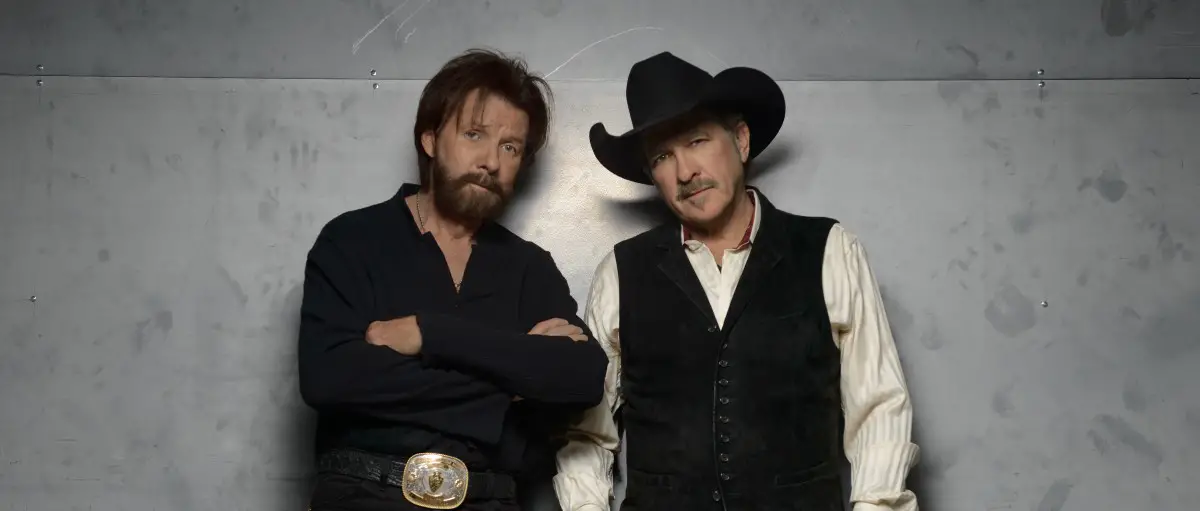 Brooks & Dunn are hitting the road again in 2022! The duo, made up of Kix Brooks and Ronnie Dunn, announce they will embark on their REBOOT 2022 Tour in May, with a varying list of opening acts, including Walker Hayes, Gabby Barrett, Jon Pardi, Jordan Davis, Riley Green and more.
"Last year we fired up the buses and 'let it roll' again," Brooks says. "Thanks for reminding us how you guys can shake every stage we walk on to…damn, it feels good to be back with ya! Bring it! We'll meet you there!"
"It is our full intent to step onto the stage each night and throw down like the wildest honky tonk you've never been to…yet," adds Dunn. "Don't be concerned about the mess left afterwards, y'all just enjoy yourselves and we'll worry about that later."
We are headed to a city near you! Officially announcing our REBOOT 2022 TOUR kicking off May 5th with friends @GabbyBarrett_, @JordanCWDavis, @RileyGreenMusic, @walkerhayes, @JonPardi and more. Tickets on sale March 4th at 10am. Get all the info here… https://t.co/pqwY4F0IFG pic.twitter.com/QNaJSK3eZn

— Brooks & Dunn (@BrooksAndDunn) February 28, 2022
Brooks & Dunn might be enjoying life together again, more than 12 years after they announced their split, but they are still working on their own projects as well. Dunn recently dropped his own single, "Broken Neon Hearts," from his upcoming new album, 100 Proof Neon, out this summer.
"It all comes from back in the '80s and '90s playing bars and clubs and trying to capture that vibe," Dunn tells People of the song. "Back then, in places like Texas and Oklahoma — if you didn't get the crowd up and dancing, then they didn't drink, and you didn't have a job after that."
Other artists joining Brooks & Dunn on their REBOOT 2022 Tour include Tenille Townes, Morgan Wade, King Calaway, Jackson Dean, Dillon Carmichael and Tyler Braden. Most tickets will go on sale beginning at 10:00 AM local time on Friday, March 4. See a complete list of dates below. Find more information at Brooks-Dunn.com.
REBOOT 2022 TOUR Official Dates:
5/5/22 Evansville, IN – w/ Jon Pardi, Tyler Booth
5/6/22 Grand Rapids, MI – w/ Jon Pardi, Tyler Booth
5/12/22 Brandon, MS – w/ Walker Hayes, Morgan Wade
5/13/22 Huntsville, AL – w/ Walker Hayes, Morgan Wade
5/14/22 Knoxville, TN – w/ Walker Hayes, Morgan Wade
5/20/22 Wichita, KS – w/ Jordan Davis, Jackson Dean
5/21/22 Tulsa, OK – w/ Riley Green, Jackson Dean
5/22/22 Springfield, MO – w/ Jordan Davis, Jackson Dean
6/3/22 Estero, FL – w/ Gabby Barrett, King Calaway
6/4/22 Jacksonville, FL – w/ Gabby Barrett, King Calaway
6/9/22 Lafayette, LA – w/ Jordan Davis, Dillon Carmichael
6/10/22 Bossier City, LA – w/ Jordan Davis, Dillon Carmichael
6/11/22 San Antonio, TX – w/ Jordan Davis, Dillon Carmichael
6/16/22 Savannah, GA – w/ Jordan Davis, Tyler Braden
6/17/22 Greenville, SC – w/ Jordan Davis, Tyler Braden
6/18/22 Nashville, TN – w/ TBD, Tyler Braden*
6/23/22 Charleston, WV – w/ TBD, Tenille Townes
6/24/22 Toledo, OH – w/ TBD, Tenille Townes
6/25/22 Detroit, MI – w/ TBD, Tenille Townes
*On Sale date is March 18