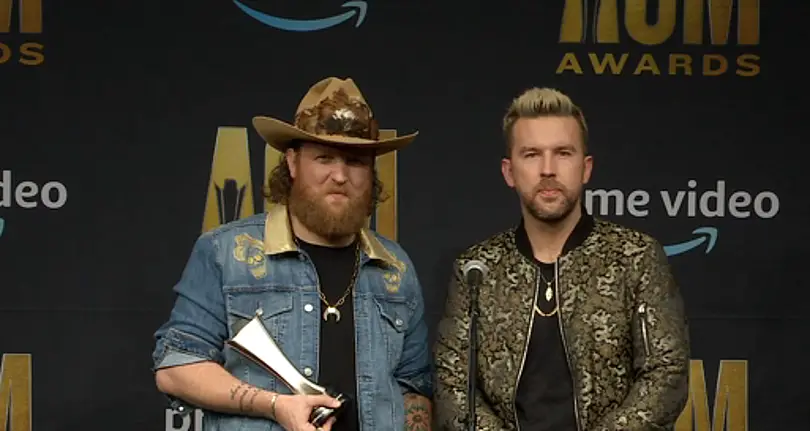 Brothers Osborne are the reigning ACM Duo of the Year, but that doesn't mean everything has been going well for them. The sibling act, made up of brothers John and TJ Osborne, admitted in a press room after the show that they are frustrated that their latest single, "I'm Not For Everyone," was inexplicably pulled from radio while in the Top 40.
"Some people in radio have been really great to us. Not entirely, and that's okay," John shared after their win. "We kind of keep pushing and trying to persevere. What has kept us going for the past eight years are these [awards]. It has kept wind in our sails, not only what it does in terms of the fanbase and the notoriety, but what it does for us as people who keep fighting what we feel like is an uphill battle even when we do win … It's a lot bigger than I think people know. These things really do keep you going."
Brothers Osborne also shared in their acceptance speech for Duo of the Year that their single had been pulled from radio, a surprising — but honest — admission about the fight Brothers Osborne has had since the beginning of their career.
"I mentioned this recently in an article, just with us feeling like we're underdogs the whole time," TJ concedes. "And that's part of it, is that we don't get necessarily a lot of the love that some of the other artists do on radio. I'm not necessarily criticizing anyone specifically for that, but it's just a fact, and to be there tonight, I guess some people were upset that I said that.  I said a true statement. Our single literally got pulled last week and we just won an award. If you're upset about that, maybe you're part of the problem."
While Brothers Osborne might, rightfully, feel frustrated by their lack of radio support, TJ insists they are happy with their career, and their place in country music.
"Ultimately, what do we want in this life? It's just to be loved," TJ reflected. "We have that, so at the end of the day, everything else is really just kind of a cherry on top. I think it gives us a lot of comfort, just being ourselves and doing things that may be artistically on the edge. Because at the end of the day, and it sounds really cheesy, but we really do have all we need or want, and will ever want. There's really not much to lose at that point. it's really just about trying to make a difference, in whatever that looks like. So I think that is truly the biggest thing."
Brothers Osborne's latest album, Skeletons, was released in 2020. Their previous single from the record, "All Night," landed in the Top 5.