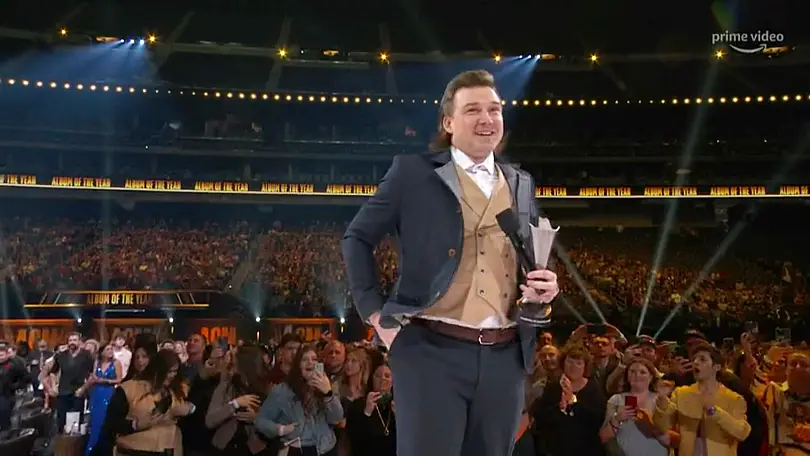 It appears all is forgiven for Morgan Wallen. The singer, who was banned from awards shows, radio and streaming platforms a little more than a year ago, after he was caught on video  uttering a racial slur, won the ACM Award for Album of the Year, for his 30-track Dangerous: The Double Album The record was released last January shortly before the controversy.
The irony of his rapid full-circle return isn't lost on Wallen, who expressed his gratitude when accepting his trophy.
"When I started this album, I was a kid. By the time I put it out, I was a father," Wallen said, referring to his 20-month-old son, Indigo Wilder. "That's become more important to me than anything else. To my son, this album and this award will signify that his daddy was a fighter, and he chased his dreams and worked hard to make them a reality."
"I want to say a special thank you to all of the songwriters, producers, and musicians that played on this album," Wallen continued. "I wish you were standing here next to me now. This project would not be complete without each of them. I'd also like to thank my good Lord and Savior Jesus Christ, my family, my close friends, my band, and my team in Nashville, country radio, and everyone who has shown me grace along the way. Most importantly, I have to address my fans personally and directly: thank you, thank you, thank you!"
After the video surfaced, which Wallen later admitted occurred when he was "on hour 72 of a 72-hour bender," he admits he thought his days as a country music singer might have reached a premature end, due to his choices.
"I thought there was a possibility it was over," Wallen conceded to Good Morning America. "I had to get out of my house really fast because my house was in the video. I went to, one of my friends has a house out in the middle of nowhere. I got a lot of threats. My family got a lot of threats, I was just sitting in that house, trying to figure out what it is I'm supposed to do."
While Wallen apologized, more than once, for the racial slur, he falls short of saying racial prejudices still exist in country music.
"I haven't really sat and thought about that," Wallen said when asked if country music had a race problem. "But I think that if you're talented, and you have good music, and you perform well and you have a product, then it shouldn't matter what color you are."
Wallen recently had a No. 1 hit with "Sand In My Boots" from Dangerous: The Double Album. He is currently on his The Dangerous Tour. Find music and tour dates at MorganWallen.com.