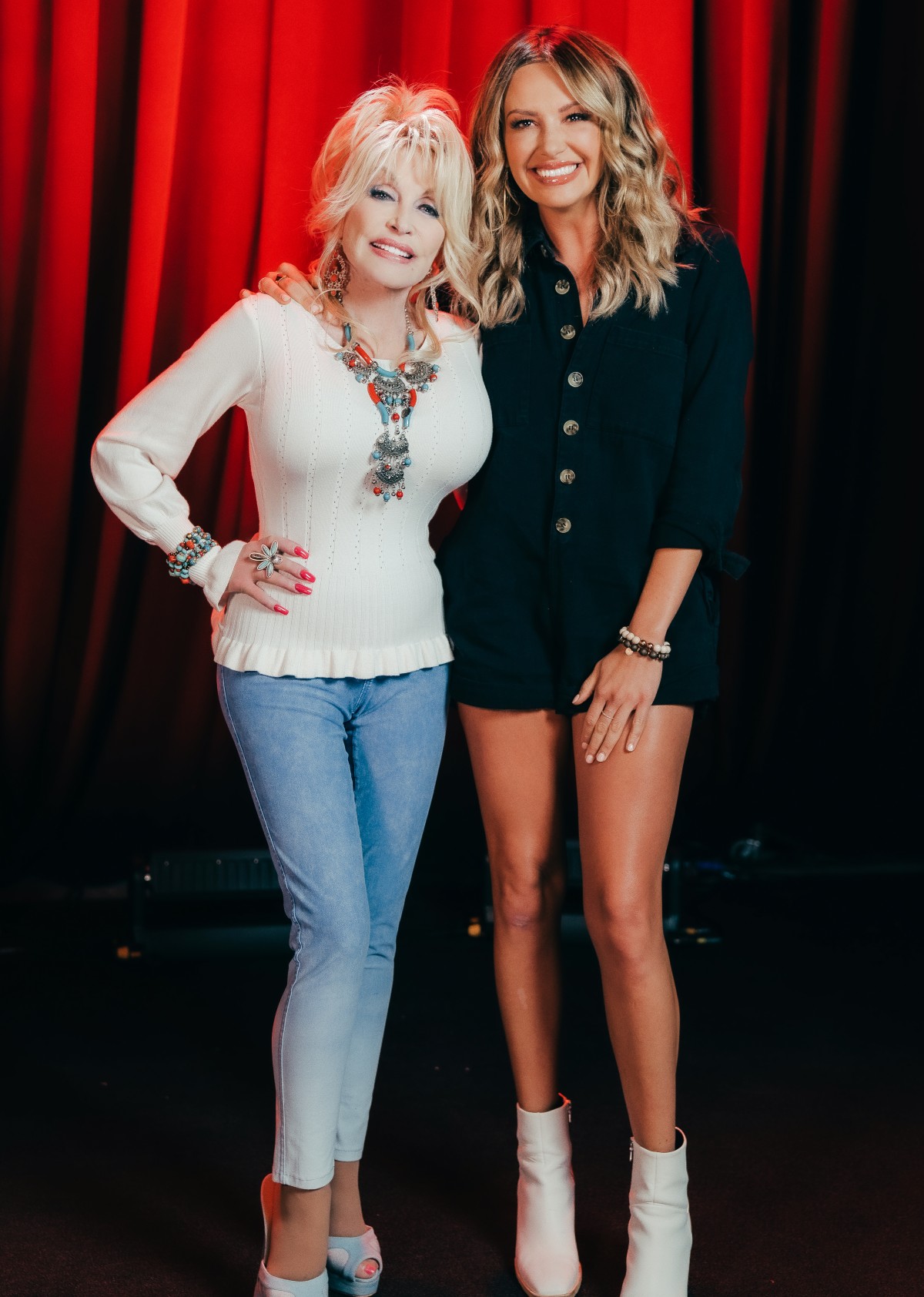 Carly Pearce had one of her biggest dreams fulfilled last week, when she was invited to become a member of the Grand Ole Opry, by none other than  Dolly Parton. Pearce was tricked into thinking she was doing a Dollywood commercial, when in fact she was about to achieve a country music first.
"I thought I was doing a Dollywood commercial," Pearce shared with Everything Nash and other outlets at a virtual media event. "They told me that Dolly wanted me to be a part of the new campaign that she was launching, and I was like, 'Yes, please.' I heard her high heels coming down the hall, and I freaked out. Even when I saw her, I thought, 'Oh my gosh, she's going to do this commercial with me. This is so awesome that we get to do this together. Surprise. Love it.' And then, she used the O-word. And I was like, 'Excuse me. Why are you asking me about the Opry?' And then she used it again. And then she used the O-word with, 'You should be a member.' And I was like, 'Dolly, if you're not about …' My mind was like, 'If you're not about to say what I think you are going to say, I don't know what I'm going to do to you.'
"And when she said it, I fell to my knees, and the reason that they had to edit so much of it is because I was hysterical," Pearce continues. "My favorite part of the whole thing is, I dropped to my knees, and she goes, 'Well you can't do it sitting down,' or, 'You can't do it from down there.' I was like, 'Oh no, Dolly told me I gotta get up. I gotta get up.' I tried to compose  myself, but in true Dolly fashion, she's like, 'Get your butt up.' And she kind of hit me on the back, which is hilarious. Everybody's like, 'Dolly kind of hit you hard.'"
Dreams come true… sometimes even better than you dare to dream ♥️ I couldn't be more happy or honored the be the newest member of the @opry 🥲 https://t.co/HOjuD7WALe

— Carly Pearce (@carlypearce) June 23, 2021
Hitting aside, the Kentucky native is still coming to terms that her childhood idol is the one who issued the prestigious invitation.
"It was the most amazing — she to me is just the epitome of class, and the epitome of a country music queen," Pearce says." And the fact that she took time — she's never asked somebody to be a member or invited them in her 50 years of being a member, so that makes it even more special, that she did that for me."
The invitation to join the Grand Ole Opry came the same week she received her two ACM Awards, for Single of the Year and Music Event of the Year, both for her Lee Brice duet, "I Hope You're Happy Now." The events are each a poignant and powerful reminder to Pearce that her hard work really is paying off.
"I think it's just 31 years of dreams that I really have had since I was a little girl coming true," Pearce reflects. "All I ever wanted to do was have a seat at the country music table, and the fact that I am seeing that I have one, and I know that sounds funny, because I've been doing this for a few years now, but it still just feels, 'Wait a minute. Is this real? Is this real?' And I feel like these two moments are just really, really special to my heart."