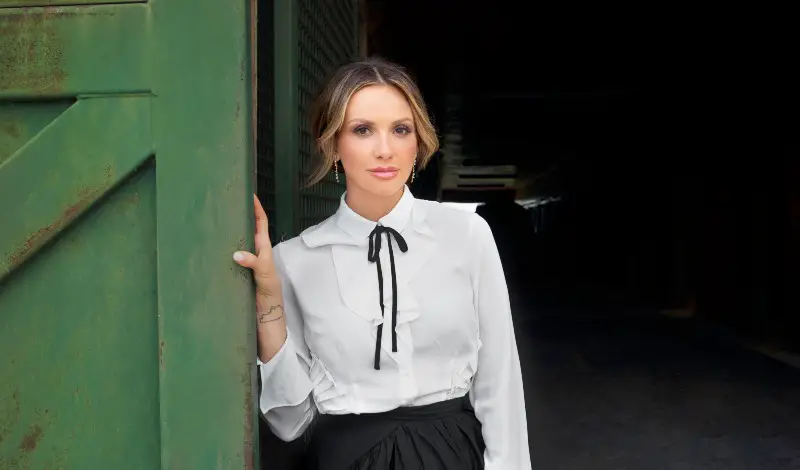 Carly Pearce earned one of the biggest validations of her career, when 29 became the only EP, and the only record by a female artist, to be nominated for a CMA Award for Album of the Year. The irony isn't lost on Pearce that the industry accolade came at a time when Pearce let her guard all the way down, writing directly from her heart in a way that she never had before.
"All I could do was write my way through it," Pearce says of writing all seven songs on 29 (via her record label). "Sometimes when you don't know what to do, you reach for a guitar and you go into your heart. Not only did I find my truth, but I think I returned to my roots. When you're chasing a dream, you chase what works; when you chase your essence, you find out who you are."
It was that mindset that propelled Pearce to keep telling her story, with the upcoming 29: Written in Stone, out on Friday, September 17.
"I think that's why 29: Written in Stone needed to be written: for all the other people going through it, the rest of the story is how you will survive," Pearce explains. "You'll emerge not just stronger, but brighter and more hopeful. But you can't know that on 'Day One,' which is why that song exists."
If the hardships of 2020 had not happened, likely neither would 29. Faced with a marriage that ended less than a year after it began, the loss of her producer Busbee, and her inability to perform in front of her fans, Pearce's only consolation was pen and paper.
"When we started working on 29, I was trying to write my way through some of the greatest sadness and biggest disappointments of my life," Pearce reflects. "I was writing to save my heart without even knowing it. My champion and longtime producer Busbee had died; my marriage was over; my world was completely upended."
Fortuitously, it was in that writing she found healing, in a way she never could have predicted. Hoping only to share her heart, the idea that 29 would ultimately be honored with a nomination for a CMA Award nod for Album of the Year is a recognition that Pearce is still trying to comprehend.
"When I started writing, it was both to understand what was happening, and to go to the one thing that has never let me down: music," says the Grand Ole Opry member. "But in that, I found not only a kind of salvation, but a very clear sense of the woman and the artist I truly am. From the pain, the scraping away everything but the essence of who I really am, 29 emerged. To see it recognized like this, it blows me away. To be the only woman in the category, well, that speaks to the hunger people have for real life… even when it's the tough stuff."
Pearce got just a hint of how well country music was going to embrace her last year, when she earned a CMA Award nomination for "I Hope You're Happy Now," her collaboration with Lee Brice. Although the trophy went to Maren Morris, for "The Bones," just seeing her song nominated was the hearty embrace Pearce needed. This year, Pearce also received a CMA Award nomination for Female Vocalist of the Year, even more validation that she has found her place in country music.
"Last year when I saw my name on the card for Song of the Year, I thought my heart was going to explode," Pearce recalls. "This year, it was even more intense. So many of the women I've loved – Patty Loveless, Dolly Parton, Trisha Yearwood, Alison Krauss, Faith Hill, Lee Ann Womack, Barbara Mandrell, Emmylou Harris, Loretta Lynn – have won Female Vocalist. To be in their company was a dream in some of my lowest moments. To be back here this year with so many incredible peers and vocalists makes me feel like people can hear the truth I try to carry in my voice."
The 2021 CMA Awards will air live on November 10 at 8:00 PM ET on ABC. Pre-order 29: Written in Stone here.
Want to watch more exclusive interview? Click here to subscribe to our YouTube channel.