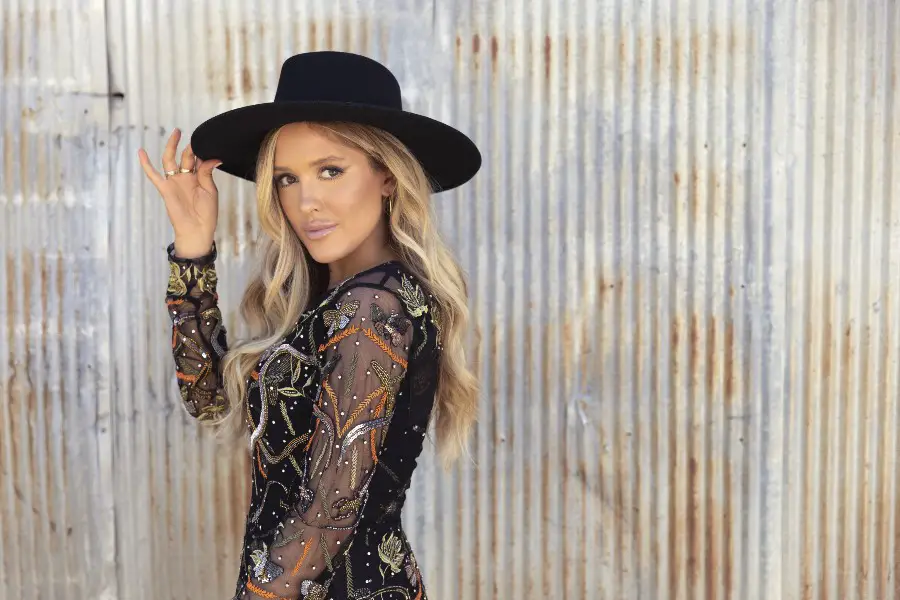 Laci Kaye Booth earned millions of fans by appearing on Season 17 of American Idol in 2019, landing in the Top 5. After appearing on the reality TV talent show, Booth left her home in Texas and moved to Nashville, honing her craft as a singer, songwriter and performer. The result is her triumphant eight-track eponymous debut album, out now.
Far from the typical debut of rising stars, Booth teamed up with hit songwriters like Sam Ellis, Jessie Jo Dillon, Nathan Chapman, James Slater, Jimmy Robbins and more to write all of the songs on her freshman project.
"I didn't expect it to happen with me when I first moved to town," Booth tells Everything Nash of collaborating with such an impressive roster of co-writers. "I had only ever written by myself; I had never co-written with anybody. And so moving to town was a big game changer when I started getting in writing rooms. Red Light, my management team, was so good to me when I first moved to town. My second write I think was with Nathan Chapman and Emily Landis. I just walked in and his Grammys were sitting on the piano, and I'm like, 'Oh my God.' It was like a pinch me thing."
Lady A's Charles Kelley also appears on the record, on "Broken Heart Still Beats," both writing the song with her (along with Paul DiGiovanni and Adam Hambrick) and singing on the track as well.
"When I was in the room with him, I couldn't believe it. I didn't realize how tall he was in person," Booth recounts with a laugh. "Growing up, I always listened to Lady A. I got to go to their concert when I was a senior in high school. I got to see them at the Houston Livestock Rodeo; I sat in the nosebleeds and just watched, and was so inspired. Fast forward to last year, sitting across the room from him and getting to write a song with him was just absolutely … I don't even have a word for it. He just brings so much spunk and fire into writing rooms, and his mind, it just goes constantly. He's so creative."
It was while they were writing "Broken Heart Still Beats" that Booth had the idea to ask Kelley to join her in singing on the track as well.
"When we were writing it, I thought we were just writing it for me," Booth recalls. "And then, he would harmonize, when we were demoing it, I was like, 'Can you please do that in the actual recording, and turn up your vocal?' He was like, 'Yes, of course.'"
Booth just released "Shuffle" from the record as her single. Written by Booth, Ellis and Derrick Southerland, the song was inspired by Booth's heritage, and specifically her grandparents, which is where her love of music was instilled.
"I was trying to think about what we could write about that day, and for some reason, my grandma popped into my head," Booth shares. "I don't know if it was the song that played, or she just popped into my head. We used to always sing karaoke on the back porch at our family get-togethers, just about every weekend. She would always sing 'Stand By Your Man,' by Tammy Wynette, and she would dedicate it to my grandpa. She'd be like, 'Frank, this one's for you.' He was really wild back in the day, and that was truly her song to him, 'cause she stood by him through a lot. He's the most perfect father and grandfather now."
Booth was reflecting on that relationship, realizing she felt like she was somewhere between "Goodbye Earl and "Stand By Your Man," but hesitated to say it out loud.
"I didn't want them thinking. I was some man-hater, thinking I wanna kill somebody in a song," Booth concedes.. "I didn't say 'Goodbye Earl.' I left that as a blank space. Derek pretty much filled in the line and said, 'Goodbye Earl.' He read my mind. I didn't even have to say it. So that's how it came together. They were like, 'Let's do one of those song title songs.' And I was like, 'Yeah, I love that. But I think it'd be even cooler to do all female songs that I grew up on.' So that's what we did and it's my own women of country song."
Purchase Laci Kaye Booth here.
Photo Credit: Courtesy of BMLG / Robby Klein