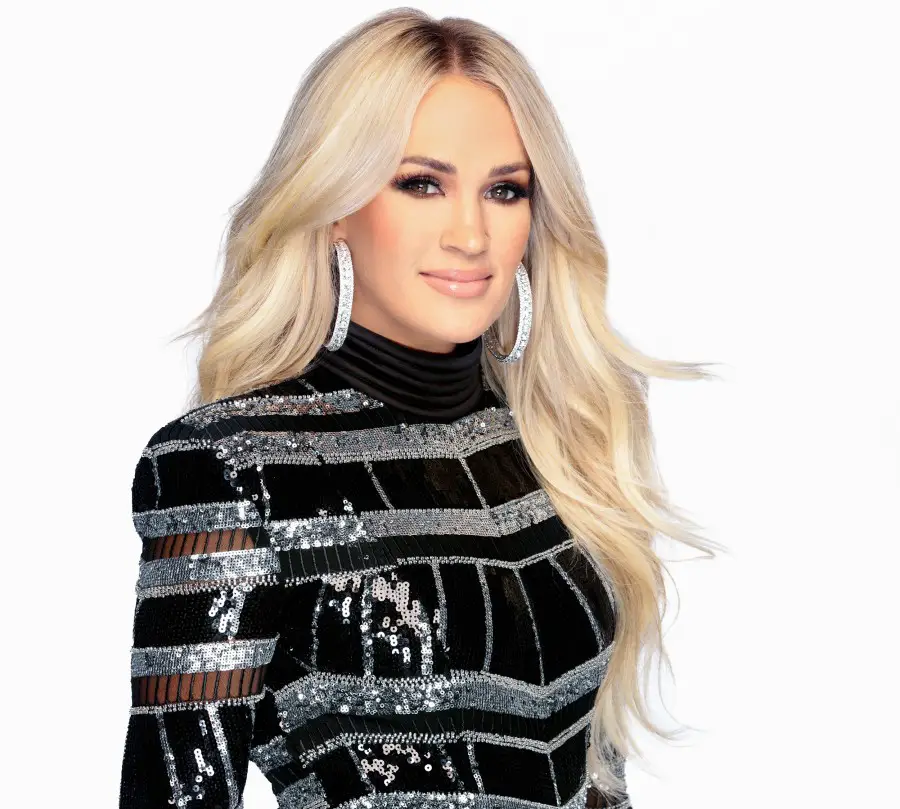 Happy birthday, Carrie Underwood! The singer turns 39 on March 10. To celebrate, we found 11 things to know about one of country music's biggest superstars.
1. She has a degree in Mass Communication.
Underwood went to Northeastern State University, in Tahlequah, Oklahoma, graduating magna cum laude with a degree in Mass Communication, and an emphasis in Journalism. Underwood graduated from college on May 6, 2006, one year after winning American Idol. Underwood was three credits shy of graduating when she competed on Idol, but thanks to so much time on a TV show, the college granted her the final three credits.
2. She gave up red meat when she was a teenager.
Underwood first gave up beef when she was 13, after realizing the cows that her family raised were being slaughtered and used as meat.
"I never made the connection until one day my parents were working out in the pasture … and they were banding calves," Underwood said (via Taste of Country). "I was horrified and sad, and I just couldn't believe that this was happening in our pasture. Right there! These adorable baby little calves jumping around, playing around. They would be on someone's plate someday!"
It wasn't until she was on American Idol that she gave up other kinds of meat as well, and now eats a mostly vegan diet, although she will occasionally have eggs.
3. She almost had a record deal when she was 14.
When Underwood was 14, she earned a coveted audition with Capitol Records, traveling with her family to Nashville to sing for label executives. The deal almost went through, but ultimately stalled due to personnel changes within the company at the time.
"I honestly think it's a lot better that nothing came out of it now, because I wouldn't have been ready then," she later said (via PopCulture.com). "Everything has a way of working out."
4. She loves to be organized.
Underwood loves to have everything in its place, and has started sharing her tips with others as well.
"You feel so much lighter afterwards,' Underwood said on The Drew Barrymore Show. "When you purge, and all the things that you need are right in front of you, you can breathe. You just feel better."
5. She turned down having access to a private jet after winning American Idol.
As part of her Idol prize package, she won a new car, a recording contract, and access to a private jet. But she would have needed to pay taxes on the cost of having her own plane, so she politely declined.
"Even when you're on a show like that it's not like I had money all of a sudden, and a lot of times when someone gives you a gift of that magnitude you have to pay taxes on it," Underwood told The Guardian. "I didn't have the money to pay taxes on a jet, so I was like, 'I'm good, thanks.'"
6. She was romantically linked actor to Chace Crawford and football player Tony Romo.
Underwood married professional hockey player Mike Fisher in 2010, although he wasn't her first boyfriend. Underwood briefly dated Gossip Girl star, Chace Crawford, revealing that they broke up via text.
"It was completely mutual," Underwood recalled (via People). "We broke up over text so … it's like 'Peace out.'
Underwood also dated Dallas Cowboys quarterback, Tony Romo, even attending a few events together, but she insists they were never serious.
"At one point it seemed like that's where it was headed, but point blank, he is about football," she told Entertainment Weekly at the time. "I don't know if it's that I'm not quite his type or whatever, but I don't think he's at the point in his life where he would be willing to sacrifice football. He hated so much that people thought that he was paying more attention to me and that was causing him to not do well." "
7. She refuses to watch animal movies.
Underwood loves animals. A lot. Which is why she refuses to watch animal movies, even those with a happy ending.
"I can't watch animal movies," Underwood told Esquire. "I watched Beverly Hills Chihuahua and sobbed, because of all the dogfighting stuff they had in there. This little Chihuahua gets stuck in a Mexican dogfighting ring, and it's supposed to be funny, but oh no, it's not. Because I know that stuff is true.
8. She met her husband Mike Fisher at one of her shows.
Underwood met her now-husband backstage at one of her shows, but he wasn't just a fan. Underwood's bass player, Mark Childers, wanted Fisher to meet Underwood, but since she wasn't a fan of blind dates, she suggested they meet at one of her shows. Fortunately, sparks flew, and although their busy careers kept them from getting together in person again for three months, they talked on the phone and went on their first real date on New Year's Eve — which happens to be when they had their first kiss.
"Our first kiss was when the ball dropped," Underwood said (via Country Living). "We were in front of people, and he's not a big PDA guy … I figured, I'll go in for it because he can't leave me hanging, right? So I made him kiss me in public."
9. She started the Checotah Animal, Town, and School Foundation in 2009.
Underwood started the C.A.T.S. Foundation as a way to give back to her hometown by supporting causes that are important to her, including providing technology and musical instruments to schools, as well as helping animals, through adoption, spaying and neutering and more.
"My hometown is extremely supportive of me and I feel blessed to be able to create something as a way of giving back; to say thank you," Underwood said of the charity.
10. She loves other styles of music, but vows to stay a country artist.
Underwood is a fan of all styles of music — even citing Queen and George Michael among her influences — but vows to stay in country music. Although some of her songs have been hits on the pop charts as well, like "Cowboy Casanova" and "Before He Cheats," Underwood insists she will never be in any other style of music besides country.
"I've worked with Max Martin … it's nice to branch out," she told The Guardian. "You always want to grow as an artist and you don't want to make the same album again. I would never intentionally do anything that might leave country music. I love where I'm at. You do want to experiment. I write with random writers sometimes. I've worked with Ryan Tedder, I've worked with people who've worked with hardcore rap artists. You just never know what you're going to find."
11. She became a member of the Grand Ole Opry when she was just 26 years old.
Underwood was only 26 years old when she was invited to become a member of the Grand Ole Opry, making her the youngest member at the time. She was invited to join by Randy Travis in 2008, and was inducted by fellow Oklahoma member, Garth Brooks.
"The induction award they gave me says, 'Hey, you're a part of the family,'" Underwood said (via Opry.com). "It means a lot to me because it's the heart of country music, the church, the sacred place, the super-elite club that says you love this music."
In 2019, Kelsea Ballerini was also 26 years old when she was inducted into the Grand Ole Opry, by Underwood.