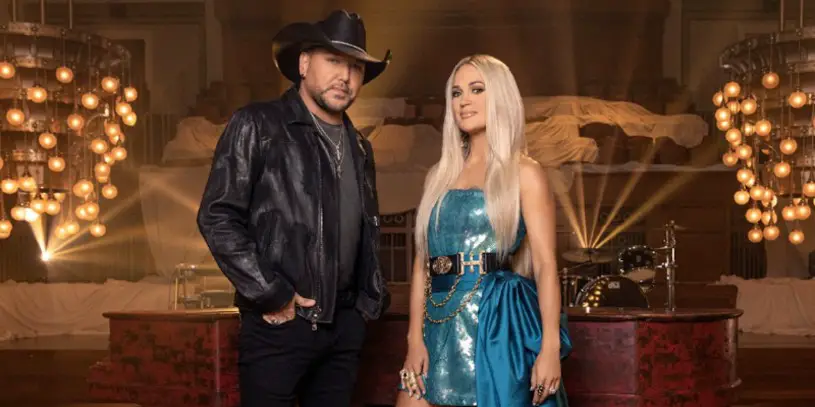 Jason Aldean and Carrie Underwood seem poised to have a No. 1 hit with their current duet, "If I Didn't Love You." The song, from Aldean's upcoming Macon, Georgia album, is one that had been in the works for some time, while both superstars waited for the right song to sing together.
"Jason asked if I would sing 'If I Didn't Love You' with him," Underwood recalls to her record label. "I knew I liked the song, and Jason and I have actually been kind of trying to do things together over the years. We've sung together before, but we've never officially recorded anything together. It just kind of felt like this could be our moment. I felt like it was a little bit of an unexpected duet to other people, but I feel like I always knew at some point, I'd probably sing with him officially, and this just seemed like the stars were aligning, and it just seemed like it was going to be the perfect fit."
"If I Didn't Love You" was written by Aldean's band members, Kurt Allison and Tully Kennedy, along with John Morgan and Lydia Vaughn. Aldean knew as soon as he heard it that it would be perfect for him to sing with Underwood, working hard to make sure Underwood's part was as easy and seamless as possible.
"When Jason and I recorded 'If I Didn't Love You,' he had actually done a little bit of the groundwork on his own, just to save some time," Underwood recalls. "Then he came to the studio when I was putting in my part, and then he went back and added a little bit more onto it. So, there was a little bit of recording separately and some recording together, and I feel that's the best way to do it. You have to see what the other person's bringing. It's a little intimidating when you get into the studio with another artist, so for you to have your individual time and your together time, I feel like is the best way to do it.
"But it definitely added to the vibe of everything, to have him there when I was recording my stuff," she adds. "We were able to bounce things off of each other and get feedback in real-time, which is really cool."
Aldean previously praised Underwood for her contribution to the powerful ballad.
"We had a short list of people to send it to, and Carrie was at the top of that list," Aldean recalls to  iHeartCountry. "We reached out to her. A lot of times, you never know what other artists have going on at the time. They may not have a window to release a song like this. Luckily for us, Carrie had a window. She liked the song…. When she came in and put her vocal on the song, it took it to a new level, and turned it into this big, huge, power ballad. It was something that we definitely needed for the record too."
Macon, the first part of the ambitious Macon, Georgia project, will be released on November 12. Pre-order the record here.