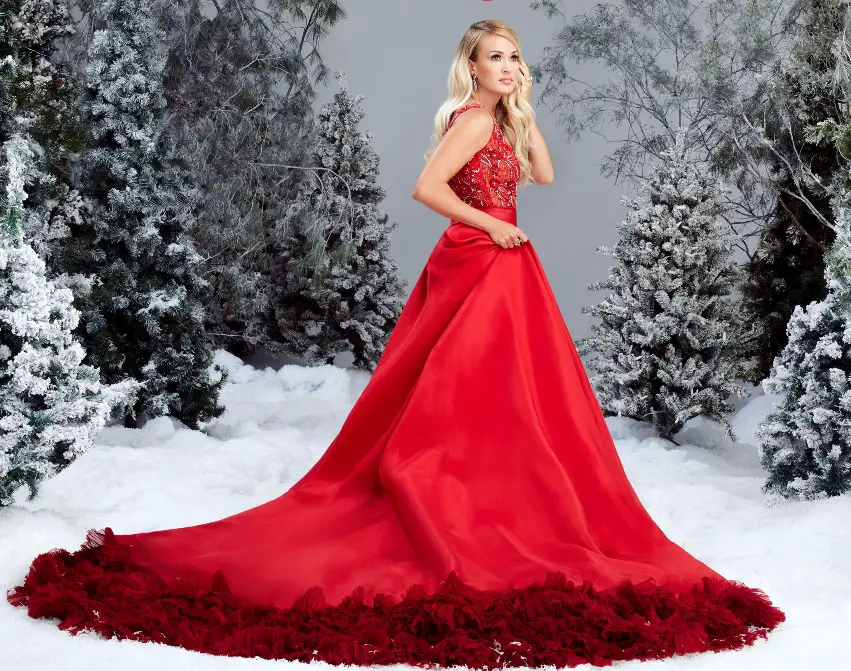 Carrie Underwood is heading to New York City — or at least her music is. The Oklahoma native will have "Hallelujah," her duet with John Legend from her My Gift Christmas album, as part of the Empire State Building's Christmas Music-to-Light Show. The show will premiere on Saturday, December 19, and will be synced live each night at 8:00 PM through Christmas Day to a broadcast of the song on iHeartRadio's Z100 and LiteFM.
"I'm honored to be able to join the Empire State Building for this wonderful tradition," Carrie said in a statement. "More than ever, it's a time to embrace the hopefulness and joy of the holiday season and to share that magic with people around the globe."
Carrie was almost finished recording My Gift when John sent her "Hallelujah."
"I was deep into making the album, and this one came in. He sent it to us kind of at the end," the singer remembers during a recent episode of Today's Country Radio With Kelleigh Bannen on Apple Music Country. "It was like, 'Well, I love the song. I feel like this is a puzzle piece I didn't know was missing, but now that I've heard it, I have to have it,. And so we just put the ask back, 'Thank you for sending. Do you want to sing a part with me, too?'"
In addition to her 11-track My Gift record, the American Idol alum just shared a new song, "Favorite Time of Year," exclusively with Amazon Music. The song, which was written by Carrie, along with Hillary Lindsey, and Chris DeStefano, will also appear as a bonus track on the Amazon version of My Gift.
"'Favorite Time of Year' is a joyful, super happy and fun Christmas song because it is about all of the things that make you happy this time of year, and it puts you in the mood to celebrate," Carrie shared. "I can't help but smile when I sing it, it just brightens my day and I'm thrilled to share it today only on Amazon Music."
In addition to appearing on Amazon Music, "Favorite Time of Year" will also be part of Ring's brand-new Doorbell Season holiday campaign airing across national TV and online.
The Empire State Building's Music-to-Light Show can also be viewed online, as well as on the Empire State Building's YouTube channel, both beginning on December 19. Find "Favorite Time of Year" on Amazon Music.