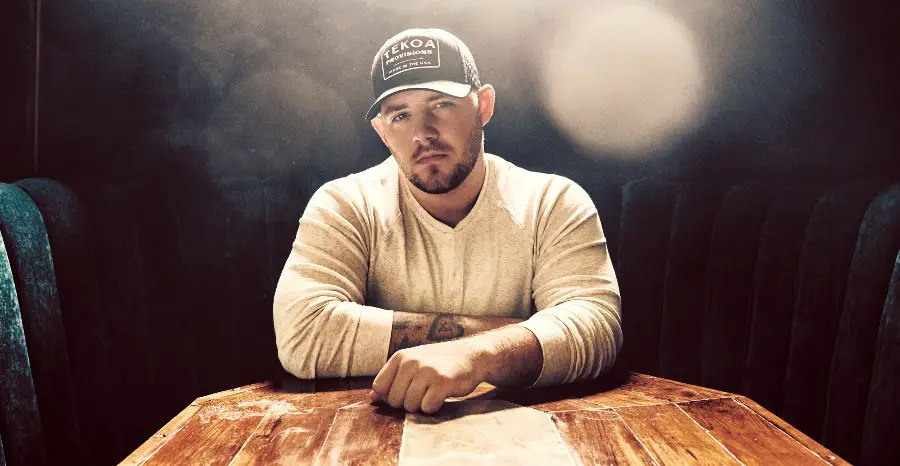 If country music had a missing link, it might have just been found with Kameron Marlowe. The North Carolina native released his self-titled debut EP on Friday, November 13, covering an impressive variety of styles and emotions in six well-crafted songs.
"I really wanted to make this one special to me," Kameron told Everything Nash. "This is my going from Kannapolis, North Carolina to Nashville project. This is my very first thing. This is all music that I wrote, up to getting a record deal. I couldn't be more excited about how it turned out."
Releasing music is a long, long way from his former life, selling car parts. The rising star dropped out of college to get a job to help support his family, after his mother injured her back, before ultimately pursuing music full-time. Not only did Kameron work on his singing, but he also honed his craft as a songwriter, writing or co-writing four of the six songs on his record, which also includes hit songwriters like Kyle Jacobs, J.T. Harding, Marv Green and more.
"The songs I think turned out pretty good," Kameron boasted. "All the writers that are on the songs are some of my best friends and some of my closest buddies. I'm just very happy to have this music out now, coming from somebody that was selling car parts to being able to do this. It's really cool to be able to have a project released on Sony Nashville."
Kameron might have never even moved away from his hometown if he hadn't been discovered by someone from The Voice, who found some of his live videos on YouTube, and invited him to audition. Kameron did, performing Luke Combs' "One Number Away," first landing on Blake Shelton's team, before  ending up with Adam Levine. Kameron made it to the Top 24 before being eliminated, although he insists the timing was perfect.
"I was just doing The Voice because I love music and I just loved to sing," Kameron conceded. "I didn't really know who I was as an artist when I was on The Voice. My time of artistry came after The Voice. When I was on The Voice, everything kind of switched for me, because I met all the songwriters that were there, and a lot of them were from Nashville. That's the reason why I started coming to Nashville, just to hang out with them, and meet people and then start writing with them. It's crazy how everything just kind of lined up for me, moving to Nashville and meeting the people I have."
"I honestly think I was on for the right amount of time," he continued. "It gave me just enough passion to realize that I wanted to do music forever, and now that's the only thing I can think about. I'm sure as hell not going back to sell car parts, so I gotta make this work some way or another."
While Kameron had hoped to tour to support his new project, he has found an unexpected silver lining to being forced to stay off the road in 2020, and one that he might not have otherwise found.
"Honestly, this year has kind of been a blessing in disguise," Kameron acknowledged. "I've gotten to really focus on my writing. If this year would have gone as planned, we'd probably be on the road right now, and I wouldn't be writing nowhere near as much as I am now. I feel like I've gotten better songs this year than I have before in the past. So I'm doing all right. I mean, I'm excited, and looking forward to starting back up.  I love being on stage. It's what I live for. But as for this year, I'm okay with it. I've made peace with it."
Kameron might have made peace with 2020, but he already has big plans for 2021.
"I really want to do some touring," Kameron said. "I really want to hop on a tour. That's my dream. I would love to be on an arena tour. That would be so cool. My lifelong goal is to be in a stadium, and to headline of stadium, but I'm nowhere near that yet. So I'm going to work my way up and hopefully do some club tours and do some arena shows opening for other people."
Purchase Kameron Marlowe by visiting his website.