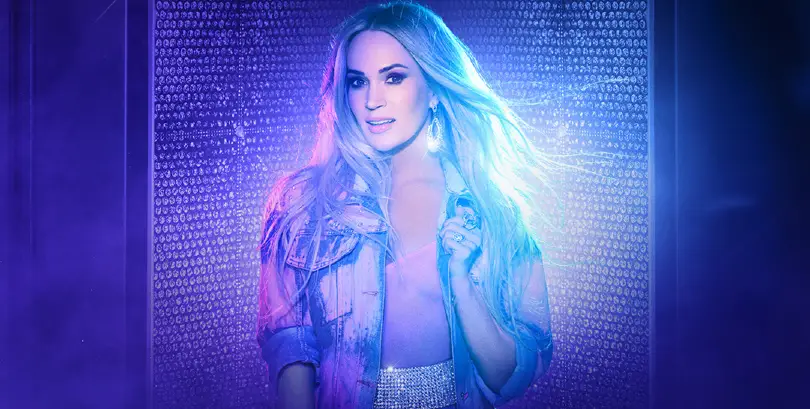 Carrie Underwood just wanted to have fun. The American Idol alum only had one goal when she began creating what became her Denim & Rhinestones album: to have a good time. It was a mindset that translated throughout all 12 songs, from the uptempo title track to the final song, "Garden."
"When I walked in to start making this album, it was like, 'What do you want to do?' My co-producer and co-writer, David Garcia, was like, 'What do you want to do?" Underwood recalls on Apple Music Country's Today's Country Radio with Kelleigh Bannen. "And I was like, 'I just want to have fun.' I feel like it's needed. And we also spent two albums worth – we had our Christmas album, My Gift, the gospel album, My Savior, and it was in such a soulful place. And after that, I was just like, 'I just want to have fun.'"
Underwood also was thinking about her upcoming The Denim & Rhinestones Tour, which kicks off in October. The tour marks Underwood's first cross-country trek since her 2019 Cry Pretty Tour, and she is more than ready to perform night after night in front of her fans. It was those nights that helped Underwood determine which songs to include on her new set of tunes.
"I want to think about going out on the road," Underwood says. "I want to think about being on tour. I want to think about being with people again and how these songs are going to translate in front of people. So that's what we did. We didn't think about it too much. We made music that really felt good."
The 39-year-old might be able to attract massive crowds when she performs, but to Underwood, it's just her on the stage.
"On stage, honestly, there's so much about it that I feel like I'm the only human on the planet when I'm on stage and when I'm singing," Underwood explains. "It's really weird; I mean obviously I know that there are people out there and I sing to them, and hopefully I'm working at entertaining them. But in some ways, it's like it is a free thing and it's like I'm the only person anywhere when I'm on stage."
Underwood's career might be at an all-time high, but even with new music and an upcoming tour, it takes a distant second place to what is most important to her: her sons, seven-year-old Isaiah and three-year-old Jacob.
"I hope more than anything that [my sons] consider my job, being Carrie Underwood, that they consider that a hobby that I do," Underwood says. "Like when I'm home, I'm home. I'm making breakfast, making dinner, bringing in stuff from the garden, buying their clothes and cleaning their rooms, and doing the mom stuff that I'm so glad to do.
"I want that to be what they know. … I'm so blessed to get to live different lives in a lot of ways, but be able to fulfill these roles that I love so much and be the mom, be the wife, do those things for my family," she adds. "That's what I want to pour into them. That's what I want them to ultimately remember."
Underwood will be joined by Jimmie Allen for her The Denim & Rhinestones Tour, which kicks off on October 15 in Greenville, South Carolina. Find music and tour dates at CarrieUnderwoodOfficial.com.