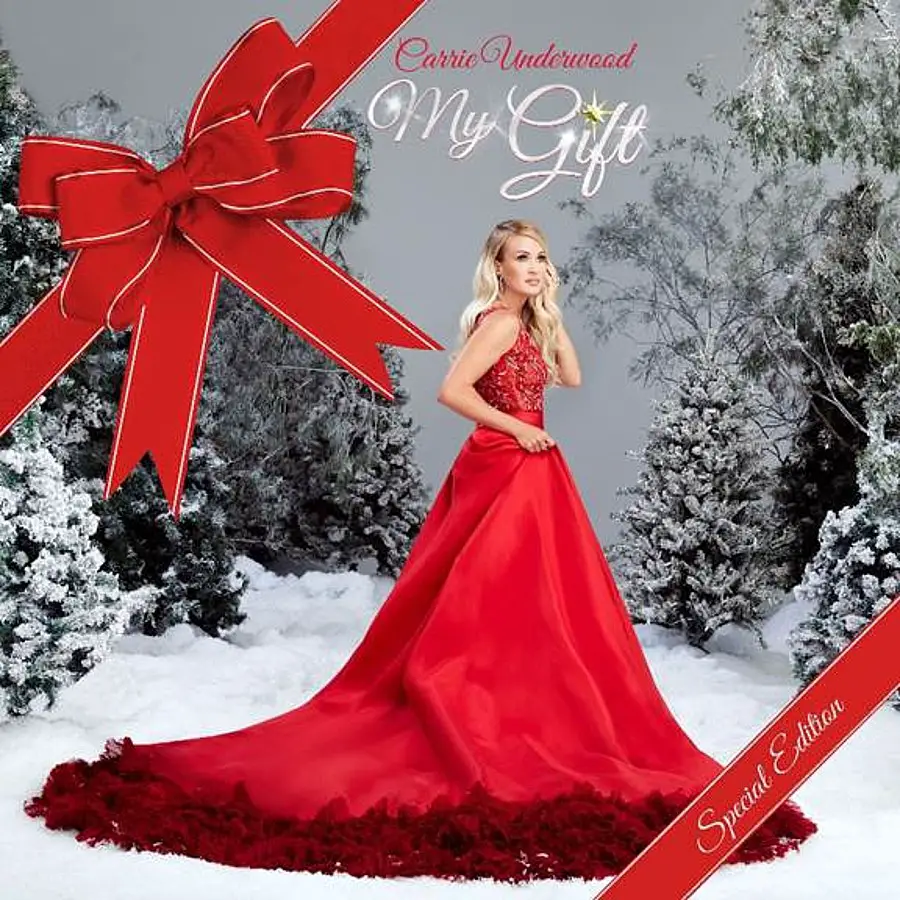 Carrie Underwood's My Gift is the gift that keeps on giving — literally! The Oklahoma native just announced the release of My Gift (Special Edition), out on September 24, featuring three new tracks.
"My Gift is an album I've wanted to make from the beginning of my career," Underwood says. "It's been such a blessing to share this special music and I'm excited to share even more with the release of My Gift (Special Edition)."
Underwood also shared the good news with a preview of what fans can expect on social media.
Christmas is coming early again this year as I couldn't wait to release a Special Edition of #MyGift with 3 additional songs! Pre-order the CD here: https://t.co/IfJtwwDz3x #FavoriteTimeOfYear #ChristmasInJuly #MoreNewMusic #UnwrapItSeptember24 🎁✨ pic.twitter.com/2VrvMaORFq

— Carrie Underwood (@carrieunderwood) July 27, 2021
The three new tracks include "Favorite Time Of Year," which was released last year exclusively on Amazon and included in Ring's 2020 Doorbell Season holiday campaign, the Michael W. Smith classic, "All Is Well," and  "Let There Be Peace / Something In The Water," which is a live recording from the HBO Max's MY GIFT: A Christmas Special From Carrie Underwood," which also aired last year.
The mother of two began working on My Gift after the end of her massive Cry Pretty Tour, unaware of how much the world would change in a few short months because of the pandemic.
"I've always wanted to make a Christmas album and it's been a long time coming," Underwood said of My Gift. "I knew this would be my next music project after wrapping my tour last year, and I think it's turned out to be the perfect time for an album like this, in this period of such personal and spiritual reflection.
"For me, it's more important than ever to focus on the true meaning of Christmas in a project like this," she continued. "Even though it has been a tough year for all of us, sometimes I feel like the greatest realizations can be inspired by the most difficult times, and make us more grateful for the things we do have and for what truly matters."
Underwood chose the record's title after a line in one of the tracks on the project.
"It's really hard naming a Christmas album," Carrie conceded. "I tried to think about the songs that were in it. I started thinking about individual songs. One of my favorites is 'Little Drummer Boy.' It's one of my favorites because the sentiment behind it is just so honest. There's a little boy, and of course I think of my five-year-old Isaiah. They're bringing gifts to baby Jesus. He doesn't have anything; he's poor. So he says, 'I know. I'm gonna play my drum for Him. That's what I have.'
"To me, that's a gift that was given to him by God, his love of music," she continued. "I imagine he was a good little drummer. I love music; I love singing. That is my personal little gift that I get to do, that I'm so blessed to do. I want to use that gift, and I want to give it back to Jesus. That's why I landed on My Gift as an album title."
Pre-order My Gift (Special Edition0 here.