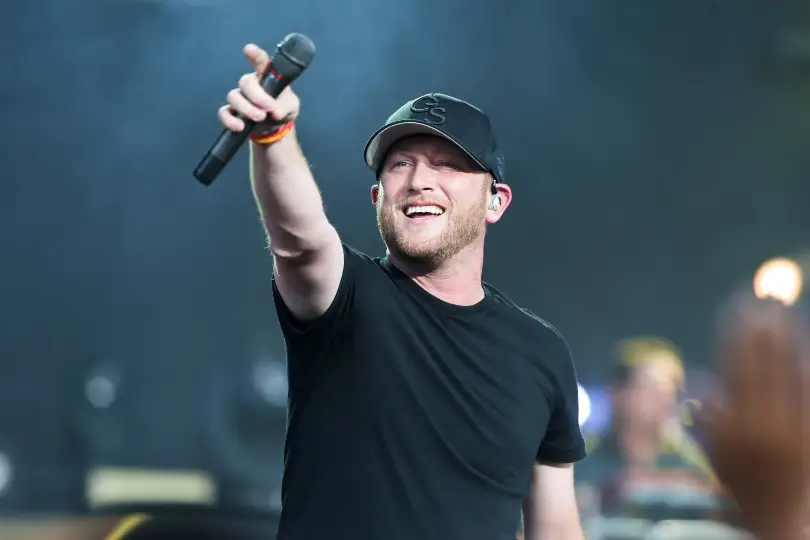 Cole Swindell was a songwriter before he was an artist. The Georgia native has not only penned several of his hits, including "You Should Be Here," "Single Saturday Night" and his recent No. 1 hit, his "Never Say Never" duet with Lainey Wilson, but songs for other artists as well.
In fact, it was his early successes as a songwriter, penning songs like "Roller Coaster" and "Beer in the Headlights" for Luke Bryan, Florida Georgia Line's "This Is How We Roll," Thomas Rhett's "Get Me Some of That" and more, which helped Swindell launch his own successful career. But while he enjoys performing songs he writes, at his heart he remains a songwriter, and a passionate one at that.
"The people I looked up to told me to write, write, write," Swindell tells American Songwriter. "The more you write, the better you get. That was my approach to it. But also, you wanted to write the best song. You always are thinking that. For me, it was just getting the experience. Looking back, there are probably some ideas that I wish I would have saved till where I know now how to write them. Back then I don't know that I fully got the point across. It's definitely not easy."
It was Bryan who inspired Swindell the most to pursue a career in country music, after Swindell met him at a fraternity event at Georgia Southern University where they both attended, albeit in different years. The two kept in touch, with Bryan even inviting Swindell to join him on the road and sell merchandise. But it was the reply Bryan gave him, when Swindell emailed him to ask for advice, which ended up inspiring Swindell the most.
"All he wrote back was 'live.' He just wrote 'live.' I was like, that wasn't a very in-depth answer," Swindell recalls (via Sounds Like Nashville). "Looking back now and getting older, that's advice for life, not just writing songs. We are writing our songs pretty much the way we live, and that's the best advice that I've had before I moved to Nashville. It certainly shaped my songwriting career."
Swindell just released his fourth studio album, with Stereotype. The record includes "Single Saturday Night," "Never Say Never" and his current single, "She Had Me at Heads Carolina," a nod to Jo Dee Messina and one of her biggest hits.
"It's been three-and-a-half years since my last album," Swindell says of the new project. "I don't know if it feels like longer or not that long. It's been a lot. We started working on the album right before the pandemic. I had some stuff that I was loving, and when all of that happened, it was obviously all put on hold. We couldn't record stuff, really. We couldn't make the album. But I also got to write a lot of songs."
Swindell is spending much of the next several months on the road. Find tour dates, and purchase Stereotype, at ColeSwindell.com.