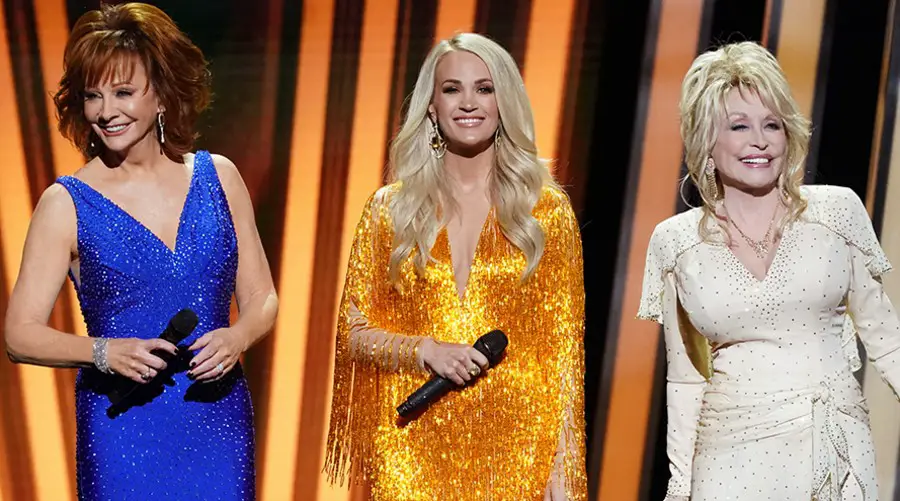 Carrie Underwood remains a student of the powerful female artists who have gone before her. The American Idol alum still looks to some of country music's biggest female icons for guidance on how to succeed as a country music superstar, while maintaining a personal and family life as well.
"I think my biggest influences musically, or career-wise, would have to be women like Reba [McEntire], like Dolly [Parton], like Faith Hill, like Martina McBride," Underwood tells UMG Nashville. "You see all of these women just juggle everything masterfully and many of them are moms and they're superstars and they're talented. I know how hard they work because I'm in their shoes somewhat and doing the same juggling."
Underwood, whose son Isaiah just celebrated his seventh birthday, is also a proud mom to three-year-old Jacob, as well as a wife to her husband, former professional ice hockey player, Mike Fisher. It's because of other artists that Underwood believed she really could have it all — both a career and a family.
'Y,ou have the kids and the career and you're just trying to crush everything you do and being pulled in a million different directions," Underwood reflects. "And to see women like that who are just beautiful and smart and strong and talented, knowing that they have come first and they're still getting to do what they love and they're still getting to be the mom and the wife and all the things – that's just such an inspiration to me and just lets me know that I can do it too."
Underwood might draw inspiration from singers who have paved a path for her, but she also draws inspiration from someone much closer to home: her own mother.
"She was the first person that I was around that really taught me what it was like to be a woman, to be a Mom, to be a wife, to be a daughter and a sister," Underwood reflects. "And just watching her and how she did everything with grace and integrity and she's so strong. I mean, she was just the best role model anybody could have ever had."
Underwood is nominated for four ACM Awards, including for the night's highest honor, Entertainer of the Year. She will also perform during the ceremony.
The 2022 ACM Awards will air live from the Allegiant Stadium in Las Vegas, without commercial interruption, on Monday, March 7 on Amazon Prime Video. Dolly Parton will host the ceremony, along with Jimmie Allen and Gabby Barrett.