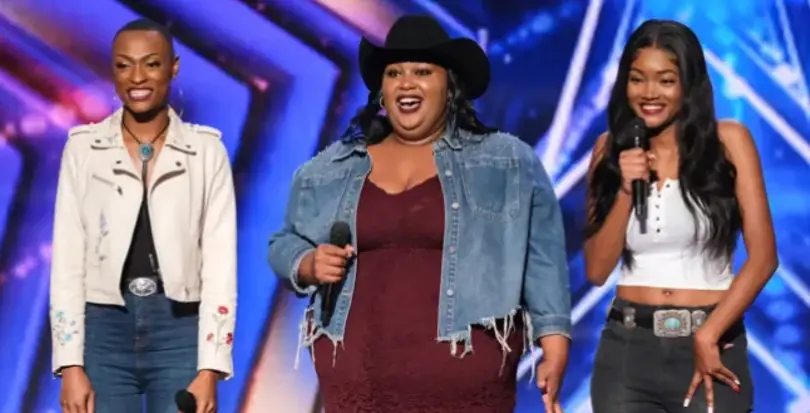 After years of trying to get their music heard in Nashville, Mississippi-based Chapel Hart just got a big break by appearing on America's Got Talent. The trio, made up of sisters Danica Hart and Devynn Hart, and their cousin Trea Swindle, earned a golden buzzer by performing an original song that paid tribute to their musical idol, Dolly Parton.
"We're going to sing an original song," Danica said from stage. "It's called 'You Can Have Him Jolene.' We've always been country music fans and Dolly by far is our favorite. We were so inspired by the song 'Jolene' and we just love the storyline and we figured from 1973 to 2022 we can not still be fighting over the same man. So, we decided to tell her you can just have him, Jolene."
After their performance, Chapel Hart earned praise from all four judges, including Simon Cowell, who said the timing of their performance couldn't have been better.
"Oh my God!" Cowell said. "Trust me, I needed you today. I mean, that was fantastic. I love you and love the choreography you have going on around you. It was just brilliant."
When Cowell asked about their musical journey, an emotional Danica admitted that getting their music heard, especially as three Black women, had proven challenging.
"We've been trying to break into Nashville for the last couple of years and It's been kind of hard when I think country music doesn't always look like us," she said.
"You know what you got to do sometimes?" Cowell replied. "You just got to break down that door and you may have just broken down the door with that performance. Trust me."
After all of the judges, plus host Terry Crews, decided to collectively give Chapel Hart a golden buzzer, the threesome reflected on the experience backstage.
"Follow your dreams," Trea said. "It doesn't matter how crazy they are, how outlandish it is, if they say that's not a real job you just show them that it is."
"There are little girls in Poplarville, Mississippi who think that this isn't possible, but we're doing it," added Devynn.
Keep track of Chapel Hart's music here.
Photo Credit: Courtesy of Trae Patton/NBC/America's Got Talent