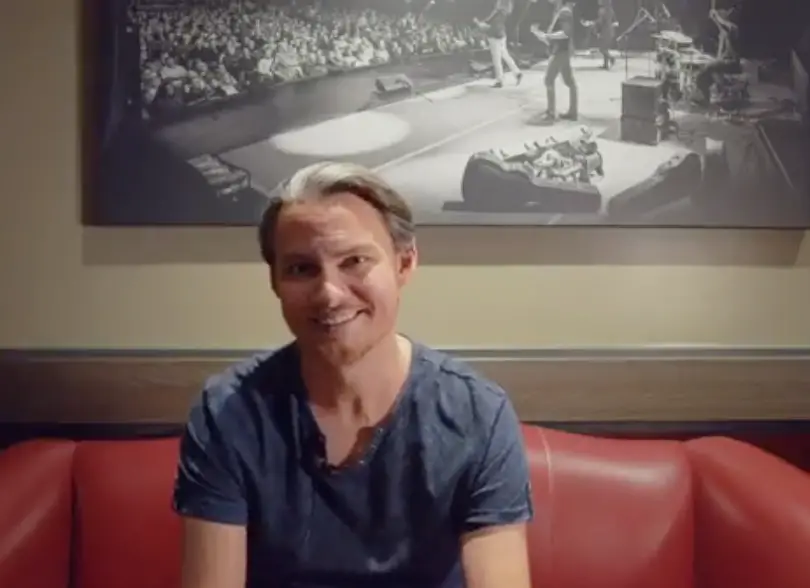 Happy birthday, Tim Foust! The Home Free member turns 41 on July 19. In honor of his birthday, we are uncovering 11 unique facts about the group's resident bass singer.
1. He grew up singing capella Christian music.
Foust had no idea that his conservative Christian upbringing would one day prepare him to be part of one of the most popular all-vocal groups of all time.
"All my favorite music, what I noticed across all the different genres, was all my favorite music was whatever had a lot of vocal harmony in it," Foust recalls on radio station Willy 98.7. "I grew up in the Church of Christ, so if you're not familiar with that, it's all a cappella. The song service, it's just the congregation singing in four-part harmony, so that helped to fine-tune my ear, early on. But I was a late bloomer, so I had a really high, squeaky voice for a long time, and I always wanted to be able to sing along with the basses. That didn't come until a lot later."
2. He's been married since 2016.
Foust married his longtime girlfriend Jenika Marion in 2016, surprising her with the proposal by having people join them to share in their special moment.
"Unbeknownst to Jenika, our families and closest friends had traveled to Nashville from all over the country," Foust told The Knot. "I took her to one of our favorite restaurants, and when we walked in, they were all waiting there. It was a magical moment,"
3. He got in major trouble in high school his senior year.
Foust attended Nederlands High School in his hometown, and was doing a play called Into the Woods when Foust had an unfortunate, but highly memorable, idea. Although it for sure got a few laughs, it also got him kicked out of school.
"The wolf dies pretty early on in the story, but everyone else who is in the play has these group lines that they recite together," Foust recalled (via Country Thang Daily). "I was hanging out in the classroom with all the techies, and there were all these windows looking out to the back of the drama teacher's head and the rest of the cast. They were all looking back my way to this window. I couldn't resist the urge to stand up on a desk and moon everyone."
4. He used to sing on a cruise ship.
Foust was actually working a pretty ideal job on a cruise ship when he was recruited to join Home Free.
"They called me looking for a bass singer for their very first tour they were going to do," Foust recalled. "They also had part-time jobs, and they were going to do a six-week tour in the Midwest. I gave them a bunch of names, and none of that panned out. They said, 'Is there any possible way we could convince you to come do this tour with us?' I was like, 'I don't know. A, I don't know if I want to. B, I gotta talk to this guy I'm working for.'"
5.  He once thought he would be an orthodontist.
Foust grew up doing almost nothing but music, so by the time he finished high school, he thought he would do something — anything — but music.
"When I graduated high school, I was a little bit burned out on music, because I had done it so much," Foust told The Charismatic Voice. "I had done anything you could do vocally in high school. And then on top of that, I was sort of just ignorant as to the opportunities that are out there for vocalists. You have to remember, this is in the early days of the internet … There just wasn't a ton of information out there and I came from a small town. I thought you either went on Broadway, or you got a record deal, and that was about it. I also heard that the music industry was scary and fickle, so I thought, 'All right, I'll go get a normal, stable, lucrative job.' My plan was to be an orthodontist."
6. He has a really, really, really wide vocal range.
Foust might sing mostly bass in Home Free, but the truth is he can sing, well, anything. Foust boasts an astonishing five-octave range, While he has worked hard at his craft, he credits a lot of his talent to his mother, who started singing to him when he was just a baby.
7. He has his own solo career as well.
Foust released his own album of Doo-wop music, Pieces of Me, Vol. 1, earlier this year, inspired by the free time brought on by the pandemic, and his deep love of music of all genres.
"Like everybody else, I found myself stuck at home indefinitely this last year, so I decided to capitalize on that unforeseen free time as much as possible," Foust told Willy 98.7 last year. "We've been aggressively recording in Home Free, and then on top of that, I started recording some of these songs that I had written, that hadn't found a home anywhere else. I just decided to release them myself, so I started a Patreon campaign.
"I've been releasing everything exclusively to Patreon for now," he adds. "But I'll be releasing a solo album later this year, and I'll put singles out on the various streaming sites as well."
8. His favorite Nashville restaurant is Pelican & Pig.
Foust loves all types of cuisine, but says if he has to pick just one favorite restaurant, it's downtown Nashville's Pelican & Pig.
"If I must pick a favorite, I'll go with Pelican & Pig," Foust told Everything Nash. "There's a reason it was named the 2019 Restaurant of the Year by Eater Nashville. Artisanal, yet unpretentious. And the pastry chef has a true gift."
9. His hometown of Nederlands, Texas declared a Tim Foust Day.
Foust may have gotten kicked out of high school in his hometown, but now Nederlands, Texas couldn't be more proud of him and his talents. In fact, February 3 was officially Tim Foust Day, in honor of all that he has accomplished.
"I'm unbelievably touched and honored," he said when the news was first announced.
10. He once performed in a dance company for a Paula Abdul competition.
Apparently, Foust is a man of many, many talents, including dancing. Foust told us that he once actually performed in a dance company for a Paula Abdul competition. Even better, his team won!
11. He wants to host his own cooking show.
Foust is a self-proclaimed foodie, who loves all kinds of food. But he also loves to cook, and dreams of having his own show on the Food Network someday.