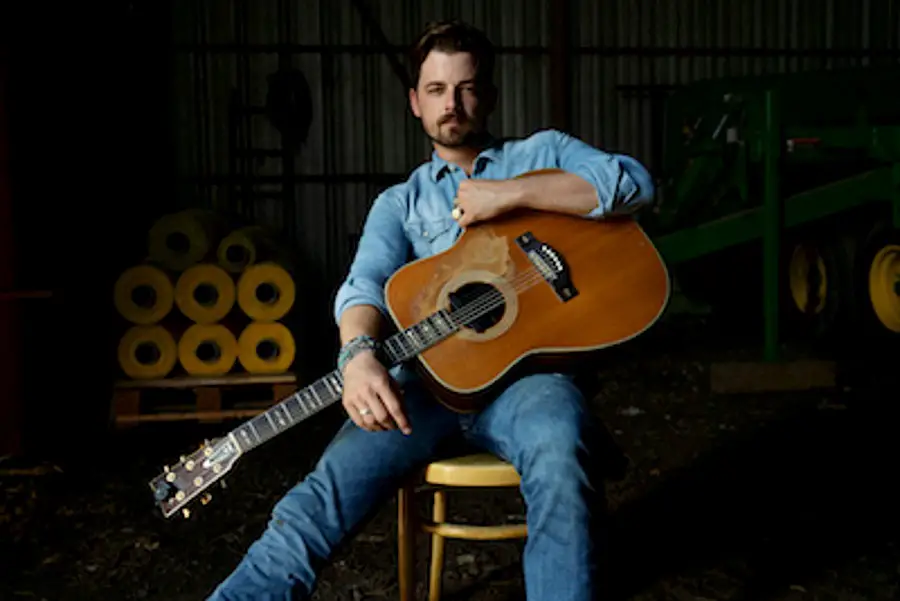 Chase Bryant is grateful for every day of his life — a life he almost didn't get to live. The singer-songwriter is speaking out about his attempted suicide in 2018, and how his survival gave him a new lease on life.
With a handwritten note on the passenger seat of his truck, Bryant pulled into a Nashville gas station, put the barrel of his loaded .357 revolver to his head, and pulled the trigger
"I just wanted to make it quick," Bryant tells People. "I just thought, 'I can't do this at my house.' My parents were staying at my place. I couldn't let them see that."
The suicide attempt came after Bryant was becoming increasingly dissatisfied with the way his career was going — releasing songs that didn't feel like him, trying to climb the ladder of success amid his own identity crisis.
"At that moment, I begged for somebody to listen and I begged for somebody to just come down and help me," Bryant says. "I just screamed out the word 'sorry' as loud as I could, and I pulled the trigger… and here I am."
Bryant counts it nothing short of miraculous that his life was spared. While Bryant thought he had loaded six bullets into the gun, after pulling the trigger, he realized that one chamber was empty.
"When I looked at it at that moment, it was like, 'Life's too short, don't make it any shorter,'" Bryant recalls. "It ain't worth it. We all have something to be thankful for, right? Looking back at it now, it's so weird. You're so dark and then all of a sudden you're like, 'OK, I got to get my s— right so I can help somebody else.'"
Bryant also spoke out about his healing following his suicide attempt in a video posted on YouTube.
"I was a very confused individual," Bryant shares in the video. "I was very cocky, I was very arrogant. I was very — I was sick. I was very sick. I would look at myself in the mirror and I saw somebody that I didn't know. And that led me down a pretty dark hole for a really long time. So I went to a gas station, where I knew it would be a crime scene if I did it in my truck. I put six bullets in a .357 revolver. I had written a very long note to everybody that I knew and everybody that I loved, and everybody that I had never even met. And I just said that, 'God, if you're real, and you're listening to me, I need help.'"
"When I woke up from this daze, I was sitting in the same place I started," he added. "I opened the gun, and there were five bullets in it."
The failed suicide attempt gave Bryant the gift of a new perspective, and a profound change in his attitude.
"When I got out of the truck that night, I thought about my brother," he recalled. "I thought about my niece. I thought about my dad. I thought about my mom. And I realized that life is too short. Don't make it any shorter. Be yourself. Love the people around you. And don't ever forget your upbringing."
Bryant's career started off strong, with two hit singles, "Take It On Back" and "Little Bit of You." But although he spent most of his life dreaming of a career in country music, it wasn't enough to leave him fulfilled.
"I was chasing success… I wasn't chasing happiness," Bryant says. "I was trying to be something I wasn't. I was just being who they told me to be. I was doing what they told me to do, and that was somewhat easy at the time because everybody was filling me with this gratification, and I never really had had that from anybody. I never felt that feeling."
Bryant checked himself into Rolling Hills Hospital, a psychiatric and substance abuse treatment center located just outside of Nashville. Now, the 27-year-old, who will release his next studio album, Upbringing, later this year, wants to help others who are struggling the way he was in the past.
"When I think about it, I want to be that one empty chamber for somebody," Bryant explains. "I want to be that one shot of fulfillment or hope. I hope that this takes that bullet out of somebody's life. I hope this takes it away. Maybe somebody sees this, somebody that's going through something and says, 'You know what? There is hope,' because there really is."
If you or someone you know is in crisis or considering suicide, please call the National Suicide Prevention Lifeline at 1-800-273-TALK (8255) or contact the Crisis Text Line by texting TALK to 741-741. You can also visit SuicidePreventionLifeline.org.