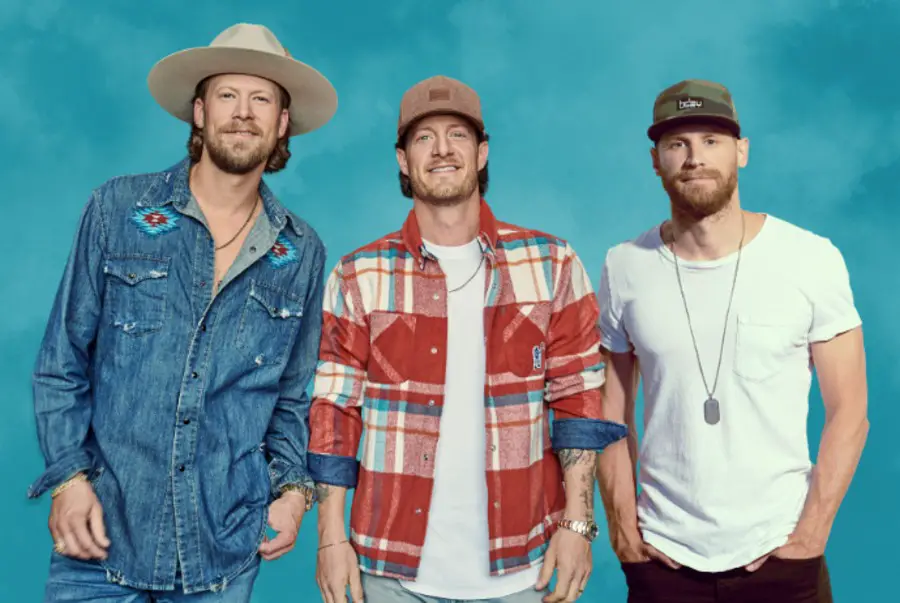 Florida Georgia Line and Chase Rice made history with "Cruise," the duo's first single, which was written by both Brian Kelley and Tyler Hubbard, along with then-newcomer Chase Rice. The song became the best-selling digital song of all time, with sales in excess of 11 million copies, staying at the top of the charts for 24 weeks, a record-breaking achievement at the time. The success put both FGL and Chase on the fast-track to success, which might have never happened if not for both Brian and Chase playing baseball together as children.
"Brian and I grew up together in Florida," Chase tells CMT. "We played Little League baseball together. We were buddies. When I was 11, I moved to North Carolina. And then randomly, about five years later, his family decided to visit us up in North Carolina. They got a cabin near where we lived, and we just all got back together. So Brian and I became real good friends then. We got closer, we stayed in touch, and I visited him in Florida a few times. And he was just starting to teach himself how to play guitar."
Chase followed in Brian's footsteps and also learned how to play guitar, but planned on a career as a professional football player, until an injury derailed those plans, and he turned his attention to music.
"When I was in college, I was inspired by [Brian] and I got my first guitar," Chase recalls. "I was pretty awful. But I stuck with it and kept learning. Sophomore year, I got a little better at guitar. Junior year, I got hurt and lost the whole football season, so I got even better at guitar. And when I was a senior, my dad passed away and I wrote my first song about him, called 'Larger Than Life.'"
Brian also wrote that song with Chase, which made the aspiring singer-songwriter aware of the innate gift the Florida Georgia Line founder had.
"Then after college, when I was working for NASCAR, I was suspended for two weeks for fighting," Chase says. "So I spent those two weeks in Nashville visiting Brian and getting to know Tyler. They were writing a lot together, and while I was there the three of us did a writers' round at the Hotel Indigo. That was my first time singing in Nashville.
"From that trip alone, I knew I wanted to move to Nashville," he continues. "I visited again in 2010 and I remember us sitting at the Tin Roof on Demonbreun, and Brian and Tyler's roommate had just moved out, so we decided that I would move in. Just knowing we wanted to get after this thing. And right after was when we wrote 'Cruise.'"
Chase just released "Drinkin' Beer. Talkin' God. Amen." The song is a full-circle moment for Chase, since it also includes Florida Georgia Line on the track. Written by Chase, along with Hunter Phelps, Cale Dodds and Corey Crowder, the song, which says in part, "I don't know what heaven looks like, nah I don't think anybody does / If it's like down here up there tonight, then there's folks like us / Sittin' here, drinkin' beer, talkin' God, amen / Killing time livin' life with some down home friends / When the world's gone crazy man it all makes sense . Sittin' here, drinkin' beer, talkin' God, amen," seems like it was inspired by being home in 2020, but the 35-year-old says that isn't the case.
"We actually wrote this song before the pandemic, which is crazy because it's almost like God was intervening in the song just to say, 'Hey y'all, get ready. You're gonna have a lot of time to sit around a fire, drink some beer and hang out with me,'" Chase says in a statement about the song. "It's a special song in that way because it really is a celebration of what 2020 became for us and a lot of other people — slowing down to enjoy these moments with our loved ones and having deeper, more meaningful conversations with each other."