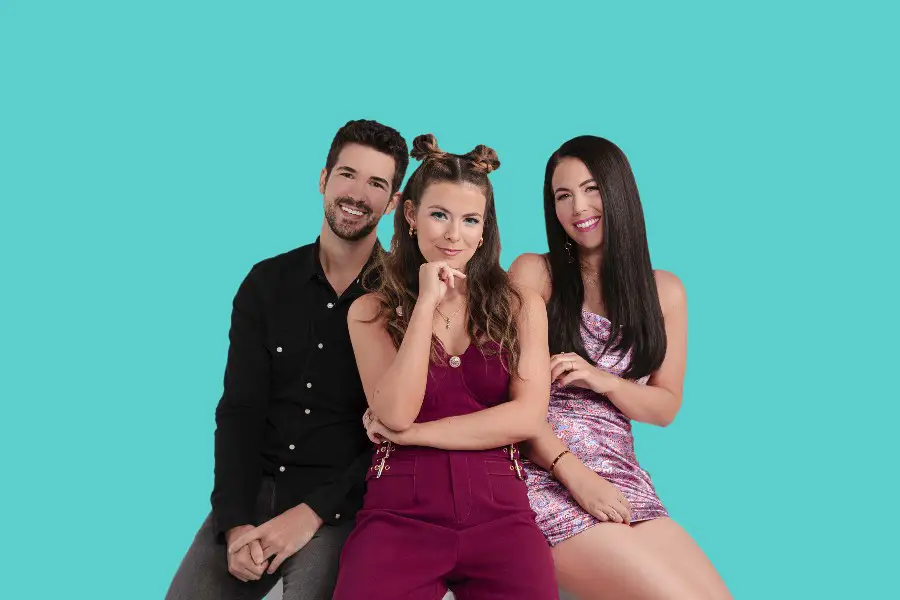 Country music is about to get a big dose of powerful family harmonies, with newcomers Track45. The trio, made up of siblings Jenna, Ben, and KK Johnson, released their debut EP, Small Town, in October, showing off their rich musical heritage, which is evident in all three songs on the project.
"Our granddad was a choir director, and our grandma taught us all to play piano," KK tells Everything Nash. "That's how we got into music. Music was just a big part of our family growing up. We started to play different instruments. And our mom said, 'If you want to play some different instruments, you can save up and buy another instrument to play besides piano.'"
Ben latched onto cello, while Jenna chose guitar and KK learned fiddle, quickly realizing that they had something unique within the three of them that, combined with their vocal talents, worked beautifully together.
"When we started getting better at the instruments, we just thought, 'Oh, we can play together, and we can put these instruments together,'" KK recalls. "We started playing at nursing homes. We like to say that we started out in the nursing home circuit. We knew about four chords. We played around town, and a few years later, we ended up playing at Dollywood. And from there, we just decided we wanted to do this as a career, and the rest is history."
The siblings moved from their hometown of Meridian, Mississippi together, when KK, the youngest, was just 15 years old, ready to make music their full-time career, living together for the first few years while they slowly inched closer to their dream of releasing their own music. Their dream came true with Small Town, which came out on Stoney Creek Records/BBR Music Group.
"We've been working on it, and writing for it, for a long time, but I think it really started taking shape maybe two years ago," Ben says. "Part of our process has always been that we produce a lot of our own stuff, and we all work in Logic, which is a software that we record ourselves in. And so, along the way, we would start discovering these songs that we felt like really rang true with who we are and the message that we wanted to relay to our fans in the world."
"I think Small Town is a really exciting and cool first project for us to release, because it tells you so much about where we came from and who we are, and really what made us into who we are," adds KK. "It kind of tells the first chapter in our story of growing up in a small town and having big dreams and following that. And as we continue to release music, we'll continue telling that story through our music."
Track45 of course planned on spending much of the year on the road, but instead found themselves mostly at home, because of the coronavirus pandemic. Still, they remain undeterred in their goal of releasing the best music that they can, and earning more and more fans in the process.
"In an ideal world, we'd love to be playing live and being at shows," KK admits. "But I think just getting to have our music out in the world is such a big dream come true for us. And even though it is an interesting and unique time to be releasing music, it can't really take away from that moment. That's a big dream come true, being able to release music.
"There will be more music coming soon," she hints. "Small Town is the first chapter in our story, and there are more chapters that we want to tell. At the beginning of the year, we'll be releasing more music that continues to tell more about us."
Small Town is available for purchase at Track45.com.