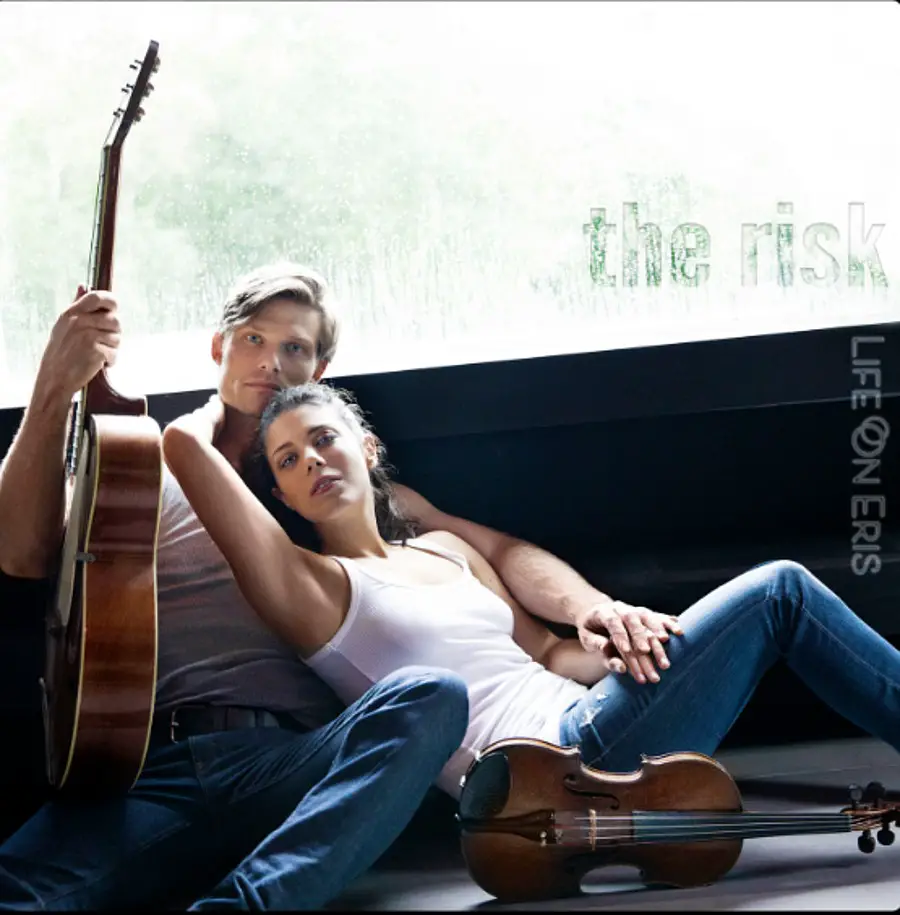 Fans may know Chris Carmack as Dr. Atticus Lincoln on Grey's Anatomy, or maybe remember his iconic role as Will Lexington on Nashville, but he's more than just a well-known actor. The 40-year-old star and his wife, musician, singer and actress Erin Slaver have joined their talents to form their own duo, Life on Eris, recently releasing their debut EP, Stonewall. The pair also just released "The Risk," a new song that was inspired by their own romantic journey.
"Erin and I were in the same circle of friends," Carmack tells Everything Nash. "So whenever you're  doing that, you don't want to mess things up; you don't want to misstep. I think we were feeling each other out a little bit, sending some text messages and seeing the timeframe in which they are responded to. It's like, 'Oh, I just texted that. And she's texting me.'"
"The Risk," which says in part, "That's the risk / No way to know if we'll make it / Comes down to this / The risk factor's high now just being alive now / Let's face it / Love's a risk, baby let's take it," sums up how both Carmack and Slaver were in the early stages of their relationship, when they realized that their friendship could blossom into something more.
"Chris used to make fun of me because he said he would watch the bubbles pop up, like when you're texting someone," Slaver interjects with a laugh. "And he would just sit there waiting for like 10 minutes … I would stress over every word I wrote."
Carmack and Slaver initially met thanks to Carmack's role on Nashville, and his friendship with Sam Palladio (who played Gunnar Scott in the series).
"We were initially just friends," Slaver shares. "I was playing in Sam's band. Sam Palladio had a band, and that's how I really started hanging out with Chris too. But, Chris had some other girlfriends that I hung out with, so we used to meet up at bars and stuff."
Once Carmack and Slaver, a classically-trained violinist who happens to also sing and write songs, did get together, it didn't take long for them to realize they wanted to make music together as well, and Life on Eris was born.
"We were writing and playing together, separately, for different projects," Carmack recounts. "And then, we started writing a few songs together, and we liked how it turned out. It was fun. We were married when we decided we were going to start a band … It kind of built on itself. It wasn't so much of a 'Let's do this.' It was a one step at a time. And here we are."
The name Life on Eris came about as they were trying to find something to represent their own individuality, but also their shared talents, a task that became far more frustrating than they could have imagined.
"Almost every name is taken already," Carmack acknowledges. "Especially with the advent of Facebook. Everyone has a band and a song on SoundCloud, and if you're trying to come up with something that somebody doesn't already have, it's difficult."
Any combination of their names they tried didn't seem to work, until they took the first part of Slaver's name with the last part of Carmack's, resulting in Eris, although even then they were initially skeptical.
"We joked about that, and we were like, 'Nah, that's a stupid name for a band," Carmack recalls with a laugh. "But then, we were reading a book with our daughter about astronomy and there's a dwarf planet in the solar system named Eris. It's named after the Greek goddess of discord and strife. And we were like, 'Oh man, we're living on that planet. That's our planet.' We were writing about discord. We were writing about strife and marriage and relationships, and all of a sudden, Life on Eris seemed a lot better of a name. So we went with it."
All of the songs on Stonewall, as well as "The Risk," can be found at LifeonEris.com.