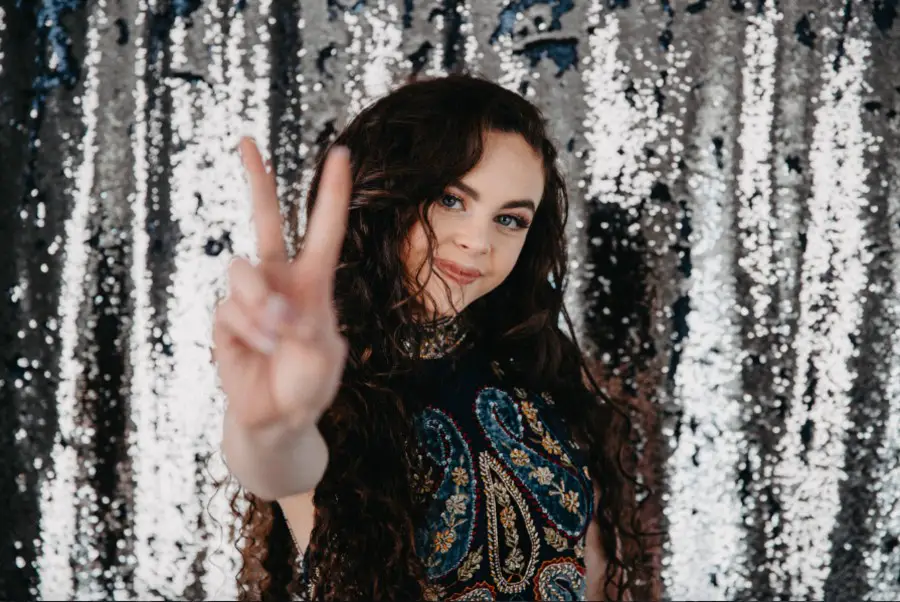 When The Voice premiered in 2011, no one — not even Blake Shelton — thought it would last 20 seasons. The premise of having contestants sing without the coaches knowing what they looked like, seemed ludicrous at the time. But now, as Season 20 of the show just kicked off, The Voice has proven to not only stand the test of time — a hard task in reality TV — but help kick off the careers of several incredibly talented singers.
Just being on the show was enough to help several singers get their start in the music industry. We're taking a look at ten of our favorite contestants on The Voice, and how their careers have exploded since their time on the show.
1. Cassadee Pope
Cassadee Pope fronted the punk rock band, Hey Monday, before auditioning for The Voice, and switching to more of a country meets pop sound. Pope won Season 3 of The Voice in 2012, on Team Blake, and immediately got to work on releasing new music, with Frame by Frame coming out in 2013. Pope also was nominated for a Grammy for her Chris Young duet, "Think of You." Her Rise and Shine album came out last year.
2. Danielle Bradbery
Danielle Bradbery won Season 4 of The Voice in 2013, on Team Blake. Bradbery, who auditioned by singing Taylor Swift's "Mean," also had Usher and Adam Levine turn their chairs around. The Texan proudly embraced her country roots by singing songs like "Heads Carolina, Tails California," "Maybe It Was Memphis" and others, has moved full-speed ahead with her career since then. Only 16 years old when she won, she still left an indelible mark on Shelton, who has called Bradbery his "favorite singer" from the show. Bradbery recently released the poignant single, "Girls in My Hometown."
3. Jake Hoot
Jake Hoot was working in radio when he decided to audition for The Voice. Singing Luke Combs' "When It Rains It Pours," only Kelly Clarkson turned her chair around, but her belief in him was enough to carry him all the way to the finale, which he won.
Hoot just released his debut EP, Love Out of Time, which includes a duet with Clarkson, on "I Would've Loved You." Aside from musical endeavors, Clarkson still stays involved in Hoot's life and career.
"You've got so many things going on, and the fact that you take time to reach out to people, and check on them — I know you've checked on me a few times, and just the help and stuff has been incredible," Hoot told Clarkson when they recently appeared together on the Today Show
4. Ashland Craft
Ashland Craft was on Miley Cyrus' team in Season 13, and while she didn't win the competition, she did earn enough fans and followers to immediately launch her music career.
"I'm very thankful that I did it. I made a bunch of amazing musician friends," Craft told Everything Nash. "Now, looking back on it, it was just another stepping stone to my career. I feel like I may be a lot more confident on stage under pressure. I think that's probably it."
Craft recently released "Two Wildflowers and a Box of Wine."
5. Brynn Cartelli
Brynn Cartelli won Season 14 of The Voice, on Team Kelly. Cartelli was only 15 years old when she took home the grand prize, making her the youngest winner in the show's history. Following Cartelli's win, she released a handful of singles, including "Walk My Way." She also joined Clarkson as the opening act on Clarkson's The Meaning of Life Tour.  Although she earned a deal with Republic Records, as part of her The Voice victory, she later switched to Atlantic Records.
6. Todd Tilghman
Todd Tilghman, a father of eight from Meridian, Mississippi was a pastor when he auditioned for the show, at the encouragement of his wife, Brooke. When he took the stage, he sang "We've Got Tonight," earning a four-chair turnaround. Tilghman, who was 42 years old when he auditioned, ultimately chose Team Shelton, and ended up winning Season 18, making him the show's oldest winner.
Tilghman moved to Tennessee to pursue music full-time. He just released "In a Heartache," and will release "Jesus and You" on March 19.
7. RaeLynn
RaeLynn captured the hearts of people all over the country when she auditioned for The Voice in Season 2. RaeLynn did not win The Voice, and only made it to the quarter-finals, it was still enough to give her music career the boost that it needed. Since being on The Voice, she released Me on Big Machine, and WildHorse on Warner Music Nashville,  and had a Top 10 single with "God Made Girls." She is now signed to Florida Georgia Line's Round Here Records label, and is working on a new album.
8. Chevel Shepherd
Chevel Shepherd was just 16 years old when she won Season 15 of The Voice, but she wasn't about to let her youth stand in her way. After Shelton, Clarkson and Jennifer Hudson all turned their chairs around for Shepherd, she chose Clarkson, and remains in close contact with the superstar today. Shepherd released her holiday A Good Ol' Country Christmas album last year, and will release her new EP, Everybody's Got a Story, on March 26.
Shepherd hoped to go far on the show, but never imagined she would be declared the winner.
'I actually never once thought that I would win," Shepherd told Everything Nash. "I had no idea what was going to happen. I just was having fun, and was just living in the moment. I told myself, 'If I go home today, this was God's plan.' So I just was in the moment, and enjoyed every night I performed, and every night I got to spend with other contestants. But that finale night, whenever it was us four, I had no idea what was going to happen. And whenever I was up there standing there with Chris Kroeze, he was the runner-up, and it felt like five hours before they actually said one of our names."
9. Craig Wayne Boyd
Craig Wayne Boyd won Season 7 of The Voice in 2014, choosing Team Shelton, although Pharrell Williams also turned his chair around as well. After winning the show, Boyd released two albums, I Ain't No Quitter and Top Shelf. In 2020, Boyd announced he was forming a group, Texas Hill, with fellow The Voice contestant, Adam Wakefield (from Season 10, and American Idol's Casey James. Their five-song EP is out now.
10. The Swon Brothers
The Swon Brothers, made up of Zach and Colton Swon, came in third place on Season 4 of The Voice, on Team Shelton. The duo released their eponymous debut after exiting the show, which included the hit singles, "Later On" and "Pray for You." They just released a new album, Nashlahoma, this time on their own. The record, which boasts songs written by Florida Georgia Line's Tyler Hubbard and Brian Kelley, and Little Big Town's Jimi Westbrook and Philip Sweet, among others, also  includes a duet with Vince Gill.