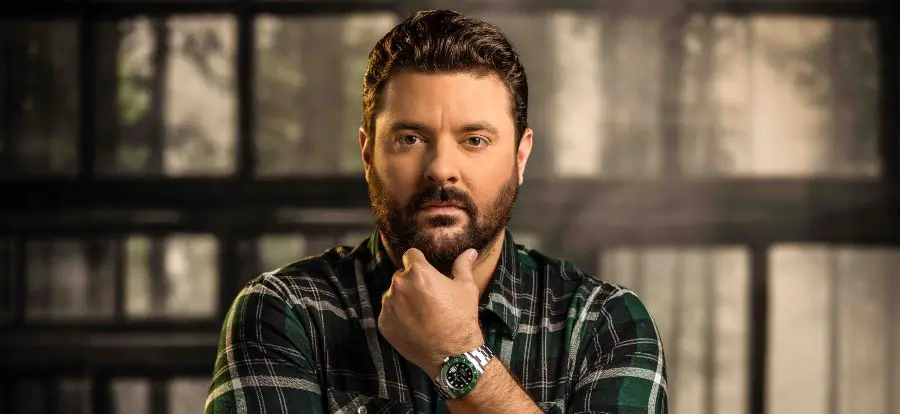 With only a little more than a week until Chris Young's highly-anticipated new album, Famous Friends, is out, the singer is sharing another track from the record. "Break Like You Do," this one a pensive song about lost love.
"'Break Like You Do' is a song that was done pretty early into the process of making this record," Young shared with Sony Music Nashville. "I think it was either at the beginning or right around the middle. It's always weird for me to try to think about what order that all these songs come in because it's been a four year process making this album. This was just so much fun to sing. And it's a sad song. This is one of those where it's that breakup, and we were looking for a different way to put that into words. I was like, I guess I don't break the same way you do. You seem fine. I'm not. It's a really interesting turn on that type of song."
"Break Like You Do" joins songs like "Raised on Country," "Drowning" and his latest single, the album's title track. Young's last album, Losing Sleep, was released in the fall of 2017, which made Famous Friends a labor of love for his fans.
"I know I've said it before, but I honestly can't say it enough – I am so excited to be releasing my new album," Young says of Famous Friends, which includes Kane Brown, Mitchell Tenpenny and Lauren Alaina. "There are so many incredibly talented artists, songwriters and producers – all friends of mine – who helped make this album possible. Having friends share their talents as collaborators, songwriters, producers and more, it's only natural to call the album 'Famous Friends.'"
"Famous Friends" with Brown is based on his own real life, which is why he was so honored to have Brown join him on the track.
"This song is a piece of me, and it means a lot because it's honest and it's real-life," Chris said of the new track. "Plus, Kane and I are good friends and being able to have that history together, it adds a whole other level to the track. 'Famous Friends' is one of my favorite songs – it's personal and it's a lot of fun, so I'm glad it's getting out there for people to hear it."
Famous Friends will be released on August 6. It is currently available for pre-order at ChrisYoungCountry.com.