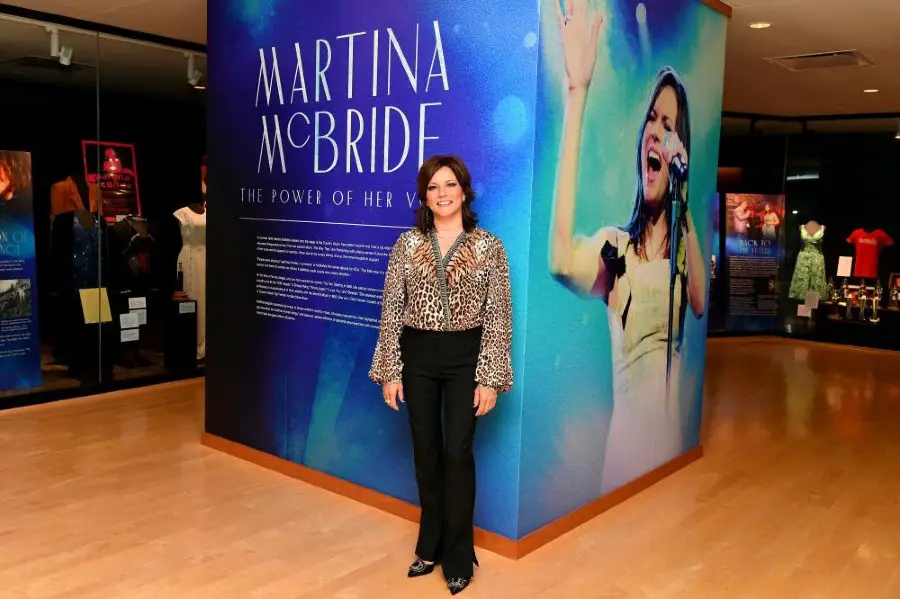 hMartina McBride celebrated the official opening of her exhibit, Martina McBride: The Power of Her Voice, at the Country Music Hall of Fame on Tuesday, July 27. The exhibit includes numerous items throughout McBride's life and career, including childhood outfits, hand-written lyrics, awards, her wedding dress, a personal note from Dolly Parton and more.
"This is surreal and overwhelming," McBride said from stage. "I am beyond thrilled and honored to have my own exhibit in the Country Music Hall of Fame and Museum. It's very special. It's like when you're that little girl back in Kansas, I had big dreams, obviously. But there's some things you can't even dream about. You just don't have the capacity to even know, and this is one of those things, back when I was a young girl in Kansas. But it's happened, and it's so amazing, and I'm so touched and moved by it."
McBride also thanked those in the crowd, who included her family, friends, those in the music industry, and even Garth Brooks.
"As I look around this room, I see so many people who, without you guys, I wouldn't be standing up here," McBride reflected. "It takes a lot of people to get here, and I've been very fortunate and lucky and blessed that I was able to surround myself with such great people."
Martina McBride: The Power of Her Voice was originally scheduled to be opened in 2020, but was delayed because of the pandemic.
"Postponing the exhibit opening last year due to the pandemic was a difficult decision but the right one," the 54-year-old previously admitted. "It did, however, allow us more time to plan and dig through my archive to find several truly special artifacts. I'm excited to finally be able to let everyone see what we've created. Having an exhibit in the Country Music Hall of Fame and Museum is something I've had on my dream list for a long, long time. Being able to share moments and mementos from my life and career with my fans and country music fans from all over the world is both humbling and exciting. I'm so grateful to be a part of country music."
McBride just announced the release of Greatest Hits: The RCA Years, exclusively on vinyl, featuring 24 of her biggest hits, including "Broken Wing," "Wild Angels," "Blessed" and more.
"When I signed my record deal with RCA in 1991, vinyl was out and CDs were in. Even though I've always been happy to have my name on any form of recorded music, I've always hoped to see my music on vinyl," McBride says of the new project. "I'm SO THRILLED to share this double vinyl album of hits that I recorded during my time with RCA. This is a very special project to me and I'm excited that everyone will be able to add it to their vinyl collection."