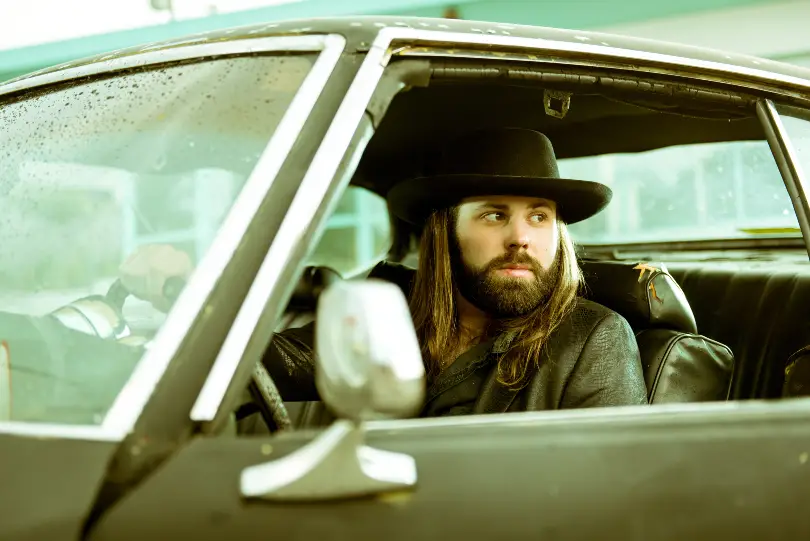 CJ Solar is continuing to make his mark with a new album, The Future's Neon, out this summer. The singer-songwriter has released three EPs, including Get Away With It in 2018, which included his Top 15 single, "American Girls." But with The Future's Neon, Solar is embarking on a new chapter, one with a lot more music on its way.
"It's nine songs," Solar tells Everything Nash. "I recorded nine songs that I liked and didn't want to narrow it down to five. It was just different; 2020 obviously sucked, and then 2021 was me thinking about what I was gonna do. I went to the studio and ended up cutting nine songs. I was just like, 'Well, I cut nine songs I really want to do, so let's do it. Let's just put them all out.'"
With both songs that Solar has written for other artists, like Morgan Wallen's "Up Down" featuring Florida Georgia Line and Jameson Rodgers' "Some Girls," or his own songs, the Louisiana native continues to write and record music that is uniquely him, and effortlessly transcends genres.
"I just know how to be me," Solar says. "If somebody else sings one of my songs, it's straight country. If I sing one of my songs, it's Southern Rock-leaning. That's been my vibe ever since Istarted playing music. I just do my own thing and hope for the best, and see where it lands me."
When asked if he is a singer who writes or a writer who sings, Solar admits the lines between the two are a bit blurry for him.
"I would say I'm more of a writer who sings, because I'm not gonna name names, but there are some singers who write, and they play on their phone while they sit there with people who write songs," Solar explains. "I like getting in the room with people who really know how to write songs and the challenge of figuring it all out. I like being actively involved, and actually writing my songs, and saying what I want to say and having the song sound how I like … Most of the songs that I record are a chord progression, melody, and vibe that I'm wanting, and we happen to say something that I like to say.
"I love singing. I love playing, but writing songs without having an outlet to perform kind of sucks," he adds. "I mean, obviously if you're getting a cut on other artists and they're getting out there that's still cool. Singing them is probably the coolest part, but singing other people's songs is not as fulfilling long-term."
Solar will release "All I Can Think About Lately," from The Future's Neon, this Friday, March 25. Solar wrote the song with Aaron Eshius and Joey Hyde.
"We wrote this song a couple years ago, and I just haven't been able to get it out of my head," Solar says in a press release of the song. "It's been on and off of hold with other major artists for years, which is why it never made it on a project of mine. It seems to be one they let slip through the cracks, so I'm super stoked to release it myself!"
A release date for The Future's Neon has yet to be announced. "All I Can Think About Lately" is available for pre-order here. Find all of Solar's music and upcoming shows at CJSolar.com.