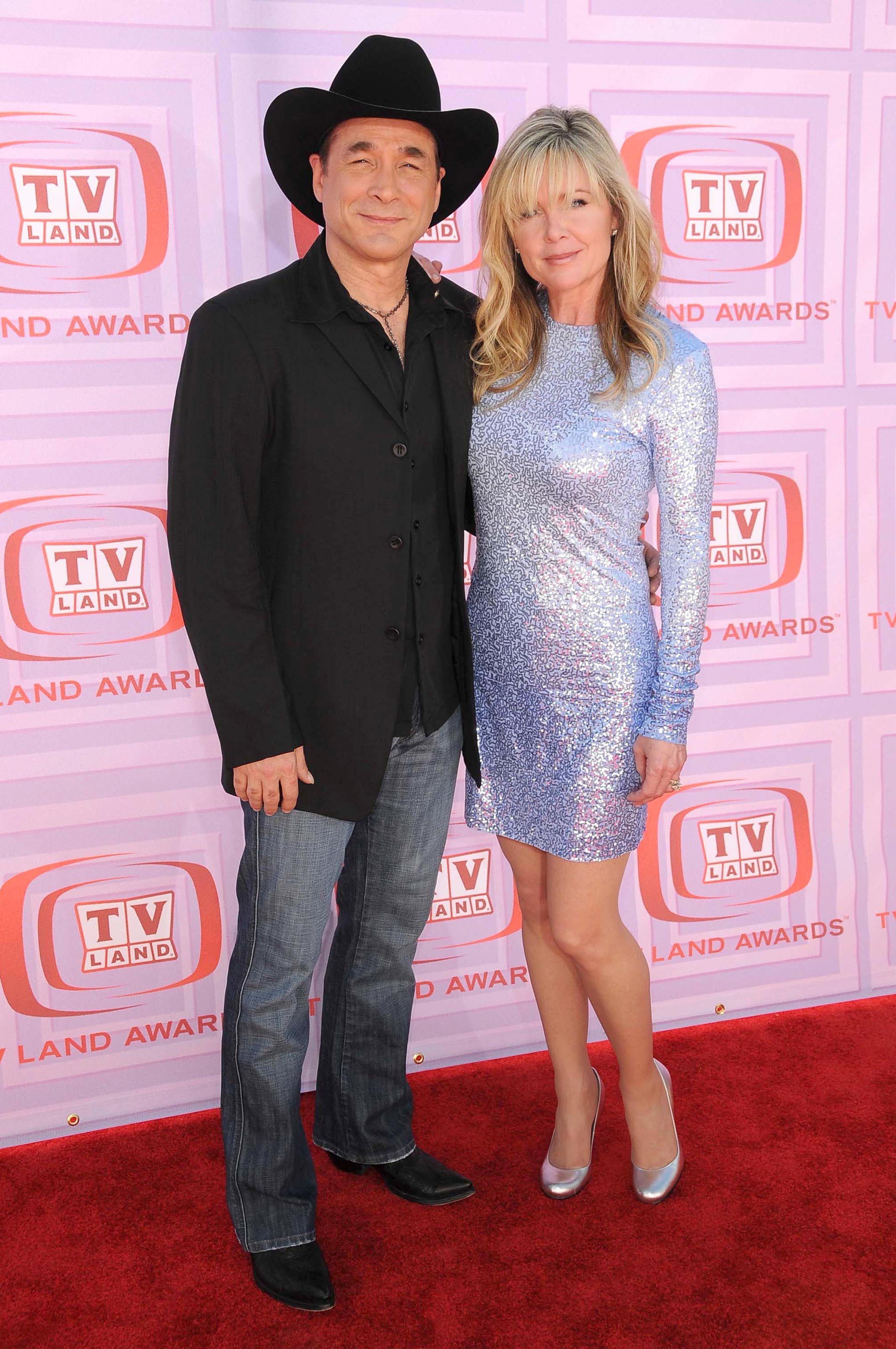 Clint Black and his wife, Lisa Hartman Black know a thing or two about love. The couple, who celebrates 30 years of marriage on Thursday, October 20, were each already famous when they met — he as a country singer and her as an actress, then on the hit TV drama, Knots Landing —  thanks to encouragement from a friend. But once they did, sparks instantly flew, and ten months after they were introduced, they got married.
"It was slow motion, like you see in the movies," Lisa recalls to People. "There was something there."
Lisa had just on a whim gone to see Clint perform, unaware that she was watching her future husband. But only a few days later, a friend gave Clint her phone number, and as soon as they met, he was smitten.
"I knew I was looking at somebody amazing," Clint recalls. "I didn't know anything about her. I didn't know her TV show. I just looked at her eyes and I was just, wow!"
Lisa had already released a few albums by the time she met Clint, but as his music career continued to soar, she was content to let her music take a backseat.
"His career was so huge, and I had done my thing," Lisa shares. "I just pretty much let it go."
Much of the world might not have ever known about her singing talents, until Clint wrote the song, "When I Said I Do," and asked her to sing on it with him. The song, which was inspired by their relationship, almost was a solo hit instead, since Lisa initially refused to join her husband on the track for his D'lectrified album.
"I go, 'Sing this with me,' because she would sing harmony with me on my favorite songs around the kitchen," Clint recounts. "So after two days we're singing this song, and she sounds great, and then I told her, 'You're going to have to record that with me."
Lisa kept turning down his invitation, which she now says was based out of fear.
"It just seemed so big," Lisa concedes. "And I was done with that."
It wasn't until Clint told her he wasn't going to ask anyone else to sing on it with him that she finally relented.
"I said, 'If you don't sing on this, I'm gonna sing it by myself,'" Clint recalls. "'[I'm] not getting anyone else to sing it with me, and we'll always look back and wish you were there.'"
The two, who appeared on The Masked Singer last year, will embark on their Mostly Hits & the Mrs. Tour next month, just one way the couple plans to keep celebrating their love.
"Keep creating something out in front of us that we have to be ready for and go do and enjoy," Clint says of his reason for the tour. "Doing this tour is a new chapter. It's challenging, exciting, fun."
"It's something completely new," his wife adds. "I'm going to be terrified."
As for the secret to their lengthy marriage, which is a rarity for celebrities, Clint says it's really quite simple.
"Love is something that you nurture and protect," Clint shares. "We've grown together in our relationship and never apart."
Find all of Black's music, as well as upcoming tour dates, at ClintBlack.com.