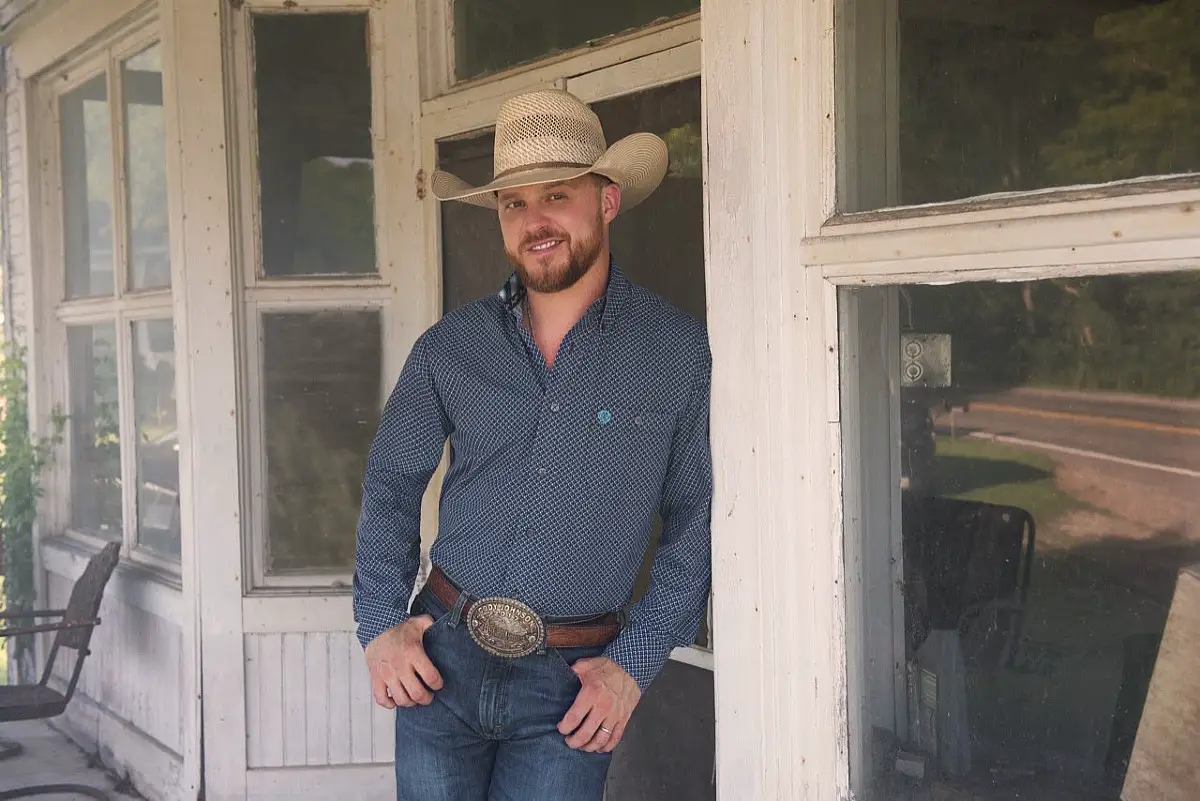 Cody Johnson knows what it's like to give up on a dream, but he also knows — at least now — that sometimes the next thing is the best thing. The 34-year-old dreamed of being a rodeo star, a dream he mourned when it didn't come to fruition. Johnson, who turned to music as a way of healing, tells his story in the documentary, Dear Rodeo: The Cody Johnson Story, although Johnson says the story is about much more than giving up on a dream.
"It's been a complete life-changing thing," Johnson tells People. "I hope [viewers] take away that failure is not definitive. I hope they take away that they're not alone in this world, that God is somebody that can help you no matter how imperfect your life is. I don't want people to look at me on stage and go, 'Man, he's got it all together,' because I don't, and I never have. I hope people take away from it that there's hope in everything. It's not about the rodeo. It's about letting go, turning the page and trusting the process."
Dear Rodeo tells the good and the bad of Johnson's life, including his personal struggles as well. After years of trying to put forward the best version of himself, the Texan found his honesty liberating.
"I used to not want to talk about stuff like that," Johnson concedes. "We all got our imperfections. That don't mean you can't influence people positively.' I've been given a microphone. If you can turn a failure into something positive, you didn't really fail."
Johnson's transformation from a rodeo hopeful to country music singer didn't happen overnight, and was filled with a few pitfalls and potentially dangerous missteps. But as it shows in Dear Rodeo, it was Johnson's close friends, including fellow singer, songwriter and cowboy Trent Willmon, who pointed out to Johnson that he was potentially headed down the wrong path. It was a wake-up call Johnson needed.
"I believe you're a product of who you place around you, and I didn't realize that a lot of my friends at that point were affecting me in negative ways," Johnson reflects. "When I started to get the right influences, it made me more uncomfortable with things in my life that I didn't realize I needed to get rid of."
Reba McEntire, who sings on Johnson's current single, "Dear Rodeo," appears with Johnson in the documentary, along with American Sniper's Chris Kyle's widow Taya Kyle. Willmon served as the Dear Rodeo producer.
Dear Rodeo: The Cody Johnson Story will be available on Apple TV+, through October 8, when it will be available nationwide. See the film's official trailer below. Johnson also just announced the release of Human The Double Album, featuring pure country songs written by Vince Gill, Willie Nelson, Harlan Howard and more. The record will also be released on October 8.