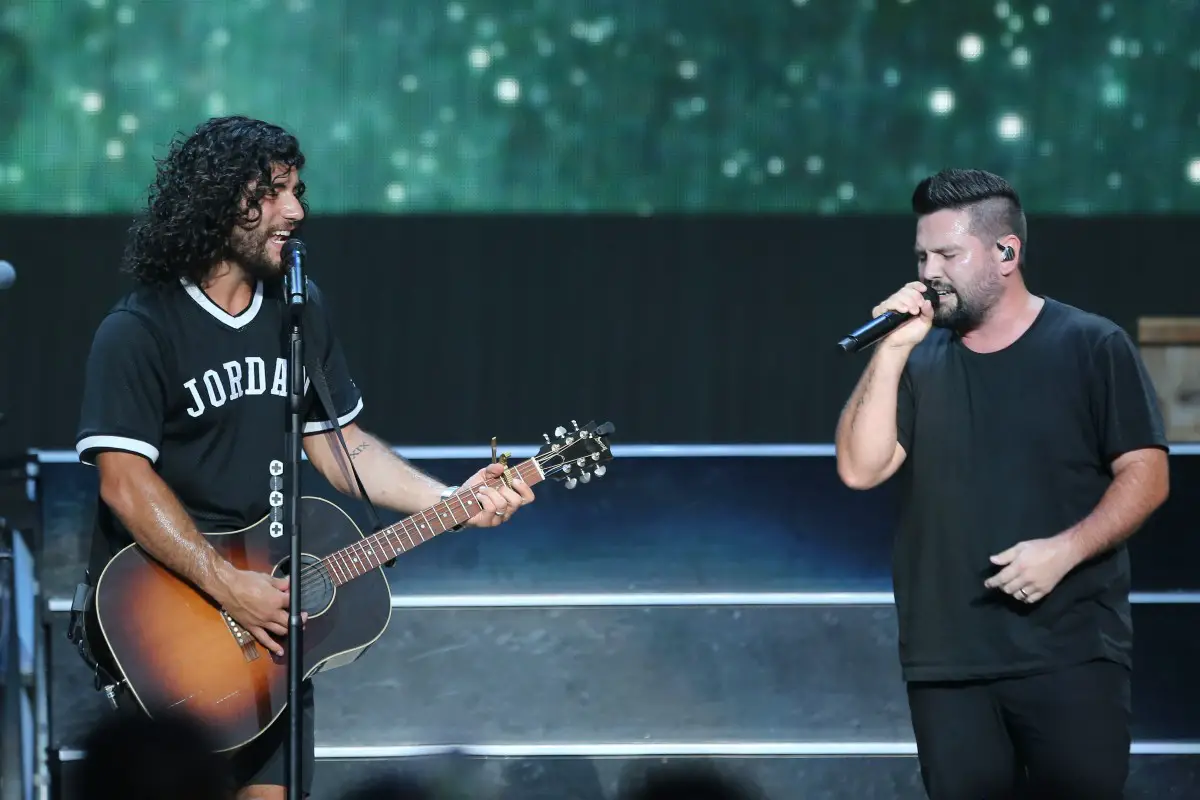 Dan + Shay will return to life on the road this week. The duo, made up of Dan Smyers and Shay Mooney, had just kicked off their The (Arena) Tour in 2020, playing some of the biggest venues — many for the first time — when the coronavirus pandemic put a quick halt to those plans.
"We got a taste of it," Smyers reflects on the Today Show. "We're looking at [Madison Square Garden], all of these amazing bucket list venues, then all at once, the entire world shuts down."
Dan + Shay, who were among the first acts to announce they were calling off their tour due to COVID-19, chose not to wallow in self-pity for long.
"Just to say that we were about to do arenas, and then it was pulled out from under us, just to say that is incredible," says Mooney.
Dan + Shay used their time off the road to work on new music. The result was their record-breaking new album, Good Things, which made them the first country act in streaming history to achieve gold status, for sales in excess of 500,000, on release day. While they missed performing for their fans — a lot — the optimistic duo found a silver lining, even amid so many challenges.
"I feel like it was good for us," Smyers concedes. "I feel like it caused us to go back to the basics of how we used to write songs, sitting there with pen and paper and an acoustic guitar, and really diving in deep on the idea. I think the fact that we had done that for so long gave us an advantage in this time where we could kind of camp out in the guest bedroom in my house. I had a mattress leaning up against the wall. I'm pulling dog blankets out of the closet and laying them on the floor … I've got the best singer in the world here, and he's having to hold a pillow over his head."
While Dan + Shay wouldn't have wished 2020 on anyone, they are even more ready now than ever before to perform for their legions of fans.
"And now here we are a year and a half later, with a new album out to the fans who have waited long enough," Smyers says. "I think it just causes us to appreciate the moments a little more."
Dan + Shay would have never even formed if not for a house party promising free beer. Both men had moved to Nashville to pursue their dreams of making music for a living, but had yet to have any major success, until they found each other. It was December 7, 2012, and the two aspiring singer-songwriters ran into each other at a party. Mooney started singing, and Smyers quickly got out his phone and recorded him, calling it "Best Singer Ever."
The next day, Smyers and Mooney reconnected, and the rest is country music history.
"We wrote two songs that day, and honestly we haven't stopped," Smyers says. "It was insane. The first song we wrote got put on hold by a major artist, and then from there, it happened."
At the time, Smyers was living in a house without heat or AC, and sneaking into a hotel in downtown Nashville for their free breakfast buffet to feed himself, unaware that his entire life and career were about to change thanks to one chance encounter.
"In those moments, thinking back to that house party, you never think that those are the moments that are going to change your life,"  Mooney says. "If there was one pivotal moment, that was it, meeting Dan at that house party. And I was just thinking I was going to go drink some free beer."
Since that moment, Dan + Shay have sold millions of albums, had numerous No. 1 singles, including crossover hits like "Tequila," "10,000 Hours" and "Speechless," and won multiple awards, including three Grammys. If there ever was an act that the world was watching, it's Dan + Shay, which made them work harder than ever on Good Things.
"There definitely was pressure, but it was good pressure," Mooney notes. "It was like, 'Man, we really have to be sure that we are bringing our A-game."
Dan + Shay's The (Arena Tour) resumes on September 9 in Greenville, South Carolina. Find their music and a list of upcoming shows at DanandShay.com.