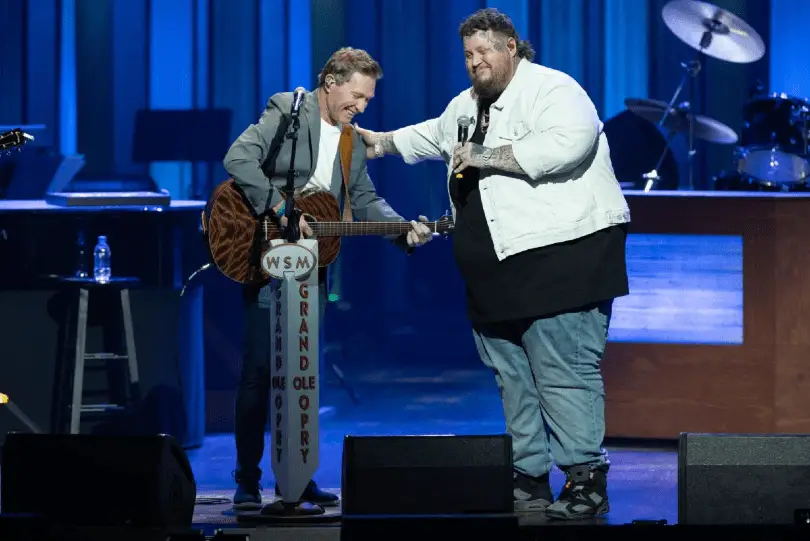 When Jelly Roll (real name: Jason DeFord) was freshly out of jail and ready to live a different kind of life, he went to the Grand Ole Opry, and was forever changed by watching Craig Morgan sing his "Almost Home" hit single. So the two singers had a full-circle moment when Jelly Roll, who made his Opry debut in 2021, shared the stage with Morgan to sing the emotional song, together.
"If you haven't seen it, you need to go back and pull it up on YouTube, and find his first appearance," Morgan told the Grand Ole Opry audience. "I happened to be out on the road somewhere, and someone called me and said 'Man you have got to see this Jelly Roll guy. He was just on the Grand Ole Opry and he don't look like somebody who would be on the Grand Ole Opry, but he was talking about you.' And so I went back and watched it , and he was standing there talking about how when he was in jail and struggling how a particular song helped him get through it. And he mentioned the fact that he came to the Grand Ole Opry when he got out.
"He said, 'I was sitting right over there … and Craig Morgan was singing 'Almost Home.' And it moved me,'" he continued. "It moved me. It just proves exactly what he said, that music can change lives. So before I do the song that he said changed his life, I would love it if y'all give him a big round of applause and get him to come out here and sing this out with us."
Jelly Roll came out to thunderous applause, recalling the night his life was transformed.
"Shortly after I got out of jail, I sat right over there in row 7, and I cried like a baby and watched him sing," Jelly Roll said. "And I remember thinking, 'I want to make people feel the way he makes me feel right now.' This is a true testimony that God is real and all things are possible. Because that same kid that was in jail and struggling, his wife is sitting right there. He's not sitting there — he's standing next to Craig Morgan."
After Morgan and Jelly Roll sang "Almost Home" together, Morgan gifted Jelly Roll with framed lyrics to "Almost Home."
"You inspire me," Morgan said. "You did when I heard that. I sat on the bus and cried. And I knew how important that song was to you, so I hand-wrote a set of lyrics for you to the song, and signed it. I  want you to hang this up next to all the gold, platinum and multi-platinum records that we know you're going to keep having."
Photo Credit: Courtesy of the Grand Ole Opry