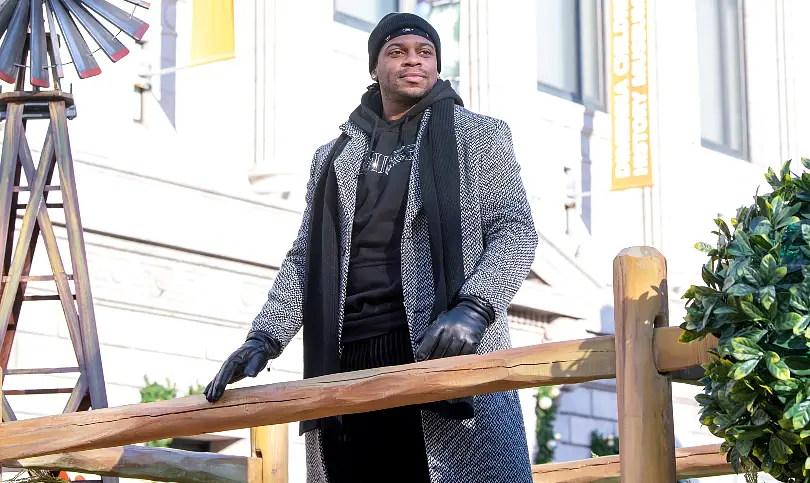 Jimmie Allen latest Tulip Drive album is deeply, deeply personal. The Delaware native opens up about some of his own struggles in recent years, including his battle with bipolar disorder, which he addresses in the song "Settle On Back." Allen wrote the song with Tate Howell, Trip Howell and David Pramik.
"'Settle On Back' is a song I actually wrote about my bipolar disorder," Allen reveals on Apple Music Country's Today's Country Radio with Kelleigh Bannen. "So when my dad was alive, he was the person that could always pull me back. He would, whether it was taking me fishing, whether it was taking me hunting with him."
Allen references Kanye West, who was also open about his mental health, and how West's mother, Donda, was there for him like Allen's father, James "Big Jim" Allen, supported him.
"A lot of people with mental issues have one person in their life that they have the strong connection with, one person that would never be duplicated," says the singer. "So, when that person's gone, I'm kind of stuck. So for me … I wrote it about what I do when I feel frustrated or the entertainment business is too much, or when I have my bipolar breaks. I go home. I fish, I go hang out with people that know me as Jimmy with a Y. Because I used to spell my name J-I-M -M-Y. I switched it to I-E from my grandma because she spelled Betty B-E-T-T-I-E."
Allen has a Top 40 hit with his current single, "Down Home." The song and accompanying video honor his late father, who passed away in 2019. It's a loss that Allen still feels deeply, nearly three years after his father's death.
"There's no timeline on grief and I tell people that," Allen says. "I say, 'Never let anyone make you feel like, oh that was forever ago.' No, because we don't know how someone impacted someone's life. We are who we are, where we are, because of the people that were in our lives, and are in our lives. So take whatever time you need. So that's really what ['Down Home'] is about for me is more therapeutic, just getting a chance to talk to [my dad]. And then now I got a chance for the world to hear my conversation with my father."
Allen intentionally made Tulip Drive about him, and his own experiences, both with the songs he wrote and the songs he didn't write.
"It's the first record where every song I wrote is directly tied into a personal experience, or I found songs that tied into a personal experience, and it had to be very specific," says the singer. "So every song here, literally songs I didn't write, [I] felt like were written for me. And I wanted to have this record be the first one where it was a real personal record. Because all the songs before, love songs, whatever were written about other people's relationships, TV shows. This one, I'm writing about relationships from high school, some from college, and some from after college."
Allen will join Carrie Underwood later this year on her Denim & Rhinestones Tour. Find all of his music and tour dates at JimmieAllenMusic.com.