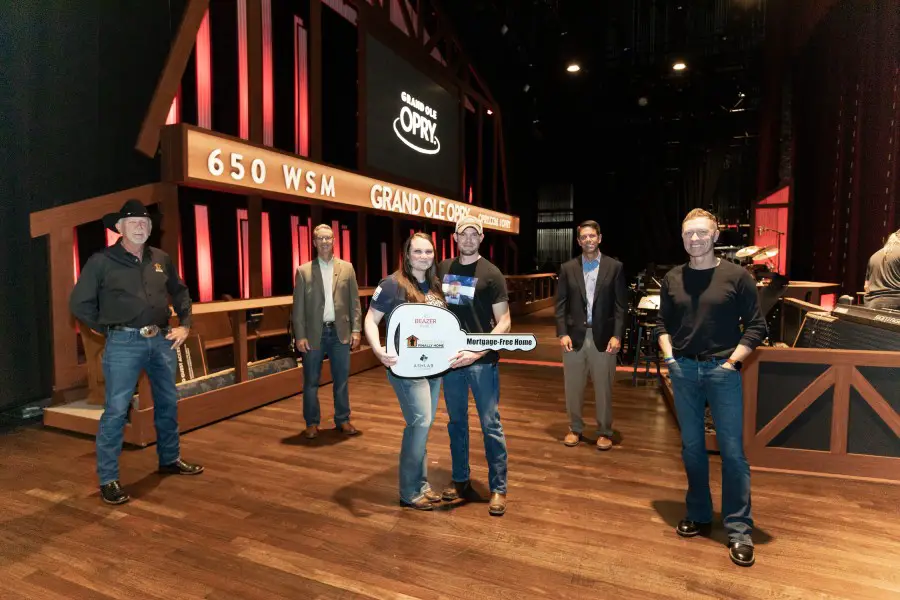 Craig Morgan helped change the life of one Army veteran and his family. The Grand Ole Opry member surprised veteran Ethan LaBerge and his wife during Saturday night (November 7) Opry show, with the gift of a mortgage-free home, thanks in part to the nonprofit, Operation FINALLY HOME.
"As many of you all know, I am an Army veteran," Craig shared from the Grand Ole Opry stage. "But I'm also the ambassador for an organization called Operation FINALLY HOME, and all that they do. Operation FINALLY HOME provides mortgage-free homes to the wounded, ill and injured veterans, first responders, and the widows of the fallen. We've been working together for about five years, and what I love the most about this organization is how they bring the community together, to support our veterans. As we prepare to celebrate this Veterans Day, we have some exciting news for one of our veterans in the audience tonight. I want to tell you a little bit about him.
"Soon after his 18th birthday, this U.S. Army Sergeant enlisted and was stationed at Fort Campbell," the singer continued. "He deployed twice to Afghanistan, and during his five years of service, he went on multiple combat missions. His life was changed forever, when a civilian detonated a suicide vest just merely feet from his group. He suffered a concussion, and many broken bones, from head to toe. He battles PTSD, a traumatic brain injury. For his service, he was awarded the Purple Heart, and received many other accolades as well."
The new home was given by Operation FINALLY HOME, in partnership with Beazer Homes and Ashlar Development.
"It's hard to express with words our gratitude towards Ethan and Arin LaBerge for their selfless service to our country," Geoff Hart, Beazer Division President, Nashville, said in a statement. "We're honored to be part of their journey and to partner with Ashlar Development and Operation FINALLY HOME to provide them with a custom-built, mortgage-free home in Mt. Juliet."
Craig was joined for the Grand Ole Opry performance by John Conlee and Jeannie Seely, along with special guests Suzy Bogguss, Henry Cho, Brantley Gilbert and Justin Moore. The presentation of the house begins at 38:55 in the video below.