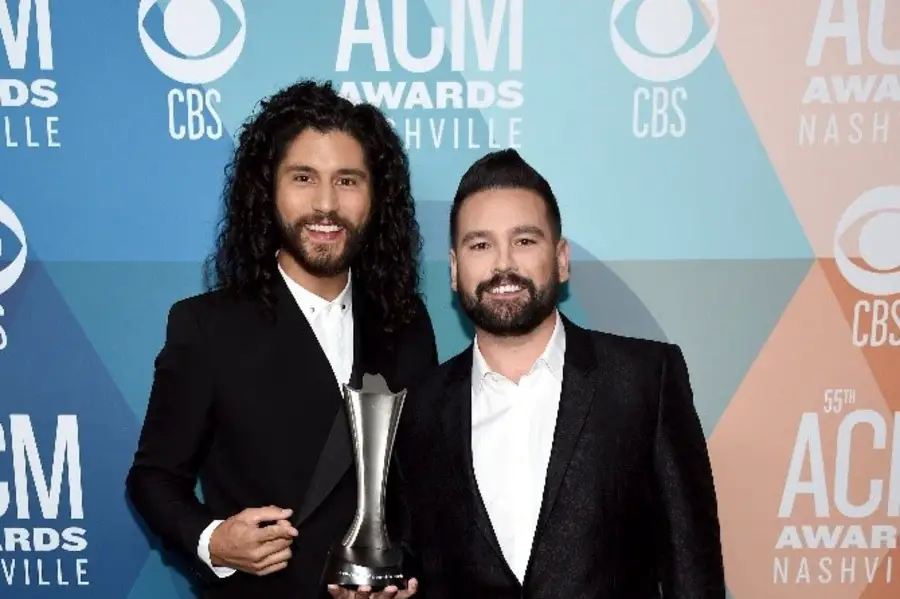 Dan + Shay definitely aren't dreaming with their newest accomplishment. The duo, made up of Dan Smyers and Shay Mooney, is celebrating their eighth time at the top of the charts, this time with thier current single, "I Should Probably Go to Bed."
"We're honestly so happy about this we could cry," Dan + Shay shared on social media. "We poured our hearts and souls into making this song at home during quarantine, and to see country radio + our fans embrace it has truly meant the world. huge thanks to everyone who made ISPGTB the #1 song this week!"
we're honestly so happy about this we could cry. we poured our hearts and souls into making this song at home during quarantine, and to see country radio + our fans embrace it has truly meant the world. huge thanks to everyone who made ISPGTB the #1 song this week! ❤️ pic.twitter.com/BlHY6973tG

— Dan + Shay (@DanAndShay) January 18, 2021
"I Should Probably Go to Bed" is from an upcoming new album. The song almost wasn't even recorded, but both Smyers and Mooney decided to finish it, after they had already completed another song.
"We're so excited about our brand new single, 'I Should Probably Go To Bed,'" Smyers said ahead of the song's release. "We wrote part of this song in Los Angeles during Grammy week but finished it at my house, on my piano, kind of by accident. Shay [Mooney] had come over to record vocals on another song that we had written. We took a break, went downstairs, started singing this song, and realized this song needs a big ending.
"So we really went for it," he added. "Shay delivered one of my favorite vocal performances of all time. We're so proud that this is our new single."
Smyers recently spoke out on social media, praising Mooney's unbelievable voice, but Smyers deserves some credit as well. The multi-instrumentalist not only produced "I Should Probably Go to Bed," but played every instrument on the track as well.
shay mooney is my favorite singer of all time.

— Dan Smyers (@dansmyers) January 14, 2021
Dan + Shay also went to new heights — literally — with the movie-like video for "I Should Probably Go to Bed," taking Mooney way out of his comfort zone.
"This is obviously the biggest video we've ever done," Mooney told ABC Audio. "And I remember seeing… the storyboard of what was going on in the video and seeing these scenes where I'm flying through the air, and I'm like, 'How are we gonna do that?'"
"I didn't really question it," he continued, "I just figured, 'Hey, I'm gonna show up, they're gonna do a great job, they'll make me look cool.'"
But it wasn't long until Mooney realized that he was the one that would be flying through the air.
"I was looking at the schedule and I saw 'harness fitting.' It was three days before our video shoot," Mooney recalled. "And I was like, 'Oh, shouldn't somebody who's doing that in the air, be doing that?' I found out right then that I was gonna be floating in the air and doing my own stunts."
Dan + Shay have yet to announce a release date for their new album, but they did say they got a lot of it done while quarantining because of COVID-19.
"We hadn't put out any new music since '10,000 Hours,' which was October 4 of last year," Shay told The Country Daily. "And, we have the luxury of time right now. We have the responsibility to write the best music we possibly can and try to one-up the last thing we did. And so, right now, we have time to do that . . . and we've got a lot of stuff in the tank that we're super proud of that we've recorded and written that we're super stoked on."