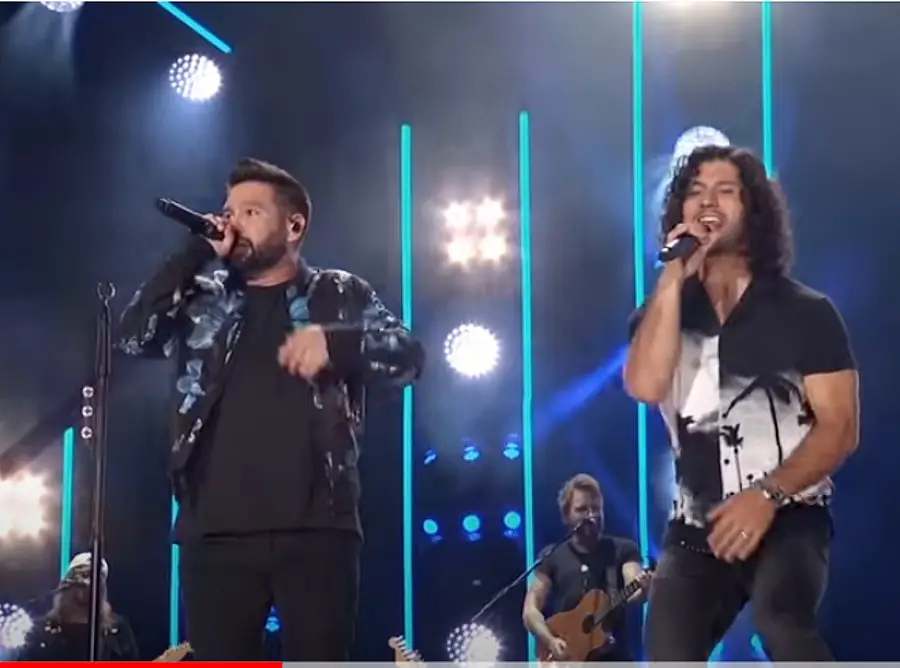 Dan + Shay's Shay Mooney can officially add "stuntman" to his resume. The singer did his own stunts, including flying through the air, in the video for the duo's latest single, "I Should Probably Go to Bed."
"This is obviously the biggest video we've ever done," Mooney told ABC Audio. "And I remember seeing… the storyboard of what was going on in the video and seeing these scenes where I'm flying through the air, and I'm like, 'How are we gonna do that?'"
"I didn't really question it," he continued, "I just figured, 'Hey, I'm gonna show up, they're gonna do a great job, they'll make me look cool.'"
It wasn't until Mooney saw the schedule that he realized that he would be the one that became airborn.
"I was looking at the schedule and I saw 'harness fitting.' It was three days before our video shoot," Mooney recalled. "And I was like, 'Oh, shouldn't somebody who's doing that in the air, be doing that?' I found out right then that I was gonna be floating in the air and doing my own stunts."
Thankfully, the 29-year-old was able to pull off the video without any injuries.
"It was kind of like going and doing like bungee jumping," Mooney said. "We hadn't done anything for months in quarantine, so it was a pretty big adventure to kind of be a stuntman for the day and get to do that."
"It was [a] very ambitious video, but we pulled it off," he added.
"I Should Probably Go to Bed" was recorded largely by accident, when Mooney and his Dan + Shay partner, Dan Smyers, were together to record another song.
"We wrote part of this song in Los Angeles during Grammy week but finished it at my house, on my piano, kind of by accident," Smyers said of the song. "Shay had come over to record vocals on another song that we had written.
"We took a break, went downstairs, started singing this song, and realized this song needs a big ending. So we really went for it," he continued. "Shay delivered one of my favorite vocal performances of all time. We're so proud that this is our new single."
Dan + Shay just celebrated eight years as a duo together, commemorating the milestone anniversary in a touching social media post.
"Just wanna say thanks for everything y'all have done for us, it truly means the world," the guys said in a joint statement. "We've been able to accomplish some really cool things since we started this band, and it's all because of you believing in the music."
"Kinda all up in our emotions today," they added, encouraging their followers to share their own favorite memories. "We're gonna read 'em all and try not to cry."