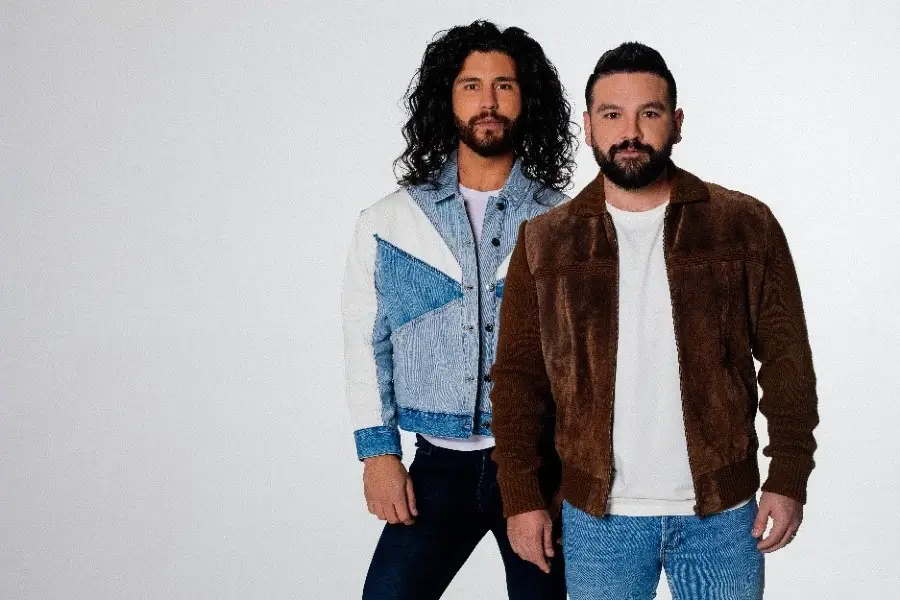 Dan + Shay have been cranking out hit after hit, ever since their freshman Where It All Began album was released in 2014. The dynamic duo, made up of Dan Smyers and Shay Mooney, not only are amazing musicians and singers, but they also write most of their music as well, including their recent hit, "Glad You Exist," which earned them a Grammy nomination. Keep reading to find out the stories behind ten of their biggest hits.
10. "19 You + Me"
"19 You + Me" was Dan + Shay's very first single ever released. Written by Smyers and Mooney, along with Danny Orton, the song became a surprising Top 10 hit for the then-rising duo.
"I grew up going to Myrtle Beach, since that was a destination vacation spot for most people in Pennsylvania," Smyers told the Digital Journal. "Danny had gone there with his wife for their honeymoon and we all wanted to write that summer … We got together and we wrote the whole song but didn't have a title for it. Shay brought up this idea which he thought was crazy at the time. He said 'How about 19 You + Me?' We thought it was brilliant and we used it. We recorded the demo and that turned into the album version, as well as the version that is on the radio today."
9. "Glad You Exist"
Dan + Shay teamed up with Tayla Parx, Ryan Lewis and Jordan Reynolds to write "Glad You Exist," which was inspired by the struggles many people faced last year because of the pandemic. The song, from their upcoming fourth studio album, became a letter to their friends, family and fans, about Dan + Shay's gratitude for them, especially recently.
"It's a message of gratitude and hope," the pair explained. "A message to everyone in our lives: our fans, our friends, our families, to remind them all how grateful we are to be on the planet at the same time. It's truly remarkable when you think about it. We've spent the majority of the past year, like many others, searching for answers and a sense of normalcy, but finding comfort in memories of better days (that we all know will return soon)."
8. "Nothin' Like You"
"Nothin' Like You" was Dan + Shay's third single from their freshman Where It All Began record, and their first No. 1 hit. The song, which they wrote with Chris DeStefano and Ashley Gorley, was released thanks to their fans, and their reaction whenever they performed the song live.
"We listened to our fans on this one," Smyers told People. "'Nothin' Like You' was always the best crowd response at our live shows, so we knew the song was reacting. The positive message about loving someone for who they are is something we support and like to be vocal about."
7. "How Not To"
"How Not To" was, perhaps surprisingly, not written by Dan + Shay, but instead by Adam Hambrick, Paul DiGiovanni and Kevin Bard. Although both Smyers and Mooney are extremely prolific writers, they were happy to include "How Not To" on Obsessed, one of only two songs on the project that they didn't write.
"We've never recorded a song that we didn't write up until this one," Smyers told Billboard. "But we always say, 'The best song wins' … This is one of those songs that just puts feelings out there on the table. It's honest."
6. "From the Ground Up"
"From the Ground Up" was the first song from Dan + Shay's sophomore Obsessed album. Written by Dan + Shay, along with DeStefano, "From the Ground Up" was a sweet tribute to both of their grandparents, written shortly after Smyer's grandfather passed away.
"I was talking about my grandparents, after getting back from their house," Smyers told The Boot. "They were married for over 65 years, and Shay was like, 'That's crazy! My grandparents were married for over 65 years as well.' We were just talking about that, and how incredible that is. In this day and age, it's so rare to see [two people] together for 65 years; it's something to look up to in our own personal relationships. Shay had already started picking this little 6/8 thing on acoustic guitar, and literally, the song wrote itself in 45 minutes."
5. "All to Myself"
"All to Myself" was the final single from Dan + Shay's eponymous third studio album. Dan + Shay wrote "All to Myself" with Reynolds and Nicolle Galyon.
"We really noticed after we put this song out, our fans were really reacting to that," Mooney told The Tennessean. "We always write about our wives. We write about what we know, which is, we're both very much in love now. It's all about  wanting that person all to yourself … It was cool to kind of paint that picture of being jealous of other things: the moon that is watching you, and just wanting all of this person, and we wanted to put that into a fun tempo that our fans could sing as loud as they possibly could."
4. "I Should Probably Go to Bed"
"I Should Probably Go to Bed" was written by Dan + Shay, as well as Sean Douglas and Jason Evigan. But it's how the song was recorded that makes "I Should Probably Go to Bed" one of the most important — and impressive — songs they have ever released. After Mooney recorded his vocals while at Smyers' house, Smyers recorded every instrument on the track, with his wife, Abby, singing background vocals.
"We wrote part of this song in Los Angeles during Grammy week but finished it at my house, on my piano, kind of by accident," Smyers said. "Shay had come over to record vocals on another song that we had written. We took a break, went downstairs, started singing this song, and realized this song needs a big ending.
"So we really went for it," he added. "Shay delivered one of my favorite vocal performances of all time. We're so proud that this is our new single."
3. "10,000 Hours"
Dan + Shay were joined by pop superstar Justin Bieber on "10,000 Hours, with all three men writing the song with Jessie Jo Dillon, Jason Boyd and Julian Perretta. The multi-platinum song, which was a Top 5 hit on the pop charts as well, stayed at No. 1 on Billboard's country chart for an astonishing 21 weeks.
"Whether it's 10,000 hours to get to know that person and truly love them in the best way or it's just the rest of your life, that's the hook," Mooney told Taste of Country. "It's just about learning your significant other."
Dan + Shay share a manager, Scooter Braun, with Bieber, which is how they gathered the courage to ask Bieber to join them on the song.
"He hit back right away like, '[Bieber] loves the song. Wants to do it,'" Smyers recalled. "So we connected and he wrote a couple of lines on it, put his spin on it."
2. "Speechless"
Jordan Reynolds and Laura Veltz teamed up with Dan + Shay to write "Speechless," likely not having any idea how much the song would explode, likely thanks to both Smyers and Mooney using footage of their own weddings in the song's video.
"Shay had just gotten married also, so we both had that feeling fresh on our minds and we wrote about it," Smyers told People. "Shay and I were both in each other's weddings as groomsmen, and there were some fun moments in there of us tying each other's ties."
"It's about not being able to find the words every single time, which is a special thing," he added. "When it came time to do the video and given the fact that we had both had weddings the year before, I was like, 'Man, maybe this video is already done.' I had the crazy idea of taking Shay and my wedding footage [and] parallel those stories to showcase the moments."
1. "Tequila"
"Tequila" has, at least so far, been among the biggest hits of Dan + Shay's incredibly successful career. The song, which Smyers and Mooney wrote with Galyon and Reynolds, was inspired by their love of tequila, with the video used to highlight the deaf community. Although they were proud of the song, Dan + Shay had no idea how much the song would explode when it was released.
"In typical Nashville songwriter fashion, we made it as confusing as possible for the listener," Smyers told The Boot. "Instead of writing a feel-good, uptempo kind of thing, we were like, 'Let's go to the Dan + Shay wheelhouse: nostalgia zone!' We used the idea of tequila as a trigger to go back to a relationship and get really specific with the details, really tell a story.
"We thought there was something really special about having just the piano and vocals, and when we went to cut the track, we wanted to preserve the integrity of why people had fallen in love with the demo in the first place," he continued. "The track builds up by the end of the song, but I think just having the piano and Shay singing at the beginning really makes people want to stop and listen."